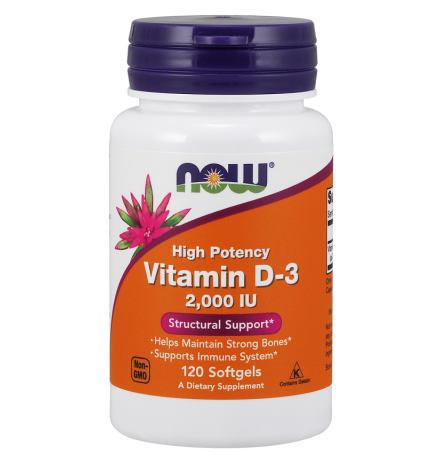 Now Foods Vitamin D-3 2000IU 120Softgels
2025-01-31
733739003676
New product
Now Foods Vitamin D-3 2,000 IU 120Softgels
Οι δύο πιο σημαντικές μορφές της βιταμίνης D είναι η χοληκαλσιφερόλη (D3) και η εργοκαλσιφερόλη (D2). Η βιταμίνη D-3 είναι δομικά παρόμοια με στεροειδή, όπως η τεστοστερόνη, η χοληστερόλη, και η κορτιζόλη. Η  βιταμίνηD-3 παράγεται από το δέρμα, κατά την έκθεση στο φως του ήλιου και είναι απαραίτητη για την ανάπτυξη και τη συντήρηση των οστών και της οστικής πυκνότητας.
Η παραγωγή της βιταμίνης D-3 ή χοληκαλσιφερόλης στο ανθρώπινο σώμα, παράγεται μόνο φωτοχημικά και γίνεται μέσω της έκθεσης του δέρματος στο ηλιακό φως και συγκεκριμένα στην υπεριώδη ακτινοβολία UVB. Ωστόσο η ικανότητα παραγωγής της, ποικίλει.
Η βιταμίνη D-3 παράγεται μόνο αφού το δέρμα έχει εκτεθεί σε υπεριώδη ακτινοβολία. Όλο και περισσότεροι άνθρωποι αποφεύγουν την έκθεση στην ηλιακή ακτινοβολία. Δυστυχώς, οι γρήγοροι ρυθμοί του τρόπου ζωής μας και ο δικαιολογημένος φόβος της βλαβερής πλέον ακτινοβολίας του ηλίου, καθιστούν συνήθως την συμπληρωματική χορήγηση της βιταμίνης D-3 απαραίτητη για να εξασφαλισθεί η επαρκής ποσότητα στον οργανισμό.
Η βιταμίνη D-3 είναι σημαντική για την ανάπτυξη υγιών κυττάρων και την καλή λειτουργία του ανοσοποιητικού συστήματος. Είναι απαραίτητη για την αποτελεσματική απορρόφηση και διατήρηση των επιπέδων ασβεστίου στο αίμα, και ζωτικής σημασίας για την ανάπτυξη γερών οστών και οδόντων.
Οδηγίες Χρήσης:
Πάρτε 1 μαλακή κάψουλα κάθε μέρα με ένα γεύμα που περιέχει λίπος ή σύμφωνα με τις οδηγίες του ιατρού σας.

Now Foods Vitamin D-3 2,000 IU 120Softgels
High Potency

Helps Maintain Strong Bones*

Supports Immune System*
NOW® Vitamin D-3 softgels supply this key vitamin in a highly-absorbable liquid softgel form. Vitamin D is normally obtained from the diet or produced by the skin from the ultraviolet energy of the sun. However, it is not abundant in food. As more people avoid sun exposure, Vitamin D supplementation becomes even more necessary to ensure that your body receives an adequate supply.
Suggested Usage:
Take 1 softgel every day with a fat-containing meal, or as directed by your healthcare practitioner.
Supplements Facts:
Serving Size:

1 Softgel

Servings Per Container:

120

 

Amount per Serving

 

Vitamin D3




   (as Cholecalciferol) (from Lanolin)

50 mcg (2,000 IU)
 Other Ingredients:  Softgel Capsule (bovine gelatin, water, glycerin) and Extra Virgin Olive Oil.
Not manufactured with yeast, wheat, gluten, soy, corn, milk, egg, fish or shellfish ingredients. Produced in a GMP facility that processes other ingredients containing these allergens
No customer reviews for the moment.