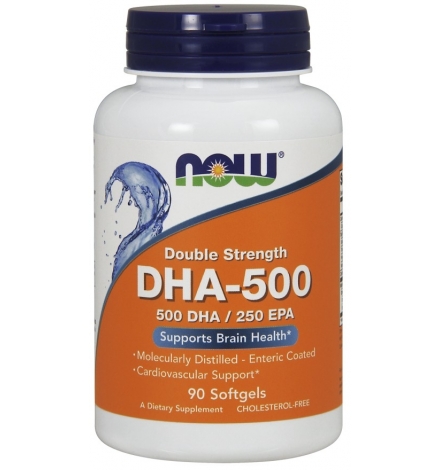 Now Foods DHA-500 90Softgels
2023-08-30
733739016126
New product
Now Foods DHA-500 Double Strength 90 Softgels
Διπλάσια Περιεκτικότητα σε DHA

500 DHA / EPA 250

Μοριακά απεσταγμένο - με εντερική επικάλυψη

Καρδιαγγειακή υποστήριξη 
Το Now DHA-500 έχει διπλάσια περιεκτικότητα σε DHA (500 mg ανά κάψουλα) σε σχέση με το κανονικό προϊόν (250 mg ανά κάψουλα). Το φυσικό συμπύκνωμα ιχθυελαίου που χρησιμοποιείται σε αυτό το softgel είναι κατασκευασμένο με αυστηρές προδιαγραφές ελέγχου ποιότητας. Είναι δοκιμασμένο ώστε να είναι απαλλαγμένο από δυνητικά επιβλαβή επίπεδα μολυσματικών ουσιών (δηλαδή τον υδράργυρο, τα βαρέα μέταλλα, PCB, οι διοξίνες και άλλες μολυσματικές ουσίες).
Εκείνοι που έχουν ναυτία ή παλινδρόμηση από άλλα έλαια ψαριών θα βρουν αυτά τα softgels πιο ανεχτικά στο στομάχι.
Έχει αποδειχθεί ότι η κατανάλωση EPA και DHA Ωμέγα-3 λιπαρά οξέων μπορεί να μειώσει τον κίνδυνο στεφανιαίας νόσου.


Οδηγίες Χρήσης:
Πάρτε 1 μαλακή κάψουλα Χ2 φορές την ημέρα μαζί με τα γεύματα σας.
___________________________________
Now Foods DHA-500 Double Strength 90 Softgels 
Double Strength
500 DHA / 250 EPA
Molecularly Distilled - Enteric Coated
Cardiovascular Support*
Supportive but not conclusive research shows that consumption of EPA and DHA omega-3 fatty acids may reduce the risk of coronary heart disease.
NOW® DHA-500 has twice the DHA (500 mg per softgel) as in our regular strength product (250 mg per softgel). The natural fish oil concentrate used in this softgel is manufactured under strict quality control standards. It is tested to be free of potentially harmful levels of contaminants (i.e. mercury, heavy metals, PCB's, dioxins, and other contaminants). Those who experience nausea or reflux from other fish oils should find this enteric-coated, odor-controlled softgel easier to tolerate.
Suggested Usage:
Take 1 softgel 1 to 2 times daily with food. 
Store in a cool, dry place after opening.
Supplements Facts:
Serving Size:

1 Softgel

Servings Per Container:

90

 

Amount per Serving

% Daily Value

* Percent Daily Values are based on 2,000 calorie diet.




† Daily Value not established.

Calories

10

 

Total Fat

1 g

1%*

   Polyunsaturated Fat

1 g

†

Natural Fish Oil Concentrate

1 g (1,000 mg)

†

   Omega-3 Fatty Acids:

 

 

      Docosahexaenoic Acid (DHA)

500 mg

†

      Eicosapentaenoic Acid (EPA)

250 mg

†

Other Ingredients:
Softgel Capsule (bovine gelatin, glycerin, enteric coating, water) and Vitamin E (as natural d-alpha tocopherol). Contains fish (tuna). Vitamin E from soy.
Not manufactured with yeast, wheat, gluten, milk, egg or shellfish ingredients. Produced in a GMP facility that processes other ingredients containing these allergens.
No customer reviews for the moment.