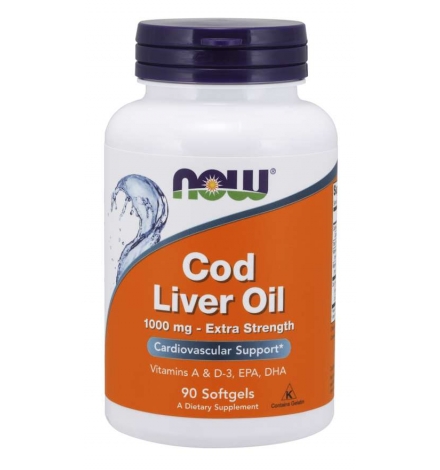 Now Foods Cod Liver Oil, Extra Strength 1000 mg 90 Softgels
2022-02-28
733739017437
New product
Now Foods Cod Liver Oil, Extra Strength 1,000 mg 90 Softgels
Βιταμίνη A & D-3, EPA, DHA
Το NOW® Cod Liver Oil αφθονεί σε ωμέγα-3 λιπαρά οξέα, EPA (Εικοσιπενταενοϊκό οξύ) και DHA (Εικοσιδιεξαενοϊκό οξύ). Είναι επίσης μια εξαιρετική πηγή βιταμινών Α και D-3. Το NOW® Cod Liver Oil έχει μακρά ιστορία παραδοσιακής χρήσης για την υποστήριξη της συνολικής υγείας και ευεξίας. 
Κατασκευάζεται σύμφωνα με αυστηρά πρότυπα ποιοτικού ελέγχου. Έχει ελεγχθεί ότι είναι απαλλαγμένο από δυνητικά επιβλαβή επίπεδα ρύπων όπως PCB, διοξίνες, υδράργυρος και άλλα βαρέα μέταλλα.
Από το FDA: «Η υποστηρικτική αλλά όχι πειστική έρευνα δείχνει ότι η κατανάλωση ωμέγα-3 λιπαρών οξέων EPA και DHA μπορεί να μειώσει τον κίνδυνο στεφανιαίας νόσου».
Αυτό το προϊόν επιπλέον δύναμη (1.000 mg ανά μαλακή κάψουλα), από άλλα προϊόντα. 
Οδηγίες Χρήσης: 
Λαμβάνετε 1 μαλακή κάψουλα καθημερινά με ένα γεύμα.
Αποθηκεύετε σε δροσερό, ξηρό μέρος μετά το άνοιγμα.
________________________________________
Now Foods Cod Liver Oil, Extra Strength 1,000 mg 90 Softgels
Vitamin A & D-3, EPA, DHA
NOW® Cod Liver Oil abounds in omega-3 fatty acids, EPA (eicosapentaenoic acid) and DHA (docosahexaenoic acid). It is also an excellent source of vitamins A and D-3. Cod liver oil has a long history of traditional use for the support of overall health and well-being.*
The cod liver oil used in this softgel is manufactured under strict quality control standards. It is tested to be free of potentially harmful levels of contaminants such as PCBs, dioxins, mercury and other heavy metals.
From the FDA: "Supportive but not conclusive research shows that consumption of EPA and DHA omega-3 fatty acids may reduce the risk of coronary heart disease."
This extra strength product has more cod liver oil (1,000 mg per softgel) than our cod liver oil 650 mg softgel product.
Directions:
Take 1 softgel daily with a meal.
Store in a cool, dry place after opening.
Serving Size:
1 Softgel
Servings Per Container:
90
Amount per Serving
% Daily Value
** Percent Daily Values are based on a 2,000 calorie diet.
† Daily Value not established.
Calories
10
 
Total Fat
1 g
1%**
Vitamin A
   (from Retinyl Palmitate and Cod Liver Oil)
300 mcg
33%
Vitamin D

3


   (from Cholecalciferol and Cod Liver Oil)
10 mcg (400 IU)
50%
Cod Liver Oil
1 g (1,000 mg)
†
   Eicosapentaenoic Acid (EPA)
70 mg
†
   Docosahexaenoic Acid (DHA)
100 mg
†
Other Ingredients:  Softgel Capsule [bovine gelatin (BSE-free), glycerin, water]. Contains fish (cod).
Not manufactured with wheat, gluten, soy, corn, milk, egg or shellfish ingredients. Produced in a GMP facility that processes other ingredients containing these allergens.
No customer reviews for the moment.