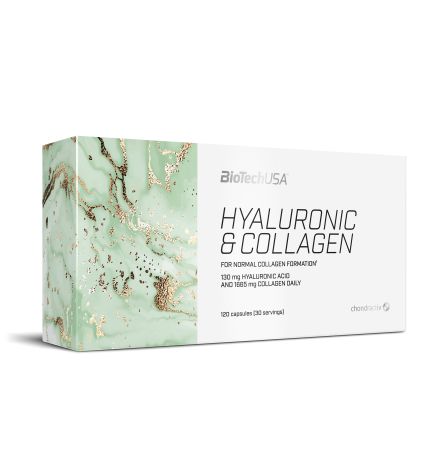 BioTech USA Hyaluronic & Collagen 120 Caps
2026-05-30
5999076249008
New product
BioTech USA Hyaluronic & Collagen 120 Caps NEW
Με 7 ενεργά συστατικά
1665 mg κολλαγόνου ανά μερίδα, από δύο διαφορετικές πηγές
Με φόρμουλα ChondrActiv®
Με 130mg υαλουρονικό οξύ ανά μερίδα
Βιταμίνη C που συμβάλλει στον φυσιολογικό σχηματισμό κολλαγόνου
Βιταμίνη Α που συμβάλλει στη διατήρηση του φυσιολογικού δέρματος
Με πρόσθετα αμινοξέα
Εύκολη μερίδα
Συσκευασία καψουλών
Χωρίς γλουτένη
Για κάποιο λόγο, τόσο το υαλουρονικό οξύ όσο και το κολλαγόνο χρησιμοποιούνται στη βιομηχανία ομορφιάς εδώ και πολύ καιρό. Δεν είναι τεχνητά θαύματα. Το ανθρώπινο σώμα είναι σε θέση να παράγει αυτές τις ουσίες που παίζουν σημαντικούς φυσιολογικούς ρόλους – τόσο στο ανδρικό όσο και στο γυναικείο σώμα. Η ικανότητα του ανθρώπινου σώματος να παράγει κολλαγόνο επηρεάζεται από μια σειρά παραγόντων.
Η BioTechUSA Hyaluronic & Collagen έρχεται τώρα με μια ολοκαίνουργια φόρμουλα και σε νέα συσκευασία. Η υψηλότερη* περιεκτικότητα σε κολλαγόνο παρέχεται από δύο διαφορετικές πηγές. η πατενταρισμένη φόρμουλα ChondrActiv® περιέχει υδρολυμένη σκόνη χόνδρου που παρέχει κολλαγόνο τύπου II. Το προϊόν περιέχει επίσης βιταμίνη C που συμβάλλει στον φυσιολογικό σχηματισμό κολλαγόνου για, μεταξύ άλλων πλεονεκτημάτων, τη φυσιολογική λειτουργία του δέρματος. Βρίσκεται επίσης στη φόρμουλα, η βιταμίνη Α που συμβάλλει στη διατήρηση του φυσιολογικού δέρματος. Η φόρμουλα συμπληρώνεται με αμινοξέα τα οποία συμβάλλουν στο σχηματισμό κολλαγόνου.
Αυτή η φόρμουλα είναι ειδικά σχεδιασμένη για να αντιστρέφει τα σημάδια του χρόνου στο δέρμα (ξηρότητα, ξεφλούδισμα, δημιουργία ρυτίδων, πτώση του δέρματος, λεκέδες) κτίζοντας ένα νεανικό, λαμπερό, σφριγηλό και όμορφο δέρμα.
Το κολλαγόνο διατηρεί τη δύναμη και την ελαστικότητα του δέρματός μας και γι' αυτό το λόγο αναγεννά το 70% του δέρματος. Καθώς μεγαλώνουμε, η παραγωγή κολλαγόνου επιβραδύνεται και χάνει τη σφριγηλότητα και τη λάμψη του. Τα σημάδια του χρόνου όπως οι διευρυμένοι πόροι, ρυτίδες, κηλίδες γήρατος, ερυθρότητα, ξηρότητα και η πτώση του δέρματος, όλα αντικατοπτρίζουν τη χαμένη ικανότητα του σώματος να φτιάχνει και να διατηρεί μια υγιή παραγωγή κολλαγόνου. Το Υαλουρονικό οξύ (HA) είναι ζωτικό για το δέρμα. Χαρίζει στο δέρμα τη σφριγηλότητά του, το θρέφει και το ενυδατώνει. Η παραγωγή του HA φθίνει με την πάροδο του χρόνου, προκαλώντας μείωση της υγρασίας και της δεσμευτικής ικανότητας το οποίο έχει σαν αποτέλεσμα ένα ξηρό και ρυτιδιασμένο δέρμα. Χρησιμοποιήστε αυτές της υψηλής ποιότητας κάψουλες για ανανέωση του δέρματος και σταματήστε ή ακόμη και αντιστρέψτε την πρόοδο της ηλικίας. 
Οδηγίες χρήσης
Λαμβάνετε 2x2 κάψουλες ημερησίως με ένα ποτήρι νερό, ανάμεσα στα κύρια γεύματά σας. Μην υπερβαίνετε τη συνιστώμενη ημερήσια δόση.
__________________________________________
BioTech USA Hyaluronic & Collagen 120 Caps NEW
With 7 active ingredients
1665 mg collagen per serving, from two different sources
With ChondrActiv® formula
With 130mg hyaluronic acid per serving
Vitamin C which contributes to normal collagen formation

1

Vitamin A which contributes to the maintenance of normal skin

2

With added amino acids
Easy portioning
Blister packaging
Gluten-free
It is for a reason that both hyaluronic acid and collagen have been used in the beauty industry for ages. They are not artificial wonder stuff. The human body is capable of producing these substances that play important physiological roles – both in the male and female body. The human body's capability to produce collagen is affected by a range of factors.
BioTechUSA Hyaluronic&Collagen now comes with a brand new formula and in a new packaging. The higher* collagen content is provided by two different sources; the patented ChondrActiv® formula contains hydrolysed cartilage powder which provides type II collagen. The product also contains vitamin C which contributes to normal collagen formation for, among other benefits, the normal function of skin.1 Also found in the formula, vitamin A contributes to the maintenance of normal skin.1 The formula is completed with amino acids which contribute to collagen formation.
*Compared to the collagen content of the previous version of our Hyaluronic&Collagen product.
Recommended use:
Take 2x2 capsules daily with a glass of water, in-between your main meals. Do not exceed the recommended daily dosage.
SUPPLEMENTS FACTS
Serving Size: 2x2 Capsules
Serving Per Container: 30
4 capsules

NRV** (4 capsules)

Hydrolysed collagen

1500 mg

***

Hydrolysed cartilage powder

- of which collagen type II

300 mg

165 mg

***

***

Hyaluronic acid

130 mg

***

Vitamin C

160 mg

200%

Vitamin A

800 µg

100%

L-lysin

100 mg

***

L-Prolin

100 mg

***
Ingredients: 
Hydrolysed collagen 50.6%, capsule shell [gelatine, glazing agent (shellac), colour (iron oxides and hydroxides), acidity regulators (ammonium hydroxide, potassium hydroxide)], ChondrActiv® hydrolysed cartilage powder 10.1%, L-ascorbic acid, hyaluronic acid 4.8%, L-Lysine hydrochloride 4.2%, bulking agent (cellulose gel), L-Proline 3.4%, anti-caking agents (magnesium salts of fatty acids, silicondoixide), retinyl acetate preparation [stabiliser (gum arabic), retinyl acetate, antioxidant- (alpha-tocopherol), anti-caking agent (calcium phosphates)].
No customer reviews for the moment.