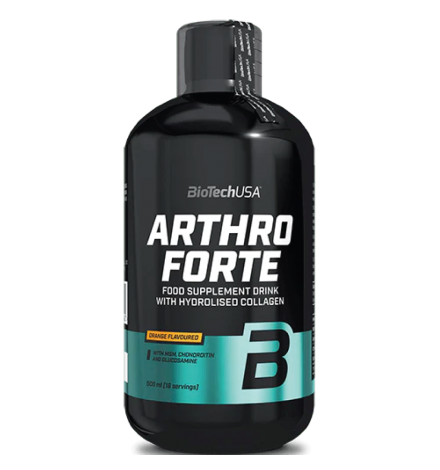 BioTech USA Arthro Forte Liquid 500ml
2025-05-31
New product
BioTech USA Arthro Forte Liquid 500ml
Σε μία δόση:
1000 mg MSM
5000 mg Υδρολυμένο Κολλαγόνο
800 mg Γλυκοζαμίνη
400 mg Χονδροϊτίνη
140mg υαλουρονικό οξύ
120mg Βιταμίνη Ε 
Biotech Arthro Guard Liquid - Με MSM, Γλυκοζαμίνη, Χονδροϊτίνη, Κολλαγόνο και Υαλουρονικό Οξύ
Όταν αναπτύξαμε το Arthro Guard Liquid Forte , πήραμε το καλύτερο σε πωλήσεις προϊόν υποστήριξης των αρθρώσεων, το απλοποιήσαμε στα κύρια συστατικά του, το ρευστοποιήσαμε και το πακετάραμε σε ένα μπουκάλι 500ml.
Χρησιμοποιήσαμε μία πιο απλή φόρμουλα αλλά ενισχύσαμε τη δοσολογία έτσι ώστε να ανακουφίζεστε από τον πόνο, και να προστατεύετε τις αρθρώσεις σας σε ακόμη υψηλότερο επίπεδο.
Ανακουφίζει, Αναγεννά, Προστατεύει
Το Arthro Guard Liquid Forte ενισχύει τις αρθρώσεις σας με τρεις τρόπους.
Πρώτον η υψηλή του περιεκτικότητα σε MSM σας βοηθά να ανακουφίζεστε από τον πόνο που προκαλείται λόγω των κατεστραμμένων και με φλεγμονή αρθρώσεων.
Δεύτερον, η υψηλή του περιεκτικότητα σε χονδροϊτίνη και γλυκοζαμίνη βοηθά στην ανάπλαση του χόνδρου και την αποκατάσταση του αρθρικού υγρού έτσι ώστε οι αρθρώσεις σας να προστατεύονται και να λιπαίνονται σωστά – έτοιμες για περαιτέρω προκλήσεις.
Τέλος, υποστηρίζει δυνατές και υγιείς αρθρώσεις χάρη στην υψηλή του περιεκτικότητα σε κολλαγόνο κάτι το οποίο προλαμβάνει τις ενοχλήσεις στο μέλλον.
Υγρή Βιοδιαθεσιμότητα
Χρησιμοποιώντας την τεχνολογία του υγρού στοιχείου, το εξαιρετικά ισχυρό Arthro Guard Liquid Forte απορροφάται ταχύτερα από χάπι ή κάψουλα.
Απολαύστε την προστασία των αρθρώσεων σας με αυτό το νόστιμο ποτό με γεύση πορτοκάλι.
Μπορείτε να πετύχετε τους στόχους σας ανώδυνα και να διατηρήσετε τον ενεργό και υγιή τρόπο ζωής σας.
Όπως όλα τα προϊόντα του BioTechUSA έτσι και το Arthro Guard Liquid Forte παρασκευάζεται από προσεκτικά επιλεγμένα και ασφαλή συστατικά.
Οδηγίες Χρήσης:
Πιείτε μία δόση καθημερινά (30 ml).
_______________________________________
BioTech USA Arthro Forte Liquid 500ml
Per 1 Serving 30ml :
1000 mg MSM
5000 mg collagen
800 mg glucosamine sulfate
400 mg chondroitin sulfate
140 mg hyaluronic acid
120 mg Vitamin E
We often forget to protect our joints, yet we couldn't lift a finger without them. Our joints are very sensitive. Only a bad move is enough for the fluid-filled joint capsule to suffer damage. In such cases the bone ends that are covered with cartilage rub against each other, giving a crackling sound that is coupled with great pain. Obviously, it is not only injuries, but being overweight or intense physical exercise can also challenge the strength of your joints. Your joints get only even more sensitive over time.
If your joints are screechy and move slowly in the mornings, you get to lose the joy of exercise. For your joints to operate as well lubricated components of your body you will need to take in the right nutrients. However, in the daily rush there is not always time to keep a balanced diet.
The bones and connective tissues:
Arthro Forte Liquid typically contains active substances that nurture the bones and the tissues that make up your joints as well as the connective tissues.
Multiple care:
Arthro Forte Liquid contains an optimal amount of glucosamine, chondroitin, MSM and collagen. These compounds, which are often used as a support to the joints, can be partly found also in the human body and they are partly supplied with your meals. The product contains even vitamin E that helps the cells fight against oxidative stress. The main advantage of the liquid format is the faster absorption. In addition, the liquid format could be a refreshment if you don't like to swallow large tablets or capsules; or for the elderly who already take a lot of medication. 
Directions:
Drink one serving a day (30 ml)! Do not exceed the recommended daily allowance. Make sure you drink more liquids when you consume the product.
WARNING: Dietary supplements cannot replace a varied, balanced diet and a healthy lifestyle. Store the product out of reach of small children. Don't consume the product if you are allergic to shellfish or any other molluscs.
Supplements Facts
Serving Size: 30ml
Serving Per Container: 16
| | | |
| --- | --- | --- |
| | Per 30ml | %RV |
| hydrolysed collagen | 5000 mg | ** |
| methyl sulfonyl methane(MSM) | 1000 mg | ** |
| glucosamine sulphate | 800 mg | ** |
| chondroitin sulphate | 400 mg | ** |
| sodium hyaluronate | 140 mg | ** |
Ingredients:
Purified water, invert sugar syrup, hydrolysed collagen, methyl sulfonyl methane, glucosamine sulphate (from shellfish), chondroitin sulphate, emulsifier (polysorbate 80), D,L--tocopheryl-acetate, sodium hyaluronate, acid (citric acid), flavour, preservative (sorbic acid), colours (carotenes, beta-apo-8'-carotenal (C 30)).
ALLERGENS: Contains glucosamine derived from shellfish.
No customer reviews for the moment.