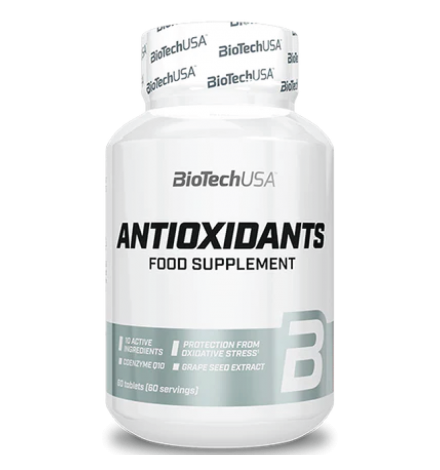 BioTech USA Antioxidants 60 Tabs
2025-09-30
5999076247998
New product
BioTech USA Antioxidants 60 Tabs
5 βιταμίνες
Σελήνιο και συνένζυμο Q10
3 είδη φυτικών εκχυλισμάτων
Συσκευασία για 60 ημέρες 
Κατά τη διάρκεια της ανοσολογικής απόκρισης και των μεταβολικών διεργασιών που παράγουν ενέργεια, παράγονται ελεύθερες ρίζες στα κύτταρα του σώματός μας. Σε ορισμένες περιπτώσεις (λόγω εσωτερικών και εξωτερικών ερεθισμάτων), οι ελεύθερες ρίζες προκαλούν οξειδωτικό στρες. Τα αντιοξειδωτικά εξουδετερώνουν τις ελεύθερες ρίζες, προστατεύοντας το σώμα μας από το οξειδωτικό στρες. *Η ριβοφλαβίνη, η βιταμίνη C, E και το σελήνιο συμβάλλουν στην προστασία των κυττάρων από το οξειδωτικό στρες.
Το συνένζυμο Q10 είναι μια ένωση που υπάρχει φυσικά στο ανθρώπινο σώμα, για παράδειγμα στα κυτταρικά τοιχώματα.
Ορισμένα από τα προϊόντα μας περιέχουν ιαπωνικό knotweed, καθώς και αρκετούς τύπους πολυφαινολών, ένας από τους οποίους (ρεσβερατρόλη) μπορεί να ακούγεται οικείος. Η ποικιλία των αντιοξειδωτικών συστατικών φαίνεται από το γεγονός ότι περιέχει προανθοκυανιδίνες από δύο επιπλέον φυτικά εκχυλίσματα: εκχύλισμα σπόρων σταφυλιού και εκχύλισμα φλοιού θαλάσσιου πεύκου, εγγενές στη Μεσόγειο.
Οδηγίες Χρήσης:
Λαμβάνετε 1 ταμπλέτα ημερησίως με ένα μεγάλο ποτήρι νερό. Μην υπερβαίνετε τη συνιστώμενη ημερήσια δόση.
BioTech USA Antioxidants 60 Tabs
5 vitamins
Selenium and Q10 coenzyme
3 types of plant extract
Value package of 60 daily servings
Vegan
IN THE SPIRIT OF COMPLEXITY
During the immune response and energy-yielding metabolic processes, free radicals are produced in the cells of our body. In certain situations (due to internal and external triggers), free radicals cause oxidative stress. Antioxidants neutralize the free radicals, protecting our bodies from oxidative stress. *Riboflavin, vitamin C, E and selenium contribute to the protection of cells from oxidative stress. Q10 coenzyme is a compound naturally present in the human body, for example in cell walls.
A number of our products contain Japanese knotweed, as well as several types of polyphenols, one of which (resveratrol) may even sound familiar. The diversity of Antioxidants ingredients is showcased by the fact that it contains proanthocyanidins from two additional plant extracts: grapeseed extract and maritime pine bark extract, native to the Mediterranean.
Directions:
Take 1 tablet daily with a large glass of water. Do not exceed the recommended daily dosage.
This food supplement is not a substitute for a varied, balanced diet and a healthy lifestyle. Keep the product out of reach of children.
Supplements Facts
Serving Size: 1 Tablet
Serving Per Container: 60
Per 1 Tablet

%RV

Vitamin A

800 μg

100%

Vitamin C

180 mg

225%

Vitamin E

18 mg

150%

Riboflavin

4 mg

286%

Niacin (as nicotinamide)

15 mg

94%

Coenzyme Q10

25 mg

***

Selenium

50 μg

91%

Pinus Pinaster bark extract

- of which proanthocyanidins

50 mg

47,5 mg

***

***

Polygonum cuspidatum extract

- of which resveratrol

15 mg

14,3 mg

***

***

Grape seed extract

- of which proanthocyanidins

20 mg

19,0 mg

***

***
Ingredients:
Bulking agent (cellulose gel), L-ascorbic acid, DL-alpha-tocopheryl acetate [DL-alpha-tocopheryl acetate, anti-caking agent (silicon dioxide)], maritime pine (Pinus pinaster) bark extract 5.2%, coating material [stabilisers (polyvinyl alcohol-polyethylene glycol-graft-co-polymer, polyvinyl alcohol), anti-caking agents (talc, mono- and diglycerides of fatty acids)], coenzyme Q10, 2.1% anti-caking agents (silicon dioxide, magnesium salts of fatty acids), grape (Vitis vinifera) seed extract, Polygonum cuspidatum root extract 1.6%, nicotinamide, sodium selenite 1.1%, retinyl acetate [stabiliser (gum arabic), retinyl acetate, antioxidant (alpha-tocopherol), anti-caking agent (calcium phosphates)], riboflavin [riboflavin, bulking agent (hydroxypropyl methyl cellulose)].
Made in a plant that manufactures milk, egg, gluten, soy, peanuts, nuts, celery, fish, crustacean, molluscs and sulphur dioxide containing foods.
No customer reviews for the moment.