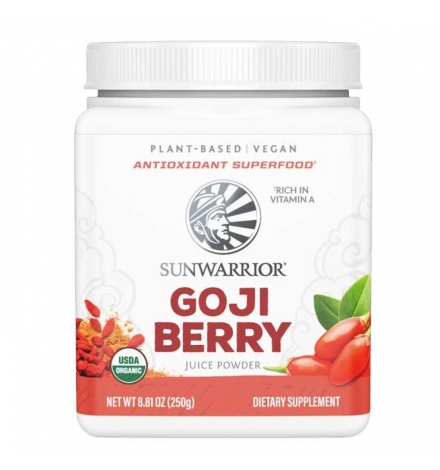 Sunwarrior Goji Berry Organic 250g
2023-05-31
New product
Sunwarrior Goji Berry Organic 250g
Το Goji Berry από την Sunwarrior είναι γνωστό για την πλούσια του περιεκτικότητα σε αντιοξειδωτικά τα οποία σταθεροποιούν το οξειδωτικό στρες και σας προστατεύουν από τις ελεύθερες ρίζες. Ανακατέψτε το με τα smoothies σας ή με το τσάι σας, προσθέστε το στο γιαούρτι ή στα δημητριακά, στις σάλτσες σας ή και στα γλυκά σας.
Τα οφέλη της βιταμίνης Α, της ριβοφλαβίνης, του σεληνίου και του χαλκού καθιστούν τη σκόνη του χυμού Goji Berry την τέλεια υγιεινή προσθήκη σε οποιαδήποτε συνταγή.
Η φύση συσσώρευσε υγιή ενέργεια σε μικρές μερίδες αυτής της πλούσιας σε θρεπτικά συστατικά υπερτροφής που προσφέρει αντιοξειδωτικά, βιταμίνες, σελήνιο, καροτενοειδή και μια διασκεδαστική φρουτώδη γεύση! Η βιταμίνη Α είναι ένα ισχυρό αντιοξειδωτικό που είναι απαραίτητο για την ανάπτυξη, ενισχύοντας το ανοσοποιητικό σας και προστατεύοντας την όρασή σας. Η ριβοφλαβίνη ενισχύει την ανάπτυξη και τη γενική καλή υγεία. Βοηθά το σώμα να διασπάσει τους υδατάνθρακες, τις πρωτεΐνες και τα λίπη για να παράγει ενέργεια και αυξάνει την κυκλοφορία του αίματος, η οποία επιτρέπει τη χρήση του οξυγόνου από το σώμα.
Είναι η ίδια δοκιμασμένη και αληθινή σκόνη χυμού Goji Berry που χρησιμοποιεί η Sunwarrior στη νόστιμη σκόνη πρωτεΐνης Warrior Blend, προέρχεται από βιωσιμότητα και μεταφέρεται από το ντουλάπι μας στο δικό σας.
Βελτιώστε τις τηγανίτες σας, προσθέστε μεγαλοπρέπεια στα smoothies σας, δοκιμάστε τη στο τσάι σας ή πασπαλίστε παντού όπου η ζωή χρειάζεται λίγη θρεπτική γλυκαντική γεύση.
Εξαιρετική πηγή βιταμίνης Α
0 γραμμάρια πρόσθετα σάκχαρα
Υποστηρίζει την υγεία των ματιών και του δέρματος
Μεγάλη πηγή χαλκού, σεληνίου και ριβοφλαβίνης
Καταπληκτικό για ψήσιμο & αρωματικά επιδόρπια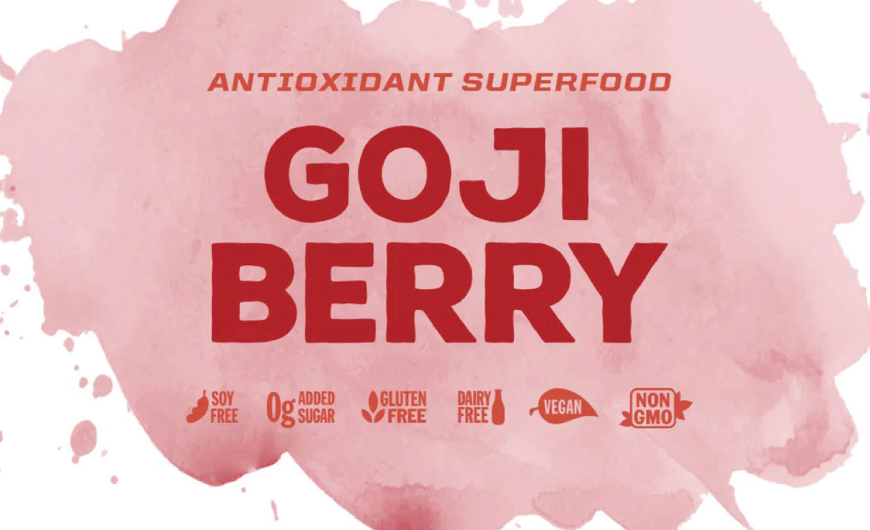 Sunwarrior Goji Berry Organic 250g
Step into our pantry and discover the sweet delight of Goji Berry. Our organic Goji Berry is known to be rich in antioxidants that help protect against free radicals and oxidative stress stabilization. Mix it in your smoothies, stir it into your tea, top your yogurt or cereal, and add some zip to your salsas and zing to your desserts.
The benefits of Vitamin A, Riboflavin, Selenium, and copper make Goji Berry juice powder the perfect healthy addition to any recipe.
Nature packed healthy energy into small servings of this nutrient-dense superfood that delivers antioxidants, vitamins, selenium, carotenoids, and a fun fruity flavor! Vitamin A is a powerful antioxidant that is necessary for development and growth, boosting your immunity, and protecting your vision. Riboflavin fosters growth and overall good health. It helps the body break down carbohydrates, proteins, and fats to produce energy, and it increases blood circulation, which allows oxygen to be used by the body.
It is the same tried and true Goji Berry juice powder Sunwarrior uses in our delicious Warrior Blend protein powder, sourced sustainability, and brought from our pantry to yours.
Perk up your pancakes, add sublimity to your smoothies, taste the difference in your tea, and sprinkle everywhere life needs a little nutritious sweetening.
Excellent Source of Vitamin A
0g Added Sugars
Supports Eye and Skin Health
Great Source of Copper, Selenium, & Riboflavin
Amazing for Baking & Flavoring Desserts
Supplements Facts
Serving Size: 10g (4 tsp)
Serving Per Container: 25
100g
10g
Energy 
419 kJ/ 100kcal 
42 kJ / 10kcal

Fat

-of which saturates 

0g

-0g

0g

-0g

Carbohydrates

-of which sugars

20g

-10g

2g

-1g

Protein
10g
1g
Salt
0g
0g
Vitamins and Minerals
Vitamin A
2700mcg
270mcg
Vitamin C
19mg
1.9mg
Riboflavin
1.3mg
0.13mg
Iron
9mg
0.9mg
Zinc
3mg
0.3mg
Selenium
64mcg
6.4mcg
Copper
12mg
0.2mg
Ingredients: Organic Goji Juice Powder. 
Store in a cool , dry place, out of direct sunlight.
No customer reviews for the moment.