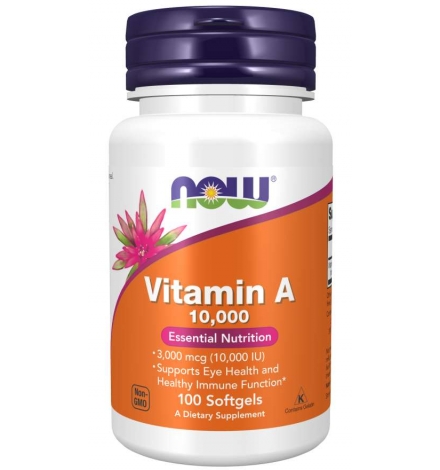 Now Foods Vitamin A 10,000 IU 100 Tablets
2024-02-28
733739003300
New product
Now Foods Vitamin A 10,000 IU 100 Tablets
Η βιταμίνη Α είναι απαραίτητη για τη διατήρηση ενός υγιούς επιθηλιακού ιστού, ο οποίος βρίσκεται στα μάτια, το δέρμα, το αναπνευστικό και το ουροποιητικό σύστημα. Συμβάλλει στην ανάπτυξη των δοντιών και των οστών και τη λειτουργία γενετικών αδένων (όρχεων και ωοθηκών).
Η μειωμένη πρόσληψή της μπορεί να οδηγήσει στη «νυχτερινή τύφλωση» ή «νυκταλωπία» (δυσκολία προσαρμογής των ματιών στο αμυδρό φως), την ξηροφθαλμία, την κερατομαλακία και την ολική τύφλωση. Επιπλέον, η έλλειψή της αυξάνει τον κίνδυνο αναπνευστικής και διαρροϊκής λοίμωξης, συμβάλλει στη μείωση του ρυθμού ανάπτυξης των οστών και του προσδόκιμου βίου μετά από σοβαρή ασθένεια. Από την άλλη πλευρά, η επάρκειά της βοηθάει στην αντίσταση του οργανισμού σε λοιμώξεις του αναπνευστικού και του ουρογεννητικού συστήματος.
Οδηγίες Χρήσης: 
Πάρτε 1 μαλακή γέλη ημερησίως με ένα γεύμα.
Φυλάσσετε σε δροσερό και ξηρό μέρος μετά το άνοιγμα.
__________________________________________________
Now Foods Vitamin A 10,000 IU 100 Tablets
3,000 mcg (10,000 IU)

Supports Eye Health and Healthy Immune Function*
Vitamin A is essential for the maintenance of the tissues that line the internal and external surfaces of the body, including the eyes, skin, respiratory, GI and urinary tracts.*
Natural color variation may occur in this product.
SUGGESTED USAGE & STORAGE
Take 1 softgel daily with a meal.
Store in a cool, dry place after opening.
Supplements Facts
Serving Size:
1 Softgel
Servings Per Container:
100
Amount per Serving
% Daily Value
Vitamin A
   (from Retinyl Palmitate and Fish Liver Oil)
3,000 mcg
333%
Other Ingredients:  Softgel Capsule [bovine gelatin (BSE-free), glycerin, water] and Organic Extra Virgin Olive Oil.
Contains fish (cod, saithe, haddock, pollock).
Not manufactured with yeast, wheat, gluten, soy, corn, milk, egg or shellfish ingredients. Produced in a GMP facility that processes other ingredients containing these allergens.
No customer reviews for the moment.