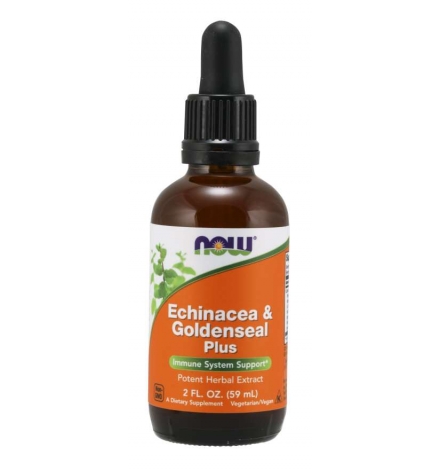 Now Foods Echinacea & Goldenseal Plus 59ml
2022-12-31
733739048509
New product
Now Foods Echinacea & Goldenseal Plus 59ml
Το NOW® Echinacea & Goldenseal Plus είναι ένα υγρό με ισχυρό εκχύλισμα βοτάνων, για την ενίσχυση του ανοσοπoιητικού συστήματος, τα κρυολογήματα, και τις αλλεργίες.
Η Echinacea (purple coneflower) χρησιμοποιήθηκε κάποτε ευρέως από τους ντόπιους Αμερικανούς και τώρα χρησιμοποιείται από εκατομμύρια καταναλωτές παγκοσμίως. Το προϊόν αυτό χρησιμοποιεί ολόκληρη τη ρίζα Echinacea, η οποία έχει όλα τα φυσικά συστατικά της στα ποσά που βρίσκονται στη φύση.
Η Echinacea υποστηρίζει το ανοσοποιητικό σύστημα μέσα από μια ποικιλία μηχανισμών που βοηθούν την φαγοκύτωση και την παραγωγή των T-Cell. Τα αποστάγματα είναι τυποποιημένα σε συγκεκριμένα επίπεδα του δείκτη ενώσεων, γνωστά για την ενίσχυση του ανοσοποιητικού. Παράγωγα του καφεϊκού οξέως (echinacosides), των πολυσακχαρίτων, των πολυακετυλενίων, των αλκυλαμιδών και των φλαβονοειδών, είναι μεταξύ των συστατικών του φυτού αυτού, με γνωστές τις δραστηριότητές τους .
Τα κύρια ενεργά συστατικά της Echinacea είναι τα παράγωγα καφεϊκού οξέως (φαινολικές ενώσεις), τα αλκυλαμίδια και οι πολυσακχαρίτες. Το κιχορικό οξύ είναι η κύρια φαινολική ένωση στην Εchinacea purpurea, σε μεγαλύτερη συγκέντρωση σε σχέση με την Εchinacea pallida και την Εchinacea angustifolia .
Το NOW® Echinacea & Goldenseal Plus χρησιμοποιεί ολόκληρη τη ρίζα Echinacea purpurea και Hydrastasis canadensis, καθιστώντας το ιδανικό για όσους επιθυμούν να αξιοποιήσουν τις βοτανικές δυνάμεις αυτών των δύο διάσημων φυτών της Βόρειας Αμερικής. Αυτή η φόρμουλα ολοκληρώθηκε με την προσθήκη κόκκινου τριφυλλιού, ρίζας κολλιτσίδας, φύλλων μέντας, βατόμουρου και εκχυλίσματος πιπεριού - καγιέν.
Οδηγίες Χρήσης:
Λαμβάνετε 1 έως 2 σταγόνες σε τσάι ή νερό 1 έως 4 φορές την ημέρα ανάλογα με τις ανάγκες σας.
_____________________________________________
Now Foods Echinacea & Goldenseal Plus 59ml
NOW® Echinacea & Goldenseal Plus is a liquid botanical blend rooted in traditional herbalism. With root extracts of Echinacea purpurea and Hydrastasis canadensis as main components, this product is ideal for those wishing to harness the botanical powers of these two famous North American plants. We rounded out this formula with a dash of red clover, burdock root, peppermint leaf, bayberry, and cayenne pepper extracts.
Directions:
Take 1 to 2 droppersful in tea or water 1 to 4 times daily as needed.
Do not exceed recommended dose. Not for use by pregnant/nursing women. Consult physician if taking medication or have a medical condition including allergy to plants from the Asteracea family or a condition affecting the immune system. Continuous high level consumption of this product for more than 2 weeks of each month is not recommended. Contains alcohol. Keep out of reach of children.
Supplements Facts
Serving Size:
2 Droppersful (1.6 mL)
Servings Per Container:
about 37
Amount per Serving
% Daily Value
** Daily Value not established.
Unique Blend of:
Echinacea (Echinacea purpurea) Root,
Goldenseal Root (Hydrastis canadensis),
Red Clover (Trifolium pratense) (Herb),
Burdock Root (Arctium lappa),
Peppermint Leaf (Mentha piperita),
Bayberry (Myrica cerifera) (Bark) and
Cayenne (Capsicum annum) (Fruit) Extracts
1.6 mL
**
Other Ingredients: Water, Vegetable Glycerin and Grain Alcohol (20%).
Not manufactured with yeast, wheat, gluten, soy, milk, egg, fish or shellfish ingredients. Produced in a GMP facility that processes other ingredients containing these allergens.
No customer reviews for the moment.