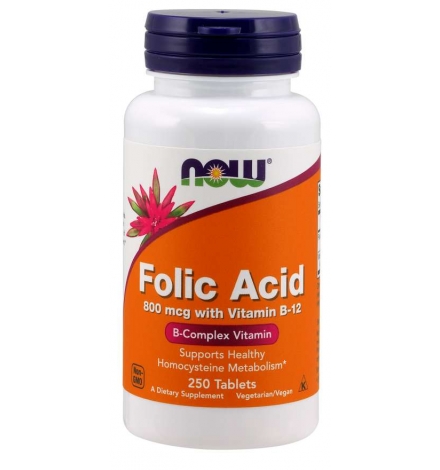 Now Foods Folic Acid with Vitamin B12, 800mcg 250 Tablets
2022-11-30
733739004765
New product
Now Foods Folic Acid with Vitamin B12, 800mcg 250 Tablets
Καθώς το φολικό οξύ αποτελεί μία από τις πιο δύσκολα απορροφήσιμες υδατοδιαλυτές βιταμίνες, η ποιότητα παίζει σπουδαίο ρόλο κατά την επιλογή αυτής της βιταμίνης Β. Το φολικό οξύ της NOW είναι ένα κορυφαίας ποιότητας και τεχνολογικής εξέλιξης μείγμα, με 800 mcg φολικού οξέως και 25 mcg βιταμίνης Β-12 για συνεργατική δράση και γρήγορη απορρόφηση. Όταν χρησιμοποιείται σε συνδυασμό με βιταμίνη Β-12, το Φολικό οξύ μπορεί να διευκολύνει την παραγωγή της κυτταρικής ενέργειας .
Αποτελεί απαραίτητη προυπόθεση για την υγεία του νευρικού και πεπτικού συστήματος, τον σχηματισμό των ερυθρών αιμοσφαιρίων και την παραγωγή ενέργειας. Μαζί με την Β12, αποτελεί την σύνηθες λύση για την αντιμετώπιση πολλών μορφών αναιμίας. Στην εγκυμοσύνη μάλιστα, οι περισσότεροι γυναικολόγοι συνιστούν την χρήση αυτού του συνδυασμού για την πρόληψη της αναιμίας .
Συμβάλει στην παραγωγή των DNA και RNA, οπότε και στην σωστή λειτουργία του κυττάρου .
Όταν το φολικό οξύ, η Β6 και η Β12 δεν βρίσκονται σε επάρκεια, τότε αυξάνονται στο αίμα τα επίπεδα της ομοκυστεΐνης, με άμεση συνέπεια τη βλάβη των αγγείων και την αύξηση του κινδύνου της αρτηριοσκλήρυνσης .
Ως μέρος λοιπόν μίας καλά ισορροπημένης διατροφής, το φολικό οξύ μπορεί να μειώσει τον κίνδυνο της αγγειακής νόσου .
Οδηγίες Χρήσης:
Λαμβάνετε 1 ταμπλέτα, ημερησίως,κατά προτίμηση με το φαγητό.
Now Foods Folic Acid with Vitamin B12, 800mcg 250 Tablets
Supports Healthy Homocysteine Metabolism*
Folic acid is a very important member of the B-vitamin family required for DNA synthesis and genetic repair, making an adequate supply essential for rapidly dividing cells, such as red blood cells.* Folic acid is also necessary for the synthesis of methionine from homocysteine and can help to contribute to the healthy function of both the cardiovascular and nervous system.*
From the FDA: "0.8 mg folic acid in a dietary supplement is more effective in reducing the risk of neural tube defects than a lower amount in foods in common form. FDA does not endorse this claim. Public health authorities recommend that women consume 0.4 mg folic acid daily from fortified foods or dietary supplements or both to reduce the risk of neural tube defects."
Directions:
Take 1 tablet daily with a meal.
SUPPLEMENTS FACTS
Serving Size:
1 Tablet
Servings Per Container:
250
Amount per Serving
% Daily Value
Folate
1333 mcg DFE*
(800 mcg folic acid)
333%
Vitamin B-12
(as Cyanocobalamin)
25 mcg
1042%
Other Ingredients: Microcrystalline Cellulose, Stearic Acid (vegetable source) and Magnesium Stearate (vegetable source).
Not manufactured with wheat, gluten, soy, milk, egg, fish, shellfish or tree nut ingredients. Produced in a GMP facility that processes other ingredients containing these allergens.
Caution: For adults only. Consult physician if pregnant/nursing, taking medication, or have a medical condition. Keep out of reach of children.
No customer reviews for the moment.