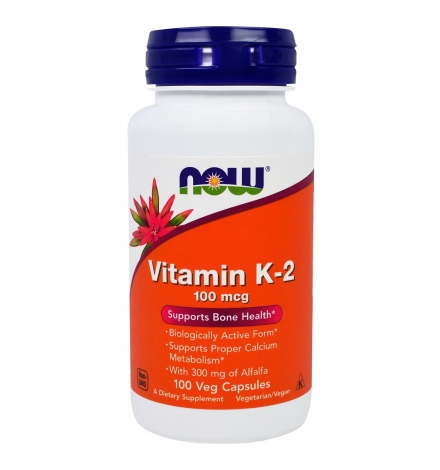 Now Foods Vitamin K-2 100mcg 100Veg Capsules
2020-04-30
733739009906
New product
Now Foods Vitamin K-2 100mcg 100 Veg Capsules
Πρόσφατη έρευνα έδειξε ευεργετικές επιδράσεις της βιταμίνης Κ στα οστά και την καρδιαγγειακή υγεία. Στην πραγματικότητα, η ποιότητα των οστών εξαρτάται από την επαρκή παρουσία βιταμίνης Κ.
Η βιταμίνη Κ-2, που ονομάζεται επίσης μενακινόνη, είναι η πιο βιολογικά δραστική μορφή της βιταμίνης Κ.
Το σκεύασμα Vitamin K-2 της NOW περιέχει επίσης φύτρα Alfalfa, μία πλούσια πηγή φυσικής βιταμίνης Κ. Η φύτρα Alfalfa είναι πλούσια σε χλωροφύλλη, βιταμίνες, πρωτεΐνες και αποτελεί μία από τις πλουσιότερες τροφές σε μέταλλα.
Κατά πολύ ανώτερη από τις άλλες μορφές βιταμίνης Κ, η μη τοξική βιταμίνη Κ-2 παρουσιάζει καλύτερο ποσοστό απορρόφησης σε αντίθεση με τη βιταμίνη Κ-1, αφού η βιταμίνη Κ-2 δεν επικεντρώνεται στο ήπαρ. Ο οργανισμός αποθηκεύει στο ήπαρ μόνο περιορισμένες ποσότητες της βιταμίνης Κ και μόνο το 10% της βιταμίνης Κ-1 από τα τρόφιμα. Η βιταμίνη Κ-2 ενεργεί κυρίως εκτός του ήπατος, στα οστά και τα αιμοφόρα αγγεία.
Η βιταμίνη Κ-2 μπορεί να είναι το κλειδί για την προστασία από τα σημάδια της γήρανσης, αφού αποτελεί ισχυρότερο αντιοξειδωτικό από τη βιταμίνη Ε και το συνένζυμο Q10.
Οδηγίες Χρήσης:
Λαμβάνετε 1 καψούλα, ημερησίως, με το φαγητό.

Now Foods Vitamin K-2 100mcg 100 Veg Capsules
Although Vitamin K is historically known for its role in normal blood clotting function, we now know that Vitamin K is also essential to bone, cardiovascular, and nervous system health.* As a biologically active form of Vitamin K, K-2 is important for the formation of healthy, strong bone matrix.* Vitamin K's role in arterial health revolves around its ability to support proper calcium metabolism in vascular structures.*
Vitanin K-2 Highlights
Biologically Active Form*

Menaquinone-4 (MK-4)

Supports Proper Calcium Metabolism*
Take 1 capsule daily with a meal.
Serving Size:

1 Veg Capsule

Servings Per Container:

100

 

Amount per Serving

% Daily Value

† Daily Value not established.

Vitamin K2




   (as Menaquinone-4) (MK-4)

100 mcg

83%

Alfalfa Powder (Aerial Parts)

250 mg

†
Other Ingredients:  Hypromellose (cellulose capsule), Ascorbyl Palmitate, Rice Flour and Silicon Dioxide.
Not manufactured with wheat, gluten, soy, milk, egg, fish, shellfish or tree nut ingredients. Produced in a GMP facility that processes other ingredients containing these allergens.
No customer reviews for the moment.