Biotech USA Thermo Drine Liquid 500g
2020-10-31
New product
Biotech USA Thermo Drine Liquid
ΥΓΡΟ ΣΥΜΠΛΗΡΩΜΑ ΔΙΑΤΡΟΦΗΣ
ΜΕ ΕΚΧΥΛΙΣΜΑ ΠΡΑΣΙΝΟΥ ΤΣΑΓΙΟΥ,ΚΑΦΕΪΝΗ,
ΧΟΛΙΝΗ ΚΑΙ L-ΚΑΡΝΙΤΙΝΗ
ΣΕ 1 ΔΟΣΗ:
300 mg L-Καρνιτίνης

300 mg Εκχυλίσματος Πράσινου Τσαγιού

80 mg Καφεΐνης

100 mg Ταυρίνης

115 mg Χολίνης
Είναι συμπύκνωμα λιποδιάλυσης γρήγορης απορρόφησης και υψηλής βιοδιαθεσιμότητας, με βιταμίνες, καφεΐνη, ταυρίνη, εκχύλισμα πράσινου τσαγιού και λιποτροπικά συστατικά – διατροφή για εντατική μυϊκή προπόνηση, που προορίζεται για αληθινούς αθλητές.
5 Ενεργά Συστατικά για Λιποδιάλυση και Ενέργεια πριν Την Προπόνηση
Το Thermo Drine Liquid περιέχει L-Καρνιτίνη, Καφεΐνη, Εκχύλισμα Πράσινου Τσαγιού, Χολίνη και Ινοσιτόλη. Αυτά τα πέντε λιποδιαλυτικά συστατικά ενισχύουν τη λιποδιάλυση, ενώ ταυτόχρονα σας προετοιμάζουν πνευματικά και ψυχολογικά για την προπόνησή σας.
Υγρή Βιοδιαθεσιμότητα και Απορρόφηση
Το Thermo Drine Liquid είναι ένα μοναδικό προ-προπονητικό λιποδιαλυτικό ρόφημα, το οποίο απορροφάται εξαιρετικά γρήγορα και αποτελεσματικά από το σώμα σας αμέσως μετά από την κατανάλωση.
Θερμοδυναμικό και Αντιοξειδωτικό Αποτέλεσμα
Το Thermo Drine Liquid αυξάνει τα επίπεδα της οξείδωσης των λιπών και τη θερμογένεση και έτσι το σώμα χρησιμοποιεί πηγές ενέργειας όπως το λίπος για να δημιουργήσει θερμότητα. Και τα πέντε από τα ενεργά συστατικά στο Thermo Drine Liquid έχουν ισχυρά αντιοξειδωτικά αποτελέσματα. Βοηθάει επίσης όσους κάνουν δίαιτα να αποβάλλουν το λίπος.
Οδηγίες χρήσης
Για να ετοιμάσετε ένα ρόφημα διαλύστε 10ml συμπυκνώματος (περίπου μία κουταλιά της σούπας) με 200ml νερό. Έχει ακόμα καλύτερη γεύση αν το διαλύστε σε ανθρακούχο νερό.
_____________________________________
Biotech USA Thermo Drine Liquid
LIQUID DIETARY SUPPLEMENT WITH GREEN TEA EXTRACT, CAFFEINE, CHOLINE AND L-CARNITINE.
IN 1 SERVING:
300 mg L-Carnitine

300 mg Green Tea Extract

80 mg Caffeine

100 mg Taurine

115 mg Ceholine
Thermo Drine Liquid is a complex dietary supplement in easily absorbable liquid form developed for hard training individuals to meet their fitness goals. Choline, the core ingredient in Thermo Drine Liquid, contributes to normal lipid (fat) and homocysteine metabolism, as well as the maintenance of normal liver function. Like all BioTech USA products, Thermo Drine Liquid consists of safe, carefully selected nutrients.
Directions :
Dissolve 10 ml concentrate in 200 ml water.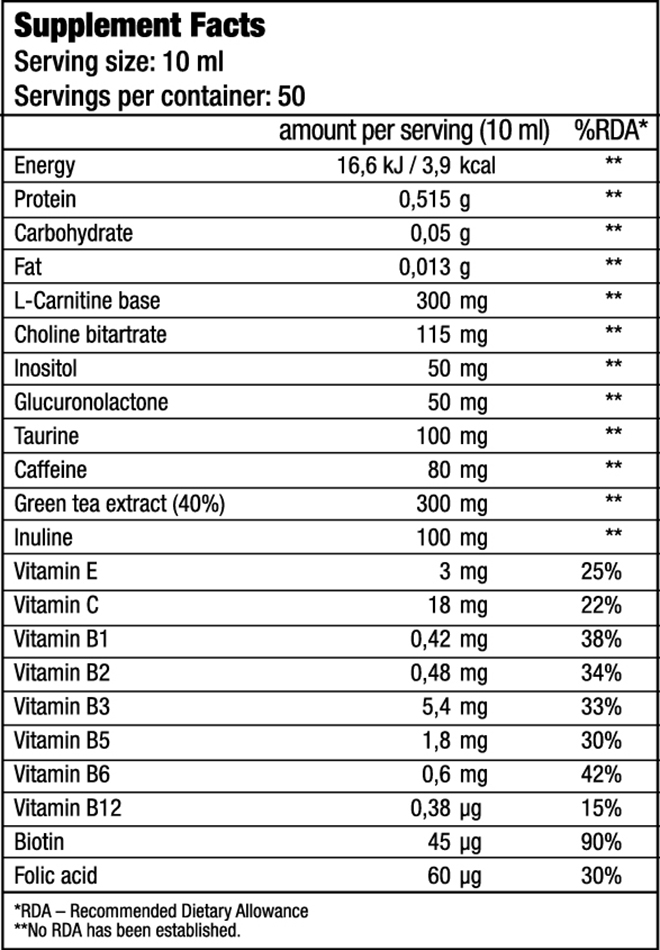 Ingredients:
Water, L-carnitine, choline bitartrate,acid (citric acid), taurine, inulin, caffeine, inositol,glucuronolactone, Camellia sinensis leaf extract,preservative (potassium sorbate), L-ascorbic acid,nicotinamide, flavour, sweeteners (sucralose,acesulfame K), DL-alpha tocopheryl acetate, calciumpantothenate, colour (azorubine*), pyridoxinehydrochloride, riboflavin, thiamine hydrochloride, folicacid, biotin, cyanocobalamin. * May have an adverseeffect on activity and attention in children.
No customer reviews for the moment.