Biotech USA Thermo Drine 60 caps
2021-12-30
5999076216727
New product
ΣΥΜΠΛΗΡΩΜΑ ΔΙΑΤΡΟΦΗΣ ΜΕ ΕΚΧΥΛΙΣΜΑ ΠΡΑΣΙΝΟΥ ΤΣΑΓΙΟΥ,
ΚΑΦΕΪΝΗ ΚΑΙ L-ΚΑΡΝΙΤΙΝΗ 
THERMO DRINE
Επιστημονικά σχεδιασμένο με τέσσερις βασικές συνιστώσες, το Thermo Drine είναι άκρως ισχυρή θερμογενετική φόρμουλα ΛΙΠΟΔΙΑΛΥΣΗΣ, σχεδιασμένη ώστε να σας προσφέρει πραγματικά αποτελέσματα. Το Thermo Drine επιταχύνει τον μεταβολισμό του λίπους και ταυτοχρόνως παράγει ενέργεια από το αποθηκευμένο σας λίπος έτσι ώστε να σας δώσει επιπλέον ώθηση ενέργειας για την προπόνηση. Οι συνιστώσες της θερμογένεσης και του ελέγχου του λίπους αυξάνουν τη θερμοκρασία του σώματος και μειώνουν την όρεξη για να διασφαλίσουν μέγιστη λιποδιάλυση ακόμα και χωρίς κάποια φυσική δραστηριότητα. Το Thermo Drine σας βοηθά να χάσετε το περιττό σωματικό λίπος, δίνοντας σας μόνο καθαρή και γραμμωμένη μυϊκή μάζα.
Μην μένετε φυλακισμένοι στο λίπος – ΚΑΨΤΕ ΤΟ!
 Οδηγίες χρήσης :
Παίρνετε 3 κάψουλες ημερησίως το πρωί με άδειο στομάχι.
THERMO DRINE
DIETARY SUPPLEMENT WITH GREEN TEA EXTRACT,
CAFFEINE AND L-CARNITINE IN CAPSULE FORM
Meet your fitness goals with Thermo Drine, a highly potent thermogenic with green tea, caffeine L-Carnitine and other key ingredients for extra support to your active lifestyle. Like all BioTech USA products, Thermo Drine consists of safe, carefully selected nutrients.
Directions :
Take 3 capsules daily in the morning, before breakfast.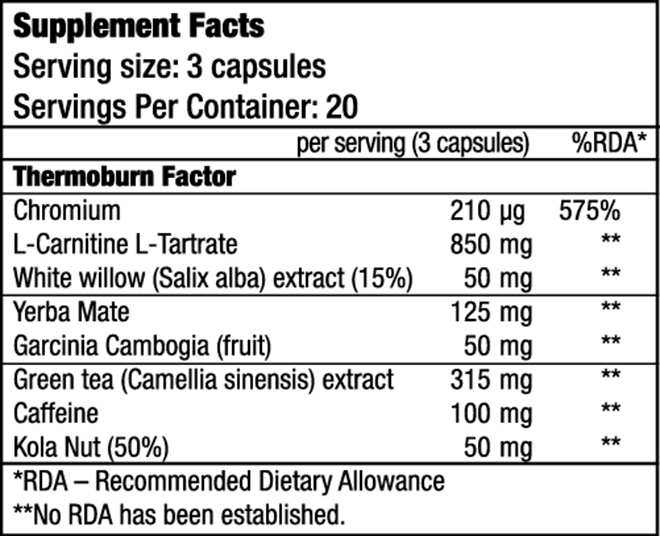 Ingredients:
L-carnitine L-tartrate, bulking agent (dicalcium phosphate), gelatin capsule shell, Camellia sinensis (leaves), Ilex paraguariensis (leaves), caffeine, Salix alba extract (bark), Garcinia cambogia (fruit), Cola nitida (seed), anti-caking agents (magnesium stearate, silicon dioxide), chromium chloride. ALLERGENS: contains Kola nut.
No customer reviews for the moment.