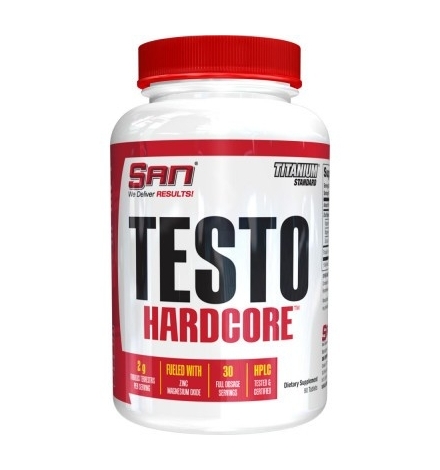 SAN Testo Hardcore 90 Tablets
2023-04-30
672898600077
New product
SAN Testo Hardcore
Αυξήστε την Παραγωγή Τεστοστερόνης με Φυσικό Τρόπο
✘2γρ Tribulus Terrestris Ανά Μερίδα
✘Τυποποιημένα Στο 90% Στεροειδές Σαπωνίνες
✘Προωθεί τα Υγιή Επίπεδα Τεστοστερόνης
✘Αυξάνει τις Αθλητικές και τις Σεξουαλικές Επιδόσεις
Η αναζήτηση για την μέγιστη παραγωγή τεστοστερής
Η Τεστοστερόνη είναι η βασική ανδρική ορμόνη, και όταν τα επίπεδα τεστοστερόνης σας είναι υψηλά, έτσι και όλα τα υπόλοιπα θα είναι. Από την αθλητική απόδοση μέχρι την σεξουαλική ικανότητα, η τεστοστερόνη έχει μια μακρά και αποδεδειγμένη ιστορία ως η ορμόνη της κυριαρχίας.
Φυσικά, διασφαλίζοντας ότι το σώμα σας παράγει με φυσικό τρόπο το μέγιστο επίπεδο της τεστοστερόνης απαιτεί τα σωστά συστατικά...
Η φύση προσφέρει την απάντηση στην αύξηση της τεστοστερόνης με το TESTO HARDCORE 
Οι στεροειδείς σαπωνίνες είναι φυσικά στοιχεία στο Tribulus Terrestris που δρουν ως καταλύτες για την παραγωγή τεστοστερόνης. Αυτός είναι ο λόγος για τον οποίο κάθε μερίδα του TESTO HARDCORE παρέχει 2γρ. αυτού του θαυματουργού βοτάνου. Άλλες φόρμουλες που κυκλοφορούν στην αγορά είναι τυποποιημένες σε ένα ασήμαντο 45%, σε σύγκριση με το TESTO HARDCORE που παρέχει τουλάχιστον 90% διαθέσιμες στεροειδείς σαπωνίνες, γεγονός που την καθιστά ως την μοναδική επιλογή για μία hardcore ισχύ.
Μαζί με τα αποτελέσματα ενίσχυσης της τεστοστερόνης του Tribulus Terrestris, το TESTO HARDCORE είναι εμπλουτισμένο με ZMA φόρμουλα. Σε πολύ πρόσφατες κλινικές μελέτες, ο ψευδάργυρος έχει αποδειχθεί ότι ενισχύει τα επίπεδα τεστοστερόνης φυσικά πάνω από τον ευεργετικό ρόλο που διαδραματίζει στην κυτταρική ανάπτυξη και στην αποκατάσταση ιστών. Αυτό το συγκρότημα ενίσχυσης της τεστοστερόνης, παρέχει επίσης τη βιταμίνη Β6 για να βοηθήσει στη μεγιστοποίηση της απορρόφησης & μαζί με το οξείδιο του μαγνησίου για τους βασικούς ρόλους της στην παραγωγή ATP, τη μυϊκή συστολή και τη διατήρηση της σωστής ισορροπίας των ηλεκτρολυτών.
Το TESTO HARDCORE της SAN σας δίνει τη δυνατότητα να αποκομίσετε όλα τα αθλητικά και οικεία οφέλη της αυξημένης τεστοστερόνης μεγεθύνοντας τη δική σας παραγωγή ορμονών στο σώμα σας με ασφάλεια και αποτελεσματικότητα.
Οδηγίες Χρήσης:
Πάρτε 3 ταμπλέτες με το κυρίως γεύμα. Μην υπερβαίνετε τα 3 δισκία σε περίοδο 24ωρών. 
_____________________________
SAN Testo Hardcore
Increase Testosterone Production Naturally*
✘2 grams of tribulus terrestris per serving
✘Standardized to 90% steroidal saponins
✘Promote healthy testosterone levels*
✘Increase athletic and sexual performance*
The Quest for Maximum Testosterone Production
Testosterone is the key male hormone, so when your testosterone levels are up, so is everything else. From athletic performance to sexual prowess, testosterone has a long history as the hormone of dominance.
Assuring that your body keeps up with maximum testosterone production is the quest of all men, and it requires the right nutritional science…
Testo Hardcore Delivers Nature's Herbal Answer to Increased Testosterone
Steroidal saponins are naturally occurring elements in Tribulus Terrestris that act as a catalyst for the production of testosterone. That's why each serving of TESTO HARDCORE contains a full 2 grams of this wonder herb. Inferior formulas on the market are standardized to a paltry 45%, but TESTO HARDCORE delivers a minimum of 90% steroidal saponins, making it the only real choice for hardcore herbal testosterone potency.
Along with the testosterone boosting effects of Tribulus Terrestris, TESTO HARDCORE is fortified with SAN's Zinc Magnesium Oxide Complex. In very recent clinical studies, zinc has been proven to boost testosterone levels naturally on top of the beneficial role it plays in cellular growth and tissue repair. This T-boosting complex also supplies vitamin B6 to help maximize absorption along with magnesium oxide for its essential roles in ATP production, muscular contraction, and maintenance of proper electrolyte balance.
TESTO HARDCORE is your potent herbal solution to reap all the athletic and intimate benefits of increased testosterone by magnifying your body's own hormone production safely and effectively.
Directions:
Take 3 tablets with your meals. Do not exceed 3 tablets in any 24 hour period.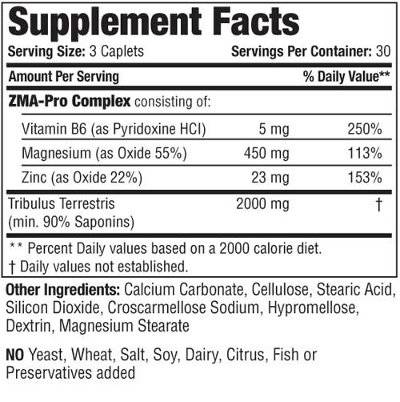 No customer reviews for the moment.