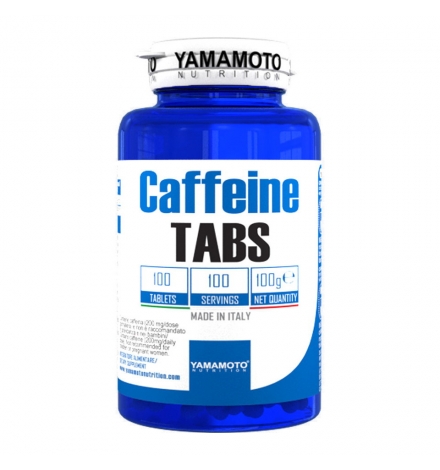 Yamamoto Nutrition Caffeine 100 Tabs
2025-05-31
4926266000614
New product
Yamamoto Nutrition Caffeine 100 Tabs
Το Yamamoto® Nutrition Caffeine TABS είναι ένα συμπλήρωμα διατροφής με βιταμίνης Β1 (υδροχλωρική θειαμίνη) σε συνδυασμό με καφεΐνη η οποία συμβάλλει στον φυσιολογικό μεταβολισμό της ενέργειας.
Ο καφές έχει εκατοντάδες φυτοχημικά, μερικά από τα οποία μπορεί να αντισταθμίσουν τα θετικά αποτελέσματα της καφεΐνης. Ωστόσο, με την καθαρή καφεΐνη, η επιθυμητή δόση σας μπορεί να ληφθεί χωρίς καμία πιθανή παρέμβαση.
Οι κάψουλες καφεΐνης μας σας επιτρέπουν να πάρετε την επιθυμητή ποσότητα σε μια βολική, ακριβή και υψηλή δόση.
Η καφεΐνη δεν προσφέρει μόνο την ενεργειακή δράση του καφέ, αντίθετα έχει εκατοντάδες άλλες δραστηριότητες. Όταν λαμβάνουμε καθαρή καφεΐνη σε σταθερές δόσεις μειώνεται η καταβολική δράση της σκληρής προπόνησης, οι μυϊκοί πόνοι και αυξάνετε η αντοχή. Επίσης η καφεΐνη ενεργοποιεί το κεντρικό νευρικό σύστημα και ενεργοποιεί τον μεταβολισμό.
►200 mg καφεΐνης σε κάθε κάψουλα
►Προσθέτει ενέργεια 
►Εξουδετερώνει σωματική και ψυχική κόπωση,
►Εντείνει τις διεργασίες της σκέψης.
►Προκαλεί σημαντική αύξηση της παραγωγικής ικανότητας και αποτελεσματικότητας κατά την προπόνηση.
Οδηγίες Χρήσης:
Πάρτε 1 ταμπλέτα μία φορά την ημέρα, με νερό ή άλλο αγαπημένο ρόφημα.
_________________________________________
Yamamoto Nutrition Caffeine 100 Tabs
Yamamoto® Nutrition Caffeine TABS are a Vitamin B1 (Thiamine Hydrochloride) dietary supplement with caffeine.
It contributes to normal energy metabolism.

Coffee has hundreds of phytochemicals, some of which may offset the positive effects of Caffeine. However with pure Caffeine your desired dose can be taken without any possible interference.
Our caffeine capsules allow you to take the desired amount in a convenient, precise and high dose.
How to use: take 1 tablet once a day, with water or other favourite beverage.
Serving Size (1 tablets)

Servings Per Container 100

 

A

mount Per Serving

Caffeine

200mg

Vitamin B1

0,22mg (20%*)

* RI = Reference Intakes
Ingredients: stabilizer: microcrystalline cellulose; caffeine, anti-caking agents: silicon dioxide, magnesium stearate; thiamin hydrochloride (vitamin B1).
No customer reviews for the moment.