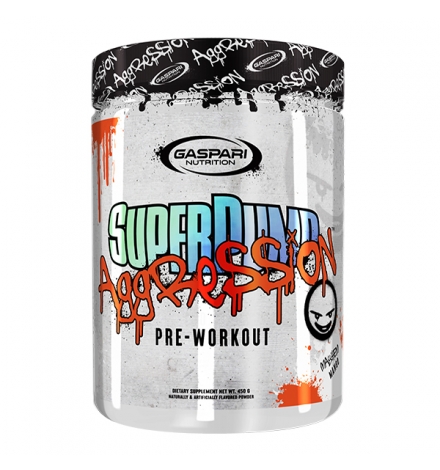 Gaspari Super Pump Aggression 450g
2025-01-31
New product
Gaspari Super Pump Aggression 450g
Ένα εξαιρετικό προ-εξασκητικό συμπλήρωμα που περιέχει το πιο προηγμένο μείγμα συστατικών που θα αυξήσει την απόδοση, την αποτελεσματικότητα και τη δύναμή σας και χάρη στο εκχύλισμα μαύρου πιπεριού, θα τονώσει επιπλέον την καύση του περιττού λίπους. Ποντάρετε στο Super Pump Aggression και νιώστε τη διαφορά!
⭐Επιδρά θετικά στην δύναμη και την αντοχή
⭐ Βοηθά στην απόκτηση μυϊκής άντλησης
⭐ Βελτιώνει τη συγκέντρωση και την εστίαση στην προπόνηση
⭐ Για έως και 25 χρήσεις
⭐ Επιταχύνει την απώλεια υπολειπόμενου λίπους
Μυϊκή αντλία
Εάν προπονείστε, σίγουρα θέλετε να βελτιώσετε τον ορισμό των μυών σας, κάνοντάς τους μεγαλύτερους και πιο εντυπωσιακούς. Αυτή η επίδραση προκαλείται από την L-κιτρουλίνη, η οποία είναι πρόδρομος της αργινίνης, μιας ένωσης που είναι υπεύθυνη για τη σύνθεση του μονοξειδίου του αζώτου. Επομένως, εάν θέλετε οι μύες σας να εντυπωσιάσουν στο γυμναστήριο, και όχι μόνο αυτό, το Super Pump Aggression μπορεί να είναι η καλύτερη λύση. Το Super Pump Aggression είναι ένας τρόπος για μια εντελώς νέα ποιότητα προπόνησης. Όλα χάρη στη χρήση δώδεκα πολύτιμων συστατικών που θα επηρεάσουν θετικά τη δραστηριότητά σας! Χάρη σε αυτά, θα έχετε πολύ περισσότερη ενέργεια, θα έχετε το αποτέλεσμα της μυϊκής αντλίας ευκολότερα και επίσης θα είστε πιο συγκεντρωμένοι από πριν!
Για ακόμα καλύτερα αποτελέσματα – SuperPump Aggression
Η σωματική δραστηριότητα έχει να κάνει με το γεγονός ότι αργά ή γρήγορα χτυπάμε τοίχο και δεν μπορούμε να βελτιώσουμε τα αποτελέσματά μας. Σε τέτοιες περιπτώσεις, είναι απαραίτητο να εφαρμόσουμε πρόσθετη υποστήριξη που θα μας βοηθήσει να επιτύχουμε αυτό που ήταν προηγουμένως ανέφικτο. Η προ-εξασκητική φόρμουλα από την Gaspari Nutrition θα αυξήσει τρομερά την αντοχή σας, θα δώσει δύναμη και θα βελτιώσει την εστίαση που απαιτείται για να κάνετε καλά τις ασκήσεις.
Οδηγίες Χρήσης: 
Ως συμπλήρωμα διατροφής, πάρτε 1 μεζούρα με 200 ml κρύο νερό 20-30 λεπτά πριν την προπόνηση
Gaspari Super Pump Aggression 450g
An excellent pre-training supplement containing the most advanced set of ingredients that will increase your efficiency, effectiveness and strength, and thanks to the black pepper extract, it will additionally stimulate the burning of unnecessary fat. Bet on Super Pump Aggression and feel the difference!
⭐Has a positive effect on strength and endurance
⭐ It helps in getting a muscle pump
⭐ It improves concentration and focus on training
⭐ Enough for up to 25 uses
⭐ Accelerates the loss of residual fat
Muscle pump
If you train, you certainly want to improve the definition of your muscles, making them bigger and more impressive. This effect is caused by L-citrulline, which is a precursor of arginine, a compound responsible for the synthesis of nitric oxide. Therefore, if you want your muscles to impress in the gym, and not only that, Super Pump Aggression may be the best solution. Super Pump Aggression is a way to a completely new quality of training. All thanks to the use of twelve valuable ingredients that will positively affect your activity! Thanks to them, you will have much more energy, you will get the effect of a muscle pump easier, and you will also be more concentrated than before!
For even better results – SuperPump Aggression
Physical activity has this to do with the fact that sooner or later we hit a wall and we cannot improve our results. In such circumstances, it is necessary to apply additional support that will help us achieve what was previously unattainable. Pre-workout from Gaspari Nutrition will tremendously increase your endurance, give strength and improve the focus needed to do exercises well.
How to use SuperPump Aggression: 
As a dietary supplement, take 1 scoop with 200 ml of cold water 20-30 minutes before training
Supplements Facts
Portion: 18g
Servings in the package: 25
| Active ingredients | per 4,5g portion |
| --- | --- |
| L-citrulline | 1000mg |
| Beta-Alanine | 800mg |
| Betaine anhydrous | 500mg |
| Taurine | 375mg |
| L-tyrosine | 375mg |
| Anhydrous caffeine | 100mg |
| N-palmitoylethanolamide | 75mg |
| Choline bitartrate | 50mg |
| Black pepper extract (min.95% piperine) (as BioPerine) | 1,25mg |
| including piperine | 1,2mg |
| Huperzia serrata extract (std. Min.1% Huperzine A) (Club Moss) | 0,5mg |
| including hupercine A | 0,005mg |
Ingredients
SuperPump Aggression ingredients: Citrulline (L-citrulline), beta-alanine, betaine (betaine anhydrous), taurine, tyrosine (L-tyrosine), caffeine (anhydrous caffeine), palmitoylethanolamide (PEA), choline (choline bitartrate), standardized black pepper fruit extract ( Piper nigrum L.) incl. 80% piperine, acidity regulator-malic acid, aromas, anti-caking agent-silicon dioxide, anti-caking agent-calcium silicate, sweetener-sucralose, sweetener-acesulfame K, standardized extract from the ground part of Huperzia serrata ( Thunb.) Trevis. 1% hupercine A, carmine dye.
This product is not intended to diagnose, treat, cure, or prevent any disease.
No customer reviews for the moment.