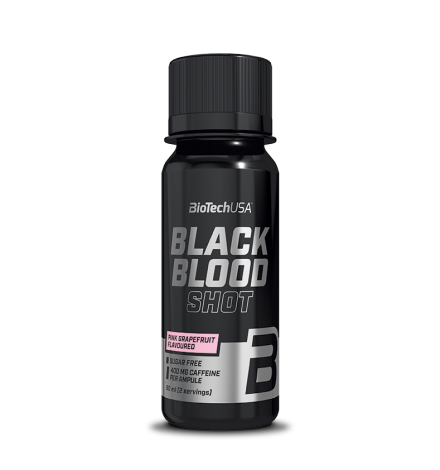 BioTech USA Black Blood Shot 60ml
0000-00-00
New product
BioTech USA Black Blood Shot 60ml
Προϊόν έτοιμο προς κατανάλωση
Με 5 ενεργά συστατικά
1,500mg Βήτα- Αλανίνης ανά δόση (30ml)
Με ταυρίνη, l-τυροσίνη και εκχύλισμα πράσινων φύλλων τσαγιού 
200mg καφεϊνης ανά δόση
Πρακτική συσκευασία
Χωρίς Ζάχαρη
Δραστικά Συστατικά του Black Blood Shot
Το Black Blood είναι ένα πολύ γνωστό όνομα ανάμεσα σε αθλητές με ακραίες ανάγκες που προτιμούν φόρμουλες πριν από την προπόνηση! Το Black Blood Shot είναι μια νέα φόρμουλα σε μια πρακτική συσκευασία αμπούλας, ώστε να μπορείτε να το καταναλώνετε αμέσως πριν και κατά τη διάρκεια της προπόνησής σας. Το προϊόν περιέχει 5 τύπους δραστικών συστατικών σε τέλεια δόση. Εκτός αυτού, κατά την επιλογή των συστατικών δώσαμε μεγάλη προσοχή ως προς την συνεργασία αυτών των συστατικών. 
ΑΣ ΔΩΜΕ ΤΑ ΣΥΣΤΑΤΙΚΑ
Πρώτα απ'όλα , θα σας παρουσιάσουμε τα <<τρία υπέροχα συστατικά>>, τα οποία δεν πρέπει να λείπουν από καμία προ-εξασκητική φόρμουλα.
H Βήτα-αλανίνη αυξάνει τα επίπεδα καρνοσίνης, ενισχύοντας την ικανότητα να αμβλυνθεί συσσώρευση γαλακτικού οξέος.Έρευνες υποστηρίζουν ότι το ημερήσιο συμπλήρωμα βήτα-αλανίνης, υποστηρίζει περισσότερη αντοχή και ανάκαμψη από τις πλέον προπονήσεις. * H Βήτα-αλανίνη καθυστερεί τη μυική κόπωση για να βοηθήσει στην αύξηση της άλιπης μάζας και την ενίσχυση της αντοχής. *
Η ταυρίνη επεκτείνει το όγκο των μυϊκών κυττάρων, ενώ αυξάνει την  ενέργεια στους μύες και συνεπώς τη διάρκεια της άσκησης. Έρευνα έχει δείξει ότι ταυρίνη δρα ως αντιοξειδωτικό στο σώμα και βελτιώνει την πνευματική συγκέντρωση και την απόδοση.
Η L-Τυροσίνη είναι ένα μη απαραίτητο αμινοξύ που μπορεί να συντεθεί στο σώμα από L-φαινυλαλανίνη.
Μπορεί επίσης να βρεθεί σε φυσική μορφή στις μπανάνες, στο αβοκάντο και στα περισσότερα υψηλής αξίας πρωτεϊνικά τρόφιμα όπως είναι το κρέας, τα γαλακτοκομικά προϊόντα και στα αυγά.
Επιπλέον αποτελεί την πρώτη ύλη από την οποία σχηματίζεται μια ομάδα νευροδιαβιβαστών (χημικές ενώσεις του εγκεφάλου), οι κατεχολαμίνες.
Μια από τις κατεχολαμίνες που σχηματίζεται από L-τυροσίνη είναι η αδρεναλίνη, η οποία μαζί με άλλους νευροδιαβιβαστές βοηθά στην εστίαση του μυαλού και τη βελτίωση της συγκέντρωσης σε καταστάσεις στρες.
Εκτός από αυτά, προσθέσαμε εκχύλισμα φύλλων πράσινου τσαγιού, καθώς και περιέχει 80% πολυφαινόλες. Η περιεκτικότητα σε καφεΐνη των 200 mg ανά μερίδα εγγυάται επίσης την επιτυχία του προϊόντος.
Πιστέψτε μας, αυτές οι ουσίες σας βοηθούν πάντα να έχετε επιπλέον κίνητρα και να βεβαιωθείτε ότι το όνομα Black Blood δεν θα σας απογοητεύσει!
Οδηγίες Χρήσης: 
Καταναλώστε 1 αμπούλα την ημέρα σε δύο μερίδες: μία μερίδα (30 ml = ½ αμπούλα) 15 λεπτά πριν την προπόνηση και η άλλη κατά τη διάρκεια της προπόνησής σας!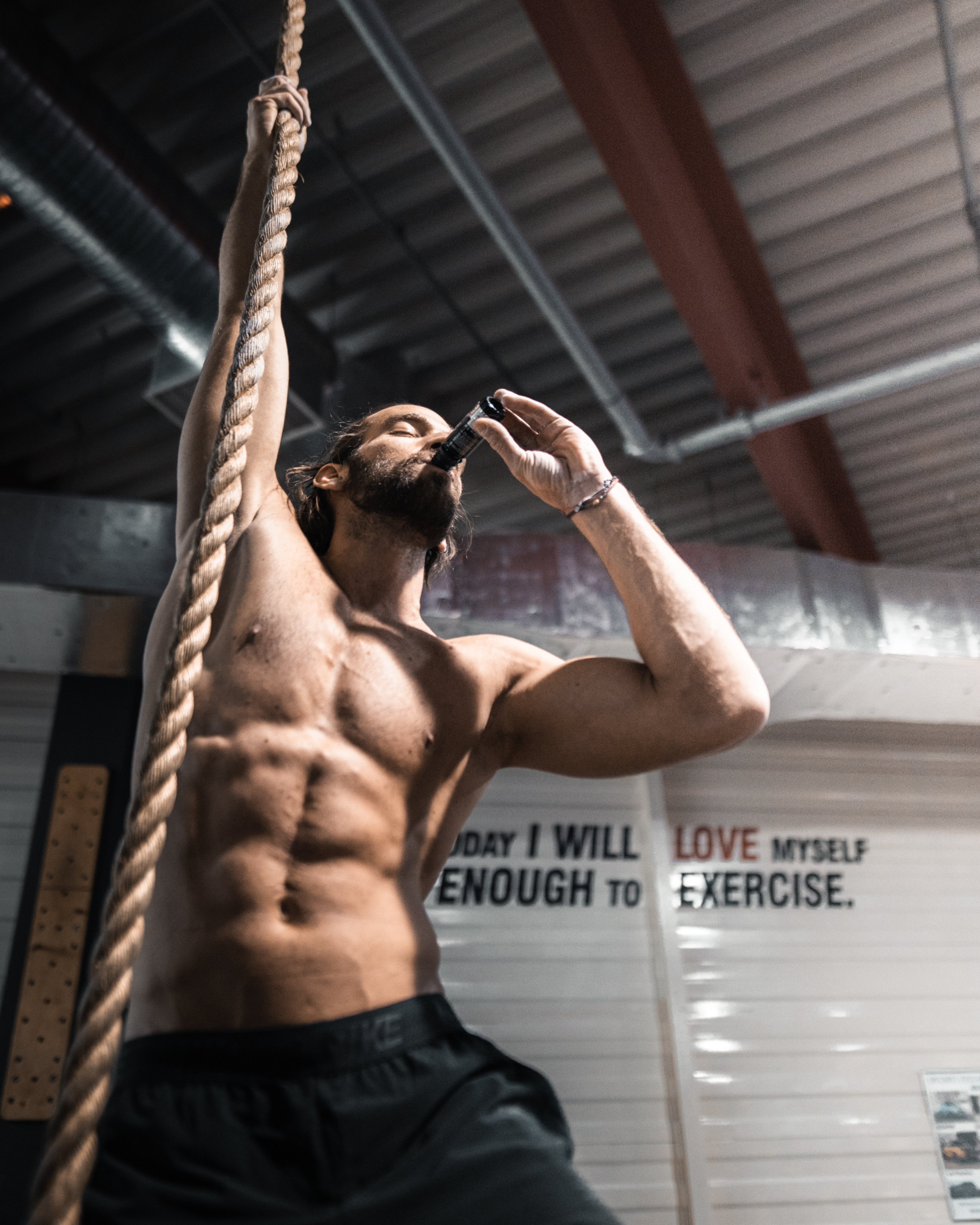 BioTech USA Black Blood Shot 60ml

Why do we recommend Black Blood Shot?
Ready to drink product

With 5 active ingredients

With 1500 mg of Beta-Alanine per serving

With taurine, L-tyrosine and green tea leaf extract to support synergy

With 200 mg of caffeine per serving

Practical package

Sugar-free
In one serving (30 ml):
• 1500 mg of Beta-Alanine
• 900 mg of taurine
• 75 mg of L-tyrosine
• 200 mg of caffeine
• 20 mg of green tea leaf extract
o from which 16 mg are polyphenols
MORE ABOUT THE ACTIVE INGREDIENTS OF BLACK BLOOD SHOT
Black Blood is a well-known name among sportsmen with extreme needs preferring pre-workout formulas! Black Blood Shot is a new formula in a practical ampule packaging, so you can consume it instantly before and during your workouts. The product contains 5 types of active ingredients in a perfect dose. Besides, during the selection of the ingredients we pay a great attention to the principle of synergy, too.
LET'S SEE THE INGREDIENTS
First of all, let us introduce you 'the great three' ingredients, which shouldn't be missed out from any pre-workout formulas. These are beta-alanine, which is the component of carnosine peptide, taurine, which is a well-known neurotransmitter and caffeine's 'best friend'. L-tyrosine can't be missed out either, which is a conditionally essential amino acid, a great active ingredient alone and in a team as well!
Besides, we should mention green tea leaf extract as well with 80% polyphenol content. The 200 mg caffeine content per serving also guarantee the product's success.
Believe us, these substances always help you to get some extra motivation and assure that Black Blood name won't disappoint you!
Meet the members of Black Series!
Are you shaping your body according to a workout plan, adjusting your diet to your activities and using dietary supplements consciously as well? Are you getting well with your plans, but do you want better results? Then the members of Black Series just waiting for you! Among the products you can find pre-workout formula, testosterone optimiser, thermogenic formula and protein powder as well! Meet the Black Series and never settle for less!
Like all BioTechUSA products Black Blood Shot consists of only safe and carefully selected ingredients.
DIRECTIONS
Consume 1 ampule a day in two servings: one serving (30 ml = ½ ampule) 15 minutes before your workout and the other one during your workout! Shake well before consumption!
Supplements Facts
Serving Size: 30ml
Serving Per Container:2 
30ml
60ml
Beta- Alanine
1500mg
3000mg
Taurine
900mg
1800mg
Caffeine
200mg
400mg
L-Tyrosine
75mg
150mg

Green Tea Extract

-Of Which Polyphenols

20mg

16mg

40mg

32mg
Sugar free: <0.5 g sugar/100 ml product.
SUGAR FREE 60 ml (2 servings) 400 MG CAFFEINE PER AMPULE 
INGREDIENTS
Water, betaalanine,taurine, sweeteners (sorbitols, acesulfameK, sucralose), acid (citric acid),caffeine 0.67%, thickeners (cellulose gum,xanthan gum, guar gum), L-Tyrosine,preservative (sorbic acid), green tea (Camelliasinensis) leaf extract 0.07%, flavouring,colour (carmine).
No customer reviews for the moment.