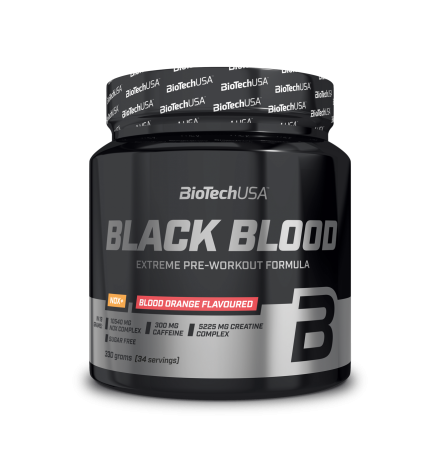 Biotech USA Black Blood NOX+ 330gr
2023-01-31
New product
Biotech USA Black Blood NOX+
Ριζική Προ-Προπονητική Φόρμουλα με εξαιρετικό σύμπλεγμα NOX, 300mg καφεϊνης καθώς και με κρεατίνη & τυροσίνη για ακραίες προπονήσεις! 
Το Black Blood ΝΟΧ+ είναι ένας ενισχυτής που περιέχει τεράστια ποσότητα απ΄ όλα όσα σου χρειάζονται για μια αποτελεσματική προπόνηση. Μπορεί να μην έχεις ξαναδεί αυτά τα ενεργά συστατικά σε τέτοιο συνδυασμό και ποσότητα.
Το προϊόν έχει σχεδιαστεί ειδικά για αυτούς που το σώμα τους έχει ήδη συνηθίσει το συνηθισμένο, γι αυτούς που το μεγάλο καθημερνό τους στρες κάνει δύσκολο το να ξεχάσουν ανησυχίες και προβλήματα, και γι αυτούς που χάνουν το κίνητρο και την επιθυμία τους για τα βάρη.
Το Black Blood ΝΟΧ+ ξαναφέρνει τη φωτιά που σε κάνει να προπονήσε σκληρότερα και σκληρότερα, αλλά και να το επαναλαμβάνεις.
Δε θα υπάρχουν συνομιλίες, ούτε άραγμα εδώ κι εκεί στο γυμναστήριο. Μόνο μπάρες και βάρη, δύναμη, απόδοση, συγκέντρωση και βελτίωση.
Το Black Blood ΝΟΧ+ είναι μια σύνθετη φόρμουλα υψηλής περιεκτικότητας σε καφεΐνη, με ενεργά συστατικά,ειδικά σχεδιασμένη για να συντελέσει στην παραγωγή του νιτρικού οξειδίου και της καρνοσίνης.
Η περιεκτικότητα σε ασβέστιο, νιασίνη και βιταμίνη Β6 συντελούν στις φυσιολογικές διεργασίες της απόδοσης παραγωγής του μεταβολισμού, αλλά και στην ελάττωση της κούρασης και της κόπωσης. Επίσης, η βιταμίνη Β6 συντελεί στο φυσιολογικό μεταβολισμό πρωτεϊνών και γλυκογόνου, ενώ το μαγνήσιο συντελεί στη φυσιολογική λειτουργία των μυών.
Σε κάθε μερίδα (19 γραμμαρίων):
►10.500 mg σύμπλεγμα NOX
4.000 mg Άλφα Κετογλουταρική (AKG) L-αργινίνη

2.500 mg L-μηλική κιτρουλίνη

4.000 mg Βήτα-αλανίνη
►300 mg καφεΐνης
►5.225 mg σύμπλεγμα κρεατίνης (ρυθμιστική κρεατίνη, κιτρική κρεατίνη)
►600 mg L-τυροσίνη
►360  mg ασβέστιο
►450 mg Βιταμίνη C
►2,43 mg βιταμίνη B1
►2,48 mg βιταμίνη B6
►10 mg νιασίνη
Οδηγίες Χρήσης:
Ανάμειξε 1 δόση (1 κουτάλι μέτρησης) σκόνης με 200 ml νερού. Κατανάλωσε 15 λεπτά πριν την προπόνηση. Προτείνουμε να χρησιμοποιηθεί ζυγαριά, προκειμένου να μετρηθούν ορθές ποσότητες. Χρησιμοποίησε ένα σέικερ για ανάμειξη.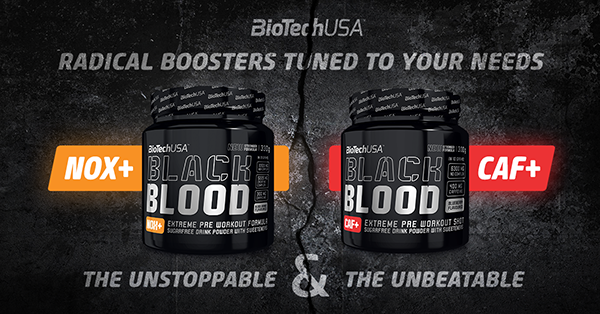 Biotech USA Black Blood NOX+
Radical Pre-Workout Formula with an Extreme NOX Complex, 300mg Caffeine, as well as Creatine & Tyrosine for Hardcore Needs.
Black Blood NOX+ is a booster which contains huge dosages of everything that's needed for effective workout. You may never have seen these active ingredients in such a combination and quantity before.
This product was specifically designed for those whose body has already got used to the average, whose great daily stress make it hard for them to forget about worries and troubles, and those who are losing their motivation and attraction to weights.
Black Blood NOX+ brings back the fire that makes you work out harder and harder, and go and do it all over again.
There will be no chatting, no hanging around in the gym. Only the bars and weights, power, performance, concentration and improvement.
Black Blood NOX+ is a complex high-caffeine formula with active ingredients designed to contribute to the production of nitrogen monoxide and carnosine.  Calcium, niacin and vitamin B6 contribute to normal energy-yielding metabolic processes, and niacin and vitamin B6 also contribute to reducing tiredness and fatigue. Vitamin B6 contributes to normal protein and glycogen metabolism, and calcium contributes to normal muscle function.
Per Serving (19 grams):
►10,500 mg NOX Complex
4,000 mg L-arginine AKG

2,500 mg L-citrulline malate

4,000 mg Beta-alanine
►5,225 mg Creatine complex (buffered creatine, creatine citrate)
►600 mg L-Tyrosine
►360 mg Calcium
►450 mg Vitamin C
►2.43 mg Vitamin B1
►2.48 mg Vitamin B6
►10 mg Niacin
Like all BioTech USA products, Black Blood NOX+ consists of safe and carefully selected ingredients.
Directions:
Mix 1 serving (1 measuring spoon) of powder with 200 ml water. Drink 15 minutes before workout. We suggest you use scales to measure accurate quantities. Use a shaker for mixing.
Warning: Each serving (1 measuring spoon = 19 g) contains 300 mg caffeine. It is not recommended for use by children, pregnant and lactating women, those sensitive to caffeine or suffering from heart disease, circulatory issues or high blood pressure. Do not combine with other stimulant-containing products within 4 hours.
Nutrition Facts| Serving Size: 19g | Serving Per Container :17
| | | | |
| --- | --- | --- | --- |
| | 100g | RI* % | 19g |
| Energy | 120 kJ/ 29kcal | 2% | 23 kJ/6kcal |
| Fat  | 1.7g | 2% | <0.5g |
| -of which saturates | 1.2g | 6% | <0.5g |
| Carbohydrates | 1.7g | 1% | <0.5g |
| -Of Which Sugars | <0.5g | <1% | <0.5g |
| Protein  | 0g | 0% | 0g |
| Salt | 0.15g | 3% | 0.03g |
| Viitamins & Minerals | 100g | NRV*(100g) | 19g |
| Vitamin B1 | 12.8g | 1163% | 2.43mg |
| Vitamin B3 | 52.6mg | 329% | 10mg |
| Vitamin B6 | 13.1mg | 933% | 2.48mg |
| Vitamin C | 2368MG | 2960% | 450mg |
| | |
| --- | --- |
| Other Active Ingredients | in 19g |
| Citrulline Malate (1:1) | 2500mg |
| AAKG(l-Arginine alpha ketoglutarate) | 4000mg |
| Beta alaninre | 4000mg |
| Caffeiine | 300mg |
| Creatine Complex | 5225mg |
| Of Which Creatine | 3076mg |
| L-Tyrosine | 600mg |
Ingredients:
Tropical fruit: Black Blood NOX Complex 55.5% [L-Argininealpha ketoglutarate, Beta-Alanine, Citrulline malate (L-citrulline,malic acid)], Creatine Complex 27.5% [micronized creatinemonohydrate, creatine citrate (micronized creatinemonohydrate, calcium salts of citric acid), buffered creatinemonohydrate (micronized creatine monohydrate, magnesiumoxide)], thickener (xanthan gum), L-Tyrosine, anti-caking agents(magnesium salts of fatty acids, silicon dioxide), L-ascorbic acid,flavourings, caffeine 1.57%, sweeteners (acesulfame K,sucralose), salt, Vitamin B Complex (nicotinic acid, thiaminmononitrate, pyridoxine hydrochloride), colours (tartrazine, alluraRed AC )[1].
No customer reviews for the moment.