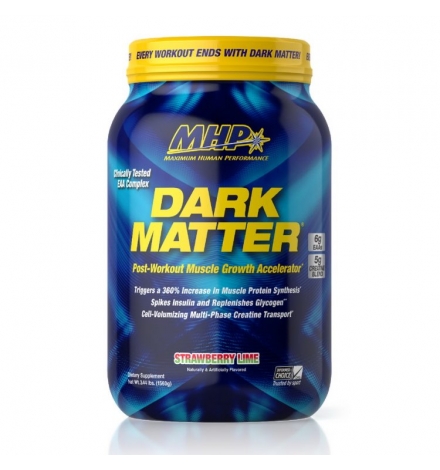 MHP Dark Matter 1560 grams
2023-06-30
New product
MHP Dark Matter - Το προτότυπο μεταπροπονητικό συμπλήρωμα επέστρεψε!
Εάν θέλετε να ξεκινήσετε να κερδίζετε σοβαρό μέγεθος, πάρτε γρήγορα το DARK MATTER μετά από τις προπονήσεις σας και εισαγάγετε τους μυς σας σε αποδεδειγμένη σύνθεση για μυϊκή ανάπτυξη και ανάκαμψη. * Το DARK MATTER διατυπώθηκε και διακρίνεται για τη μέγιστη του ταχύτητα, τη βιο-αποτελεσματικότητα και για το ακριβές χρονοδιάγραμμα των θρεπτικών συστατικών για βέλτιστη μετα- αναπλήρωση κατά τη διάρκεια του "αναβολικού παραθύρου" αμέσως μετά την προπόνηση σας. 
ProSYNTHAGEN®: Αυξάνει τη σύνθεση των πρωτεϊνών γρηγορότερα από τον ορρό γάλακτος * Ο μοναδικός συνδυασμός ProSYNTHAGEN των κλινικά δοκιμασμένων βασικών αμινοξέων ελεύθερης μορφής και των πεπτιδίων αμινοξέων διεγείρει τη σύνθεση πρωτεϊνών γρηγορότερα από την απομονωμένη πρωτεΐνη ορού γάλακτος. * Το Matrix Αμινοξέων ProSYNTHAGEN έχει κλινικά αποδειχθεί να αυξάνει την πρωτεϊνική σύνθεση και ενισχύεται με τη "Διπλή Πύλη Μεταφοράς" για μεγαλύτερη εντερική πρόσληψη, συνδυάζοντας τα ελεύθερα αμινοξέα με τα πεπτίδια λευκίνης * Αυτά τα μοναδικά χαρακτηριστικά δίνουν στο ProSYNTHAGEN ένα πολύ υψηλότερο δείκτη πρωτεϊνικής σύνθεσης παρέχοντας βέλτιστα αποτελέσματα οικοδόμησης μυών *
WaxiMAX®: Μέγιστη αναπλήρωση γλυκογόνου * Το WaxiMAX είναι ένα τριμερές πολυμερές υδατάνθρακας που αποτελείται από άμυλο καλαμποκιού χαμηλής ιξώδωσης, πολυμερή γλυκόζη Maltoplex-18 και δεξτρόζη. Αυτός ο συνδιασμός παρέχει μέγιστη αναπλήρωση του γλυκογόνου. * + Ο τριμερές αυτός του WaxiMAX αναπτύχθηκε χρησιμοποιώντας χαμηλά επίπεδα σακχάρου. *
HydroSIZE®: Πέντε γρ. κρεατίνης πολλαπλών φάσεων για σοβαρό όγκο κυττάρων. Το HydroSIZE, ένα συμπλέγμα κρεατίνης και γλυκερόλης πολλαπλών πηγών, ενισχύει το φορτίο των μυών και τη βιοενεργειακή φόρτιση της κρεατίνης στον μυϊκό ιστό. * Αυτό το σύμπλεγμα παρέχει ένα βέλτιστο μείγμα κρεατίνης 5G που περιλαμβάνει μονοϋδρική κρεατίνη, κρεατίνη πυροσταφυλική και κρεατινική γλυκονική και γλυκερόλη για μεγιστοποίηση του κορεσμού της κρεατίνης του σώματος και για γεγιστοποίηση του  όγκου των μυϊκών κυττάρων. *. *
Οδηγίες Χρήσης :
Ανακατέψτε 2 μεζούρες σε 300ml νερό σε ένα μπουκάλι σέικερ αμέσως μετά την προπόνηση. Οποιοδήποτε άλλο ρόφημα ή γεύμα μετά την προπόνηση μπορεί να ληφθεί 1 ώρα αργότερα.
___________________________________________________________
MHP Dark Matter - THE ULTIMATE POST-WORKOUT FORMULA
If you want to start gaining serious size, chug down some DARK MATTER after your workouts and introduce your muscles to proven formulation for muscle growth and recovery. DARK MATTER is formulated for maximum speed, bio-effectiveness and precise nutrient timing for optimal post-workout replenishment during the "anabolic window" immediately after your workout.*
✓ Triggers a 360% Increase in Muscle Protein Synthesis*
✓ Spikes Insulin and Replenishes Glycogen*
✓ Cell-Volumizing Multi-Phase Creatine*
✓ Clinically Tested Essential Amino Acid Blend

ProSYNTHAGEN®: Increases Protein Synthesis Faster Than Whey*. ProSYNTHAGEN's unique combination of clinically tested essential Free Form Amino Acids plus Amino Acid Peptides stimulates protein synthesis faster than just whey isolate.* ProSYNTHAGEN's Amino Acid Matrix has been clinically shown to increase protein synthesis and is enhanced with "Dual Portal Transport" for even faster and greater intestinal uptake by combining Free Form Aminos with Leucine Peptides.* These unique characteristics give ProSYNTHAGEN a much higher Protein Synthesis Score providing optimal muscle building effects.*
WaxiMAX®: Maximum Glycogen Replenishment* WaxiMAX is a tri-polymer Carbohydrate Matrix composed of low viscosity Waxy Maize starch, Maltoplex-18 glucose polymers, plus Dextrose. This matrix delivers maximum glycogen replenishment.*+ WaxiMAX's tri-polymer matrix was developed using low sugar levels.*
HydroSIZE®: Five Gram Multi-Phase Creatine Transport & Cell Volumizing Matrix. HydroSIZE, a multi-source Creatine and Glycerol Complex, enhances muscle volumizing and bioenergetic creatine loading into muscle tissue.* This complex provides an optimal 5G Creatine blend including Creatine Monohydrate, Creatine Pyruvate and Creatine Gluconate, plus Glycerol for maximum Creatine saturation and muscle cell volumizing.*
Directions :
Mix 2 scoops with 300ml of water in a shaker bottle immediately after training. Any other post-workout shake or meal may be taken 1 hour later.

Trusted to be clean, DARK MATTER is Informed-Choice Certified, tested for over 200 banned substances on the WADA list, and produced in a GMP Compliant Facility. You can be confident you are getting the highest quality product available.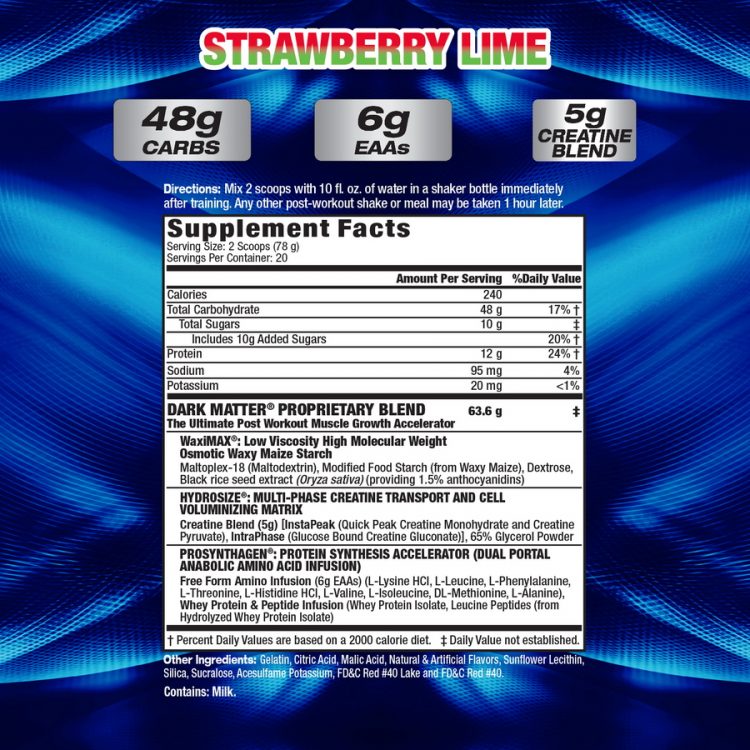 No customer reviews for the moment.