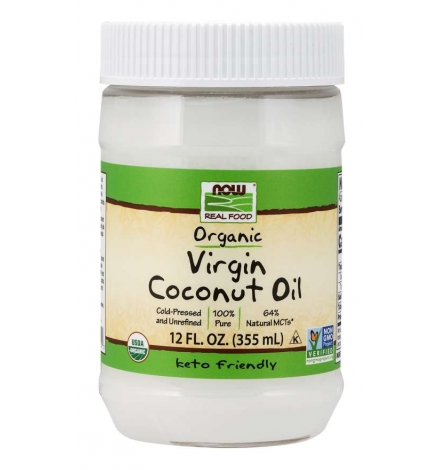 Now Foods Organic Virgin Coconut Oil 355ml
2024-01-30
733739017253
New product
Now Real Food Organic Virgin Coconut Oil 355ml
Το Organic Virgin Coconut Oil της Now Food είναι ένα υψηλής ποιότητας, ανεπεξέργαστο βρώσιμο έλαιο,  παρθένο, ψυχρής έκθλιψης. Το λάδι καρύδας είναι μια θαυμάσια τροφή με πολλές ευεργετικές ιδιότητες για τον οργανισμό.
Το πρώτο και βασικό πλεονέκτημα για το λάδι καρύδας είναι η ίδια του η σύνθεση. Παρά τη μεγάλη του περιεκτικότητα σε κορεσμένα λιπαρά είναι εξαιρετικά ωφέλιμο για την καρδιά. Τα λιπαρά του βοηθούν στον έλεγχο της χολεστερίνης, της υπέρτασης και της αθηροσκλήρωσης (δηλαδή της ανάπτυξης βλαβών στο τοίχωμα των αρτηριών).
Σημαντικό για το λάδι καρύδας είναι και το λαυρικό οξύ (6.5 g ανα 15 ml) που περιέχει, το οποίο μετατρέπεται στον οργανισμό σε μονολαυρίνη, μια ουσία αρκετά τοξική για ιούς, βακτήρια, μύκητες και άλλους μικροοργανισμούς. Η ουσία αυτή διαβάλλει τις λιπιδικές τους μεμβράνες και με τον τρόπο αυτό τα καταστρέφει. Να λοιπόν η αντιμικροβιακή δράση του ελαίου καρύδας, η ενίσχυση του ανοσοποιητικό μας συστήματος και η μείωση των ασθενειών. Τη μαγική μονολαυρίνη δεν μπορεί να τη συνθέσει το σώμα μας χωρίς το λαυρικό οξύ. Το συγκλονιστικό είναι ότι η άλλη μοναδική πηγή λαυρικού οξέος είναι, πιο άλλο, το μητρικό γάλα. Γι' αυτό τα βρέφη που θηλάζουν είναι προστατευμένα από ιούς.
Περιέχει επίσης  μυριστικό οξύ 2.4 g, καπρυλικό οξύ 1,0 γρ, καπρικό οξύ 800 mg, ελαϊκό οξύ 800 mg και το λινελαϊκό οξύ 200 mg ανα 15 ml.
Η λίστα των ωφελειών είναι μεγάλη. Πλούσιο σε  βιταμίνες, μέταλλα, αντιοξειδωτικά, έχει αντικαρκινική και αντιμικροβιακή δράση, ενεργοποιεί το μεταβολισμό, ενισχύει την καλή λειτουργία του εντέρου και το συκώτι, βοηθά στην απορρόφηση μεταλλικών στοιχείων όπως ασβέστιο και μαγνήσιο και άλλα πολλά.
Δεν οξειδώνεται, έχει μεγάλη διάρκεια ζωής και αντέχει στις υψηλές θερμοκρασίες. Το χειμώνα που οι θερμοκρασίες είναι πιο χαμηλές πήζει και μοιάζει σαν βούτυρο, ενώ όσο οι θερμοκρασίες μεγαλώνουν λιώνει και μοιάζει περισσότερο σαν λάδι.
Χρησιμοποιήστε το στα κέϊκ, στα μπισκότα, αντί για βούτυρο ή για να φτιάξετε ποπ κορν. Οι συνταγές πολλές και ενδιαφέρουσες. Αν θέλετε σε μια συνταγή σας να το χρησιμοποιήσετε, προσέξτε να βάλετε περίπου 25% λιγότερη ποσότητα από αυτή που ορίζει η συνταγή στην ποσότητα του βουτύρου, γιατί είναι πιο συμπαγές και περιέχει λιγότερο νερό. Τα κεϊκ και τα μπισκότα γίνονται πιο τραγανά, πιο μαστιχωτά και φυσικά φορτωμένα με μια σούπερ τροφή.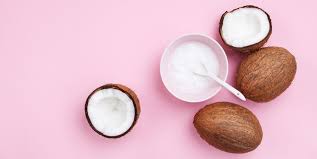 Now Real Food Organic Virgin Coconut Oil 355ml
Cold-Pressed and Unrefined

100% Pure

64% Natural MCTs*
NOW Real Food® Organic Virgin Coconut Oil tastes and smells so good, and is so versatile, nothing else is needed to enjoy the fantastic benefits of this premium-grade nutritional oil. A cold press method is used to preserve the medium-chain triglycerides (MCTs) and fatty acids naturally found in coconuts. This produces an unrefined oil that is bursting with goodness and flavor.
Our Organic Virgin Coconut Oil is delicious on its own and makes an excellent addition to recipes. Use it for cooking and baking in place of other cooking oils or add it to your favorite smoothie. Use it as a spread on your favorite breads and muffins or add a subtle hint of tropical sweetness to your popcorn.
*This product typically has 64% naturally occurring MCTs (medium-chain triglycerides). See Nutrition Facts for total fat and saturated fat content.
Supplements Facts: 
Serving Size:
1 tbsp (15mL)
Servings Per Container:
About 24
Amount per Serving
% Daily Value
Not a significant source of cholesterol, dietary fiber, total sugars, added sugars, vitamin D, calcium, iron, and potassium.
Calories
120
 
Total Fat
14g
18%
   Saturated Fat
12g
60%
   Trans Fat
0g
 
Sodium
0mg
0%
Total Carbohydrate
0g
0%
Protein
0g
 
Ingredient:  Organic Virgin Coconut Oil.
Storage Guidance:  Store in a cool, dry and dark environment in tightly sealed original container. After opening, product can be refrigerated or stored at cool room temperature. Virgin coconut oil naturally has a highly variable composition. At temperatures below 78° the product will begin to solidify and clumps may appear. Bubbles may also appear, and may resemble dark spots. However, both are normal. No additives or preservatives are used. Pure and natural.
Because you are what you eat, NOW Real Food® has been committed to providing delicious, natural foods since 1968. We're independent, family owned, and proud of it. Keep it natural. Keep it real.
Certified Organic by QAI.
US-ORG-050
Vegetarian/Vegan Product.
No customer reviews for the moment.