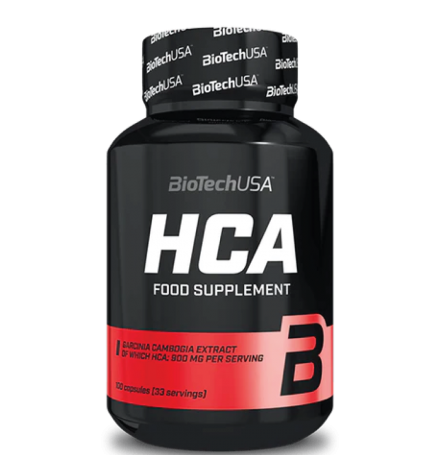 Biotech USA HCA 100 Capsules
2026-06-30
5999076234288
New product
Biotech USA HCA 100 Κάψουλες 
Το HCA (υδροξυκιτρικό οξύ) από την Biotech USA είναι το εκχύλισμα του Garcinia Cambogia. 
► Κατ 'αρχάς, καίει το περιττό λίπος από την κοιλιά. 
► Στη συνέχεια καθαρίζει ολόκληρο το σώμα από τα αποθέματα τοξινών, το οποίο βοηθά στην καύση του λίπους σε όλο το σώμα.
► Bελτιώνει τα επίπεδα ενέργειας.
► Καταστέλει την όρεξη.
► Μπλοκάρει τους υδατάνθρακες
► Ενισχύει το μεταβολισμό σας
Το HCA περιέχει 1500mg Garcinia cambogia. Η φλούδα του καρπού της Γαρκινίας αποξηραίνεται και χρησιμοποιείται για την παραγωγή του υδροξυκιτρικού οξέος, Hydroxycitric Acid (HCA), το οποίο είναι το δραστικό συστατικό της Garcinia Cambogia. Το НСА αυξάνει τα επίπεδα σεροτονίνης στο σώμα και βοηθά στους ανθρώπους που υπερκαταναλώνουν τροφές λόγω του στρες, να αισθάνοται καλύτερα, να βελτιώσουν τον ύπνο και τη διάθεσή τους. Το υδροξυκιτρικό οξύ επίσης καταστέλλει την όρεξη. Η χρήση του Garcinia Cambogia αποτρέπει την αποθήκευση λίπους και διεγείρει την σύνθεση του γλυκογόνου, που αποτελεί πηγή ενέργειας και βοηθά στο να κάψετε περισσότερες θερμίδες. Έτσι μπλοκάρει την συσσώρευση υποδόριου λίπους και τα αποτελέσματα είναι ορατά! Καταπολεμώντας την ορμόνη του στρες, ονομαζόμενη κορτιζόλη, εσείς αμέσως θα ξεκινήσετε να ρίχνεται το λίπος γύρω από τη μέση σας. 
Είναι αλήθεια, αυτό το μαγικό εκχύλισμα δίνει αποτελέσματα! 
Όπως όλα τα προϊόντα της BioTech USA, έτσι και το HCA αποτελείται από ασφαλή και προσεκτικά επιλεγμένα υλικά.
Οδηγίες Χρήσης:
Πάρτε 3 κάψουλες, 30 λεπτά πριν από το γεύμα σας. 
____________________________________________
Biotech USA HCA 100 Capsules 
HCA (Hydroxycitric acid) of Biotech USA is Carcinia Cambogia Extract.  
which can block the conversion of carbohydrates into fat in the body by turning them into energy instead!
►It helps break down  existing cushion of fat
►Improves  energy level
►Accelerates recovery after workout. 
HCA contains 1500 mg of Garcinia Cambogia (a natural source of HCA – hydroxycitric acid). HCA has not only been shown in research to reduce weight and Body Mass Index but also to reduce appetite. Reduction of appetite is believed by many weight loss experts to be a key consideration in achieving weight loss success.
Like all BioTech USA products, HCA consists of safe and carefully selected ingredients. 
Directions: 
Take 3 capsules daily, 30 minutes before meal. Do notexceed the recommended dosage.
Supplements Facts

Daily dose: 3 capsules I Number of doses in the product: 33
Per 3 Capsules

Garcinia cambogia fruit extract

- of which HCA (hydroxycitric acid)

1500 mg

900 mg
Ingredients :
Garcinia cambogia fruit extract 81% (60% HCA), capsule shell [gelatine, glazing agent (shellac), colour (iron oxides and hydroxides), acidityregulator (ammonium hydroxide), acidity regulator (potassium hydroxide)].
No customer reviews for the moment.