BigMan Instant Oatmeal 1.5kg
2023-08-30
New product
BigMan Instant Oatmeal 1.5kg
Το πρωϊνό μας έχει ξανά τέλεια γεύση! 
To Instant Oatmeal από τον BigMan περιέχει πλιγούρι από κόκκους διάφορων δημητριακών. Ο κόκκος καθαρίζεται, ξεφλουδιζεται, αποξηρένεται και αλέθεται έως 1 mm.
To Instant Oatmeal από τον BigMan είναι μία πολύ καλή πηγή υδατανθράκων χαμηλού γλυκαιμικού δείκτη. Περιέχει φυτικές ίνες, οι οποίες θα βοηθήσουν στη βελτίωση της εντερικής λειτουργίας, ακόρεστα λίπη, τα οποία βελτιώνουν το λιπιδικό σας προφίλ και πολλές βιταμίνες και μέταλλα που θα σας βοηθήσουν να διατηρήσετε τις βιολογικές σας λειτουργίες.
Σε ό,τι αφορά τον αθλητισμό, το Instant Oatmeal από τον BigMan, μας παρέχει σημαντικά μεταλλικά στοιχεία που μας βοηθούν να διατηρήσουμε την ισορροπία των ηλεκτρολυτών στο σώμα για να έχουμε πολύ καλύτερη απόδοση.
Όντας τόσο θρεπτικό προϊόν, μπορείτε να το απολαύσετε και ως σνακ κάθε στιγμή της ημέρας για να εκμεταλλευτείτε στο έπακρον όλες τις ιδιότητές του...
Οδηγίες Χρήσης :
Αναμείξτε 100γρ. σκόνης σε περίπου 200ml νερό ή γάλα μέχρι να γίνει σαν κρέμα. Πάρτε το όποιαδήποτε ώρα της μέρας ή και μια ώρα πριν την άσκηση αφού τότε συνίσταται και η λήψη υδατανθράκων.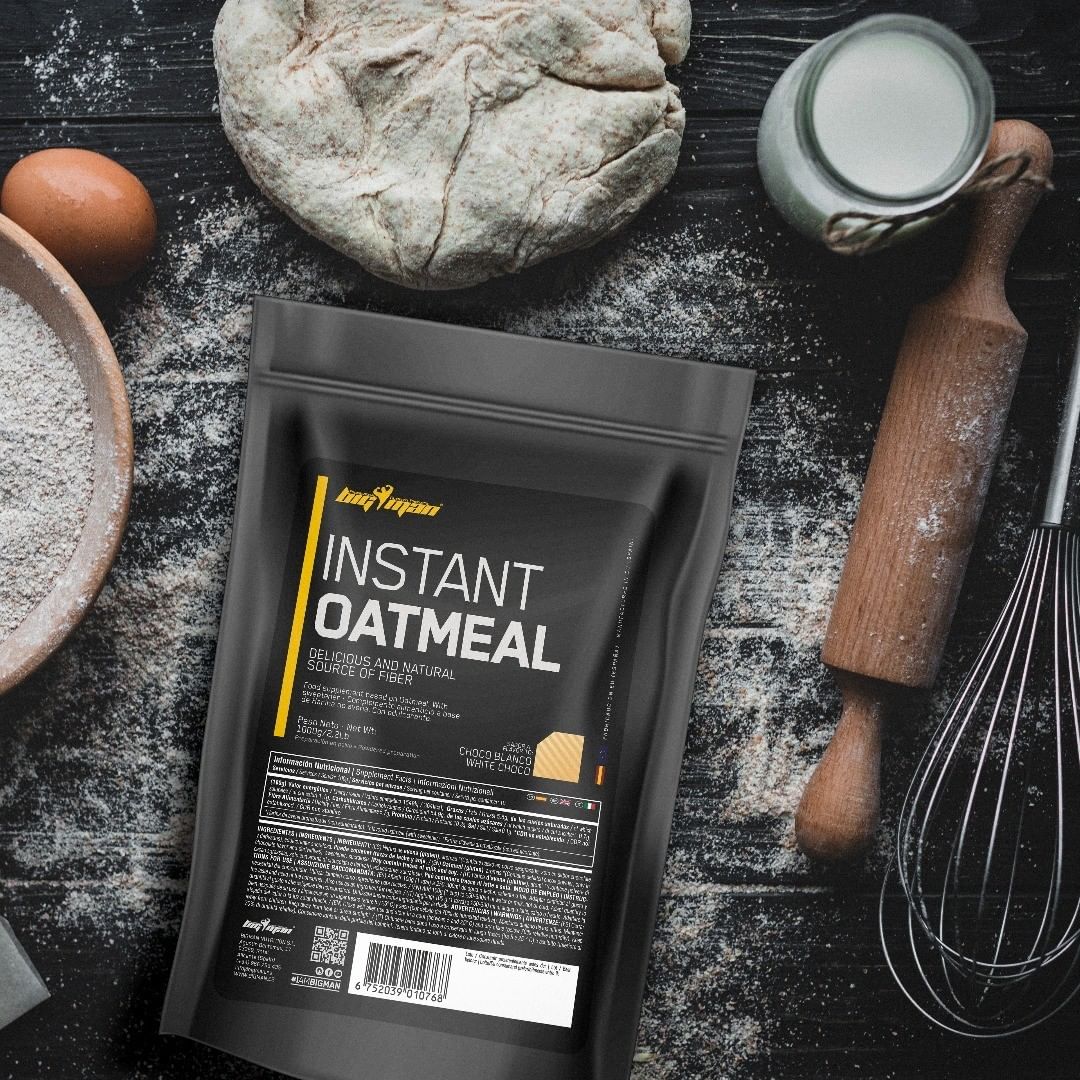 BigMan Instant Oatmeal 1.5kg
INSTANT OATMEALis a product based Instant Oatmeal, has an almost immediate dissolution.
INSTANT OATMEAL is a rich source of carbohydrates low glycemic index, so there will be a sustained contribution to our muscles carbohydrates.
It is also a product that contains fiber, which will help improve intestinal transit, unsaturated fats, which improve your lipid profile, and many vitamins and minerals that will help keep your biological functions.
In sports background INSTANT OATMEAL gives us important minerals that help us maintain the electrolyte balance in the body to maintain performance in bright sweating.
It will also provide important vitamins in the metabolism of carbohydrates for energy, helping to improve performance.
Being such a nutritious food, you can take daily to take advantage of all its properties.
Because it is considered a valuable source of carbohydrate intake is recommended before performing sports about 1 hour before practice.
NUTRITIONAL INFORMATION
Mean analysis (Black Cookie)

Per 100g


Energy value

360Kcal / 1515KJ

Fats




of which fatty acids

Carbohydrates




of which sugars

Protein

10,3g

Salt

0,02g

Fibers

12,3g




 Αλλεργιογόνα: Περιέχει δημητριακά και παράγωγα που περιέχουν γλουτένη.
No customer reviews for the moment.