MuscleTech Platinum MultiVitamin 90 caps
2023-06-30
631656604498
New product
MuscleTech Platinum MultiVitamin, Σύμπλεγμα Πολυβιταμινών, Υψηλή Περιεκτικότητα σε Βιταμίνες, Μέταλλα & Αντιοξειδωτικά, 90 Κάψουλες. 
Περιέχει 20 Βιταμίνες & Μέταλλα σε τψηλή περιεκτικότητα συστατικών

Πλούσιο σε Αντιοξειδωτικά

Περιέχει 865mg Αμινοξέων

Περιέχει τις Βιταμίνες Α, C & E.
Η πολυβιταμίνη της Muscletech περιέχει υψηλή περιεκτικότητα σε βιταμίνες και μέταλλα σε κάθε δοσολογία. Πιο συγκεκριμένα σας παρέχει 20 βιταμίνες και μέταλλα, συμπεριλαμβανομένων αντιοξειδωτικών βιταμινών C & E, για να ενισχύσει την γενική υγεία.
Αποτελεί συμπλήρωμα 30 ημερών και παρέχει 865 mg αμινοξέων.
Οδηγίες Χρήσης:
Πάρτε 3 κάψουλες καθημερινά, με άφθονο νερό. 
-----------------------------------------
Platinum Multivitamin by MuscleTech - High-Potency Dose Of Vitamins, Minerals, And Antioxidants!
High-Potency Vitamins & Minerals

30-Day Supply

20 Vitamins and Minerals

865mg Amino Support
PLATINUM MULTIVITAMIN
Platinum Multivitamin packs high-potency vitamins and minerals into each serving. Platinum Multivitamin has been engineered to deliver 20 vitamins and minerals, including antioxidant vitamins C & E to support general health.
THE PLATINUM MULTIVITAMIN ADVANTAGE
The complete 30-day supply of this advanced multi-vitamin formula also delivers 865mg of amino support, and is perfect for stacking with other MuscleTech® Essential Series™ products.
Directions :
Take 1 serving (3 caplets) with a glass of water daily.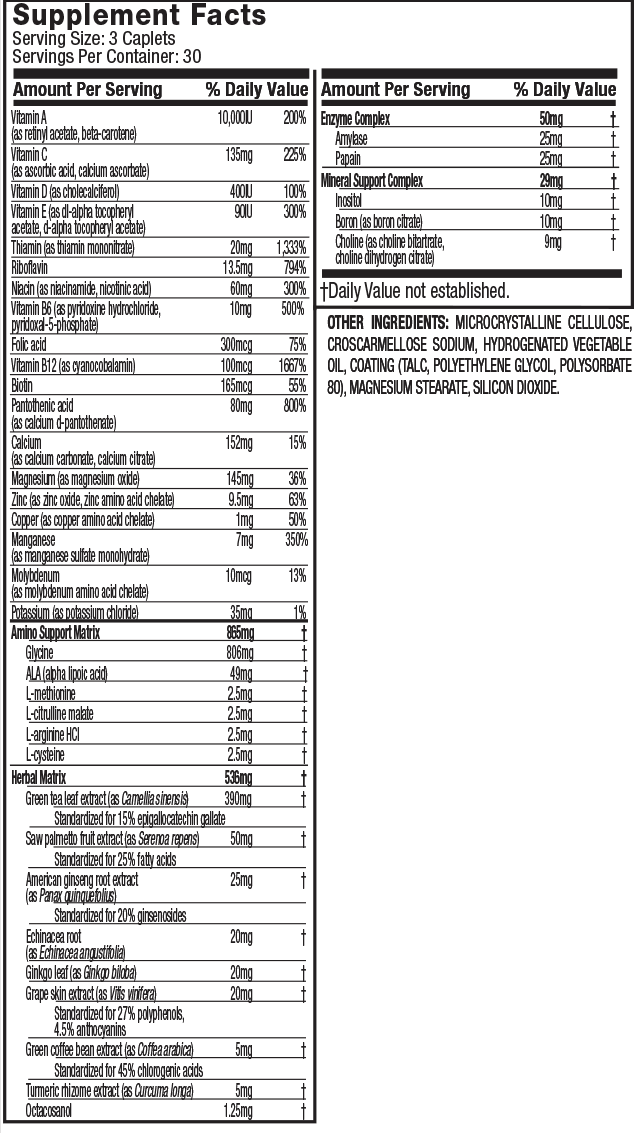 No customer reviews for the moment.