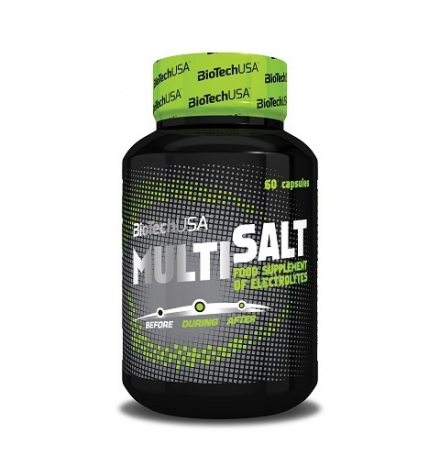 Biotech USA MultiSalt 60 Caps
2022-07-31
5999076214068
New product
Biotech USA MultiSalt
Κάψουλες Αλατιού Με Ηλεκτρολύτες για Αθλητές Αντοχής
Περιληπτικά
► 292 mg αλάτι ανά κάψουλα
► Διατηρεί την ισορροπία των ηλεκτρολυτών*
► Αποτελεσματικό συμπλήρωμα αλατιού
► Μειώνει τους κινδύνους της μυϊκής κράμπας**
► Εύχρηστες κάψουλες, εύκολες στην δοσολογία
► Χωρίς συντηρητικά
► Χωρίς γλουτένη & λακτόζη
Κατά τις παρατεταμένες και  ακραίες δραστηριότητες αντοχής (όπως υπέρ-μαραθώνιο, τρίαθλο, πένταθλο, αγώνες υπέρ-αποστάσεων) χάνουμε μεγάλη ποσότητα νερού, αλατιού και μέταλλων, ειδικά όταν ο καιρός είναι ζεστός. Από τα μέταλλα το σώμα μας χάνει κυρίως νάτριο και χλώριο και σε μικρότερη ποσότητα ακόμα και μαγνήσιο.
Με την κατανάλωση νερού ενυδατώνουμε  τον οργανισμό μας, αλλά το νερό μόνο του δεν προμηθεύει τα βασικά άλατα που χρειάζονται για την ισορροπία του σώματός μας, και αυτό μπορεί να έχει αρνητικές συνέπιες, και μπορεί ακόμα και να επηρεάσει αρνητικά την ισορροπία των ηλεκτρολυτών.
Για τον λόγο αυτό έχει ειδική σημασία της συμπλήρωσης των ηλεκτρολυτών γρήγορα και αποτελεσματικά κατά τη διάρκεια φυσικών δραστηριοτήτων.
MultiSalt: Γρήγορο και Αποτελεσματικό συμπλήρωμα ηλεκτρολυτών
Το MultiSalt περιέχει 4 συστατικά σε μια κάψουλα: νάτριο, μαγνήσιο, κάλιο και χλωριούχο άλας.
Το μαγνήσιο συμμετέχει στην διατήρηση της ισορροπίας των ηλεκτρολυτών και μειώνει την κούραση και την κόπωση, ενώ συμβάλλει θετικά στη λειτουργία του μεταβολισμού.
Το κάλιο και μαγνήσιο συμβάλλουν στην κανονική λειτουργία των μυών. Συνεπώς όχι μόνο ανανεώνετε γρήγορα αλλά καταπολεμάτε και τις κράμπες των μυών, εξαιτίας της έντονης εφίδρωσης.
Να έχετε πάντα μαζί σας τις κάψουλες αλατιού και η νίκη θα γίνει ακόμα πιο γλυκιά!
Όπως όλα τα προϊόντα της BioTech USA, έτσι και το MultiSalt παρασκευάζεται από προσεκτικά επιλεγμένα και ασφαλή συστατικά.
Οδηγίες Χρήσης:
Πάρτε 1 κάψουλα κατά την διάρκεια και ακόμη 1 κάψουλα μετά από υψηλής έντασης αθλημάτων αντοχής με άφθονο νερό (500ml)
Μην υπερβαίνετε τη συνιστώμενη ημερήσια δοσολογία. 
______________________________
Biotech USA MultiSalt 
Salt Capsules With Electrolytes For Endurance Sports 
Overview
► 292 mg salt per capsule
► Maintains electrolyte balance*
► Effective salt supplementation
► Reduces the risk of cramps**
► Convenient, easy-to-dose capsules
► No preservatives
► Gluten-free
► Lactose-free
The Indispensable Salt
During prolonged, extreme endurance activities (e.g. ultramarathon, triathlon, pentathlon, ultrarunning) you lose a lot of water, salt and minerals, especially in hot weather.
From among minerals, your body mostly loses sodium and chlorine, as well as magnesium to a lesser extent. Although water rehydrates your body, it cannot, in itself, supply the basic salts required for the balance of your body, which may affect electrolyte balance. Therefore, it is especially important to supplement electrolytes quickly and effectively during physical activity.
MultiSalt:Quick & Effective Salt Supplement
MultiSalt contains four ingredients in one capsule: sodium, magnesium, potassium and chloride.
Magnesium contributes to maintaining electrolyte balance and reducing tiredness and fatigue, as well as to normal energy-yielding metabolic processes.
Potassium and magnesium contribute to normal muscle function. Thus, it will not only refresh you quickly, but it can also reduce the risk of cramps, and you can say goodbye to sluggish exercise.
Keep your salt capsules on hand to make your victory sweet.
Like all BioTechUSA products, MultiSalt consists of safe and carefully selected ingredients.
Directions:
Take 1 capsule during and 1 capsule after high intensity physical activity associated with significant fluid and electrolyte loss.
Do not excced the recommended daily dosage.
Take the capsules with a big amount of water (500ml)
Supplements Facts
Serving Size:  1 Capsule
Daily Amount: 2X 1 Capsule | Serving Per Container: 60
1 Capsule
2 Capsules
NRV*(2 Capsules)

Salt ( Sodium chloride)

-Of Which sodium

292mg

115mg

584mg

230mg

9.8%

Magnesium
175mg
350mg
93%
Potassium
150mg
300mg
15%
Chloride
314mg
628mg
78%
Ingredients: 
sodium chloride, magnesium oxide, potassium chloride, capsule shell [gelatin,colours (titanium dioxide, iron oxide black)], maltodextrin, tricalcium phosphate, anticakingagent (silicon dioxide). Made in a plant that also manufactures milk, egg, soy andmustard containing foods.

No customer reviews for the moment.