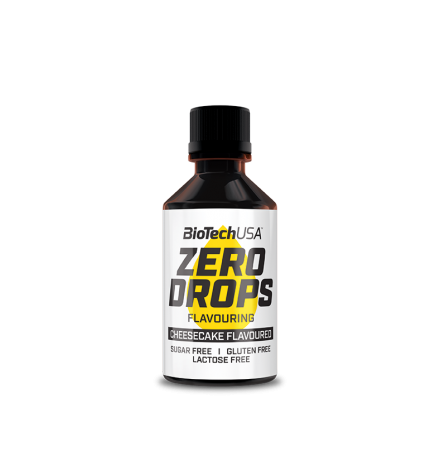 BioTech USA Zero Drops 50ml
2024-07-30
New product
BioTech USA Zero Drops 50ml

Μόνο η δημιουργικότητά σας μπορεί να ορίσει το όριο! 
Δεν χρειάζεται να σταματήσετε τις νόστιμες γεύσεις, ακόμα κι αν ελαχιστοποιήσετε την πρόσληψη ζάχαρης και προσέχετε την ποιότητα των γευμάτων σας.
 Χρειάζεστε μόνο μερικές σταγόνες του Zero Drops (Χωρίς λακτόζη, χωρίς γλουτένη και ζάχαρη). 
Μπορείτε να το βάλετε στα κουάκερ σας, στο γιαούρτι ή ακόμη και σε ένα κομμάτι τυριού cottage της αρεσκείας σας. 
Ακόμη μπορείτε να χρησιμοποιήσετε το Zero Drops στην άγευστη 100% πρωτεϊνη Pure Whey, και να απολαύσετε το ρόφημα σας με γεύση. 
Εξαρτάται από εσάς που θα αποφασίσετε να το αναμίξετε. Μπορείτε να το αναμίξετε είτε σε σκόνη  αμινοξέων είτε ακόμα και σε μεταλλικό νερό.
Χωρίς λακτόζη
Χωρίς γλουτένη
Χωρίς ζάχαρη
Χωρίς χρωστικές
Οικονομική συσκευασία με τουλάχιστον 100 δόσεις

Πως να χρησιμοποιήσετε το προϊόν ?
Προσθέστε 7-10 σταγόνες του προϊόντος σε οποιοδήποτε ποτό ή γεύμα χαμηλής ενέργειας ή / και χωρίς ζάχαρη που δεν περιέχει σουκραλόζη.
Συνιστώμενη ποσότητα για κατανάλωση: 7-10 σταγόνες σε 330 ml ποτού ή 200 g τροφής/ σκόνης.
Μπορείτε να το βάλετε σε μια μεγάλη ποικιλία γευμάτων και ποτών ή σε άγευστες σκόνες ροφημάτων, εξαρτάται από εσάς τι θα δοκιμάζετε με αυτό!
Μπορείτε να το προσθέσετε για παράδειγμα:
στο κουάκερ
στον καφέ
στο smoothie
στο γιαούρτι ή τυρί cottage
για τηγανίτες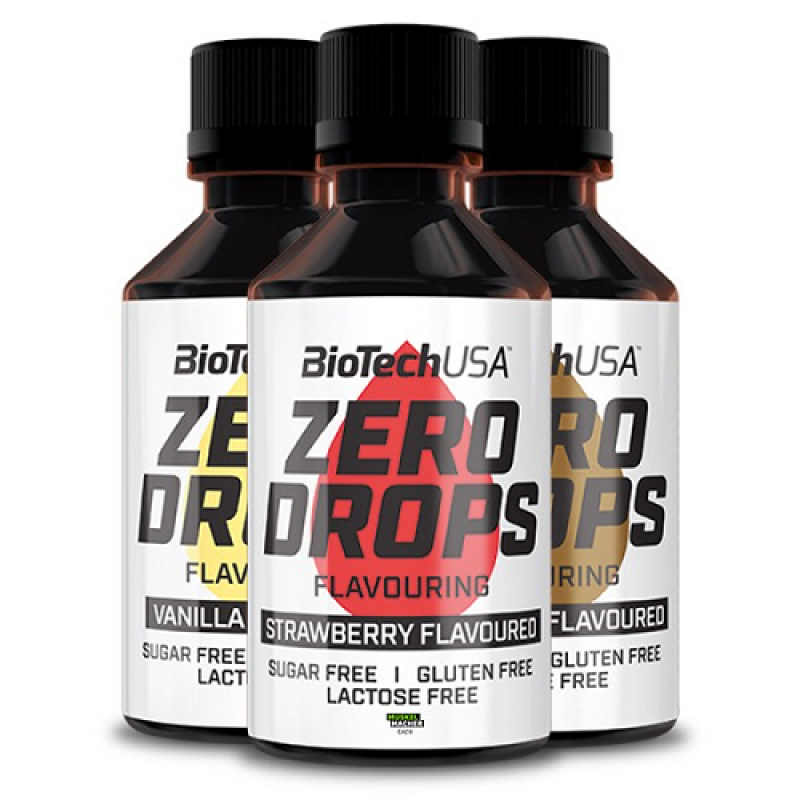 BioTech USA Zero Drops 50ml
Only your creativity can set a limit! Flavor to your liking!
You don't need to give up delicious flavors, even if you minimize your sugar intake and pay attention to the quality of your meals. You need only a few drops of the lactose, gluten and sugar-free** Zero Drops to flavor your porridge, your plain yoghurt or a portion of cottage cheese to your liking. You can even use Zero Drops for your non-flavored protein drink powder, such as 100% Pure Whey, so you can enjoy your post-workout shake with various flavors every day. It is up to you what you want to flavor, from amino acid powders to mineral water.
Lactose-free*
Gluten-free*
Sugar-free**
Free from colorings
Economical packaging with a minimum of 100 servings
How to use the product BioTechUSA Zero Drops?
Add 7-10 drops of the product to any low-energy and /or sugar-free drink or meal not containing sucralose. Amount recommended for consumption: 7-10 drops to 330 ml of drink or 200 g of food. You can put it in a wide variety of meals and drinks or in unflavored beverage powder, it's all up to you what you flavor with it! You can add it for example:
to porridge
to coffee
to smoothie
to plain yoghurt or cottage cheese
to pancake
IN WHAT PACKAGING SIZE IS BIOTECHUSA ZERO DROPS AVAILABLE?
50 ml (100 servings)
Ingredients: 
flavouring, sweetener (sucralose) .
No customer reviews for the moment.