BioTech USA Tri Creatine Malate 300 grams
2022-07-30
5999076228171
New product
BioTech USA Tri Creatine Malate 300 grams
Η συμπλήρωση της διατροφής σας με την Tri Creatine Malate φαίνεται να αυξάνει το συνολικό σωματικό βάρος, την καθαρή μυϊκή μάζα, τη μυϊκή δύναμη, την καρδιαγγειακή υγεία και συνολικά την αθλητική απόδοση. Η Tri Creatine Malate είναι ιδιαίτερα αποτελεσματική στην αύξηση της παράγωγης μυϊκής ισχύος και εκρηκτικής δύναμης, διατηρώντας τα επίπεδα ελεύθερης τεστοστερόνης και εμποδίζοντας τον καταβολισμό.
Κρεατίνη Εμπλουτισμένη με Ομάδα Μηλικών Οξέων 
Η Tri Creatine Malate είναι μείγμα παρασκευασμένο από την ένωση τριών μορίων κρεατίνης με ένα μόριο Μηλικού Οξέος. Ο δεσμός διαλύεται από τα οξέα του στομάχου, απελευθερώνοντας καθαρή κρεατίνη (όχι Μονοϋδρική Κρεατίνη) και Μηλικό Οξύ, τα οποία αμέσως μετά απορροφώνται από το εντερικό τοίχωμα. Το Μηλικό Οξύ ενισχύει την παραγωγή ενέργειας, συνεπώς είναι απαραίτητο για τη σωστή μυϊκή απόδοση. Επίσης επιτρέπει στο σώμα να παραγάγει ATP πιο αποτελεσματικά.
Πιο Υδατοδιαλυτό
Η Tri Creatine Malate είναι πιο υδατοδιαλυτή από την κανονική Μονοϋδρική Κρεατίνη, μειώνοντας δραστικά την πιθανότητα εμφάνισης γαστρικών προβλημάτων και είναι πιο αποτελεσματική στην ενίσχυση του κύκλου του ATP. Όσοι χρησιμοποιούν την Tri Creatine Malate αναφέρουν σημαντικές αυξήσεις στην αντοχή και την αποκατάσταση κάνοντας έντονη άσκηση χωρίς υποδόρια κατακράτηση υγρών.
Δεν Προκαλεί Κατακράτηση Υγρών
Αυτό το άλας κρεατίνης δε θα σας προκαλέσει κατακράτηση υγρών όπως η Μονοϋδρική Κρεατίνη επειδή δεν υπάρχει μόριο νερού στη χημική του δομή. Συνεπώς, όλη η ενυδάτωση και η διόγκωση συμβαίνουν στα μυϊκά κύτταρα και όχι στο στομάχι. Τέρμα στο πρήξιμο!
Δοσολογία:
Παίρνετε 5γρ Tri Creatine Malate 20 λεπτά πριν την προπόνηση με 200ml νερό ή χυμό φρούτων.
____________________________________
BioTech USA Tri Creatine Malate 300 grams 
OVERVIEW
Three Times the Creatine
Tri-Creatine Malate is an intensity-powder powered by 5000 mg Tri Creatine Malate in each serving. It is a special compound made of three creatine molecules attached to one molecule of Malic Acid. The bond is broken by stomach acid, releasing pure creatine which is then absorbed. Creatine increases physical performance in successive bursts of short-term, high intensity exercise. The beneficial effect is obtained with a daily intake of 3 g of creatine. Tri-Creatine Malate, like all BioTechUSA products, is a 100% safe, carefully selected nutrient.
DIRECTIONS
Mix 1 serving (5 g = ½ scoop = 1level tablespoon) powder with 200 ml water or fruitjuice. Consume 1 serving 20 minutes before training.
WARNINGS: KEEP OUT OF REACH OF CHILDREN. Not for use by individuals with under theage of 18 or those with medical condition. Do not use ifpregnant or nursing. The product does not replace avaried and balanced diet and a healthy lifestyle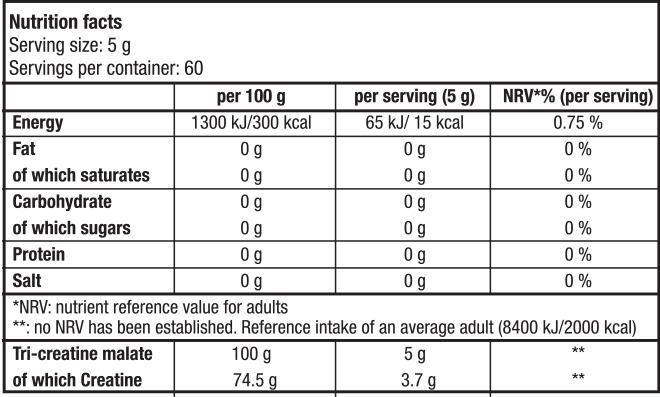 No customer reviews for the moment.