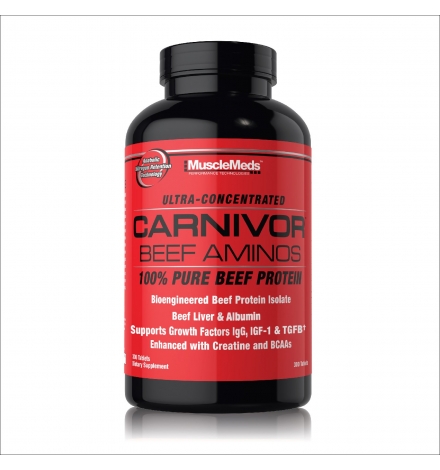 MuscleMeds Carnivor Beef Aminos 300 Tablets
2023-05-31
891597002757
New product
MuscleMeds Carnivor Beef Aminos 300 Tablets
Η ΜuscleMeds παρουσιάζει την νέα φόρμουλα αμινοξέων από 100% μοσχαρίσια πρωτεΐνη, χρησιμοποιώντας παράλληλα τις πιο σύγχρονες μεθόδους φιλατραρίσματος προκειμένου να εξασφαλίσουν την υψηλότερη ποιότητα και βιοδιαθεσιμότητα των αμινοξέων. Είναι ενισχυμένα με κρεατίνη και φυσικά περιέχουν γενναίες ποσότητας απο τα βασικά αμινοξέα Bcaa΄s, κάτι που ''ανεβάζει'' το προοιόν στις υψηλότερες θέσεις της κατηγορίας του.Χρήσιμο συμπλήρωμα για πριν ,μετά την προπόνηση αλλα και για την ενίσχυση κάποιων γευμάτων με φτωχή βιολογική αξία. Κάθε μικροφιλτραρισμένη ταμπλέτα παρέχει όλο το φάσμα των απαραίτητων αμινοξέων, μαζί με τα BCAA καθώς και αυξητικούς παράγοντες.
Oδηγίες Χρήσης :
3 ταμπλέτες δύο φορές την ημέρα.
Το συγκεκριμένο προϊόν για ακόμα καλύτερα αποτελέσματα συνδυάζεται με το σύμπλεγμα βιταμινών Β,  B-COMPLEX της BIOTECH γιατί με αυτό τον τρόπο τα αμινοξέα θα απορροφηθούν ταχύτερα και πιο ολοκληρωμένα από τους μυς.
___________________________________
MuscleMeds Carnivor Beef Aminos 300 Tablets
Beef is the most time-tested bodybuilding food on the planet. It contains every amino acid you need for muscle anabolism (growth) and recovery, plus much more. With new MuscleMeds Carnivor Beef Aminos, now you can harness the anabolism of beef in the ultra-concentrated and ultra-convenient form of a tablet, without any of the fat, cholesterol, or excess calories!
100% pure beef aminos for sustained muscle building
Promotes a better, more sustained state of muscle building, recovery and overall anabolism (growth)
› Contains a complex of 100% pure premium-grade beef protein isolate, beef albumin concentrate, beef immunoglobulin isolate and Argentinian desiccated beef liver
› Uses a U.S.-patent-protected technology that yields higher concentrations of amino acids than beef
› Supplies all amino acids required for muscle anabolism (growth), plus bioactive immunoglobulin and growth factors, the benefits of which go beyond amino acids
› Does not contain any of the fat, cholesterol, or excess calories found in beef 
› Fortified with creatine to enhance muscle mass, strength and overall performance
› Fortified with BCAAs (branched-chain amino acids) to enhance anabolism: leucine, Isoleucine and valine
› Fortified with alpha-keto acids to enhance nitrogen retention: glutamine alpha-ketoglutarate, ornithine alpha-ketoglutarate, alpha-ketoglutarate and alpha-ketoisocaproate
› Naturally lactose-free, unlike products derived from whey or casein (milk proteins)
Directions : 
To promote a better, more sustained state of muscle building and recovery, take 3 MUSCLEMEDS CARNIVOR BEEF AMINOS tablets, twice daily. Ideally, take CARNIVOR BEEF AMINOS in between meals to help support blood and muscle tissue amino acid levels.
Supplements Facts
Serving Size: 3 Tablets
Serving Per Container: 100
| | | |
| --- | --- | --- |
| | Amount Per Serving | %DV |
| Calories | 15 | |
| Total Fat | 0g | 0%+ |
| Cholesterol | 0mg | 0% |
| Protein | 3g | 6%+ |
| Vitamin C | 7mg | 8% |
| Calcium | 115mg | 9% |
| Sodium | 40mg | 2% |
| Potassium | 15mg | <1% |
Ingredients: Carnivor Beef Amino Acid Complex [(Beef Protein Isolate, Beef Albumin Concentrate, Beef Liver), Creatine Monohhdrate, Anabolic Nitrogen Retention Technology Intermediates: GKG (Glutamine- Alpha-Ketoglutarate),OKG (Ornithine-Alpha-Ketoglutarate), AKG (Alpha-Ketoglutarate), KIC (Alpha-Ketoisocaproate), BCAAs (L-Leucine, L-Isoleucine, L-Valine), Dicalcium Phospate , Microcrystalline Cellulose, Stearic Acid, Film Coat (Hypromellose, Polythylene Glycol, and Hydroxypropyl Cellulose), Silic, Magnesium Stearate.
Typical Essential Amino Acids Profile per 100g protein 

Carnivor Beef Amino Complex

L-Leucine ( Branced Chain Amino Acid) 
4,253mg
L-Isoleucine ( Branced Chain Amino Acid)
1,793mg
L-Valine ( Branced Chain Amino Acid)
3,033mg
L-Threonine
2,318mg
L-Lysine
5,384mg
L-Phenylalanine
2,504mg
L-Tryptophan
384mg
L-Methionine
1,236mg
L-Histidine

1,334mg
No customer reviews for the moment.