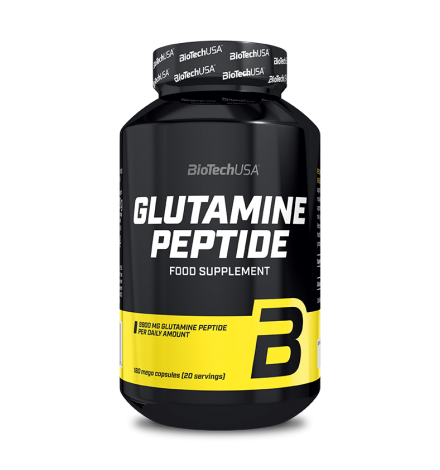 BioTech USA Glutamine Peptide 180 Caps
2023-09-30
5999076233687
New product
BioTech USA Glutamine Peptide 180 Caps
Τι είναι η Γλουταμίνη; 
Η γλουταμίνη είναι ένα υπό όρους απαραίτητο αμινοξύ που μπορεί να παραχθεί από τον ίδιο τον οργανισμό. Ωστόσο, η συμπλήρωση γλουταμίνης μπορεί να είναι απαραίτητη σε ορισμένες περιπτώσεις, όπως υψηλή ένταση ή μακροχρόνιες προπονήσεις. Τέτοιες δραστηριότητες το σώμα μας χρειάζεται   περισσότερη γλουταμίνη από ό, τι είναι σε θέση να παράγει.
Μια ημερήσια δόση (3x3 κάψουλες) περιέχει:
9900 mg γλουταμίνης  από πεπτίδια
Δεν περιέχει την γλουταμίνη, όπως την γνωρίζατε.. Περιέχει ένα πολυμερές, που ονομάζεται πεπτίδιο, το οποίο σχηματίζεται με συγκεκριμένη σειρά με σύνδεση πεπτιδίου. Τα πεπτίδια είναι σταθερές δομές, επιτρέποντας γρήγορη και αποτελεσματική απορρόφηση.
Το πεπτίδιο γλουταμίνης, όπως και κάθε άλλο προϊόν της BioTechUSA, είναι ασφαλές και περιέχει προσεκτικά επιλεγμένα συστατικά.
Οδηγίες Χρήσης: 
Λαμβάνετε 3x3 κάψουλες καθημερινά.
Μην υπερβαίνετε τη συνιστώμενη ημερήσια δοσολογία.

BioTech USA Glutamine Peptide 180 Caps

WHAT IS GLUTAMINE?
Glutamine is a conditionally essential amino acid which can be produced by the body itself. However, glutamine supplementation may be necessary in certain circumstances, such as high intensity or long-term workouts. Such activities may cause the body requiring more glutamine than it is able to produce.


A daily dose (3x3 capsules) contains:
9900 mg glutamine peptide
Contains glutamine, a conditionally essential amino acid. However, the product does not contain free glutamine; it contains a short polymer called glutamine peptide, which is formed in a specific order by peptide bonding. Peptides are stable structures, enabling fast and efficient absorption.
Glutamine Peptide, just like any other BioTechUSA product, is safe and contains carefully selected ingredients.
DIRECTIONS
Take 3x3 capsules daily. Do not exceed the recommended daily dose.
Supplements Facts| Daily Amount : 9 Capsules | Serving Per Container: 20
| | |
| --- | --- |
| | In 9 Capsules  |
| Glutamine Peptide  | 9900mg |

INGREDIENTS
Glutamine peptide (contains wheat) 87%, capsule shell [gelatine, glazingagent (shellac), colour (iron oxides and hydroxides), acidity regulator (ammonium hydroxide),acidity regulator (potassium hydroxide)], anti-caking agents (magnesium salts of fatty acids,silicon dioxide).
No customer reviews for the moment.