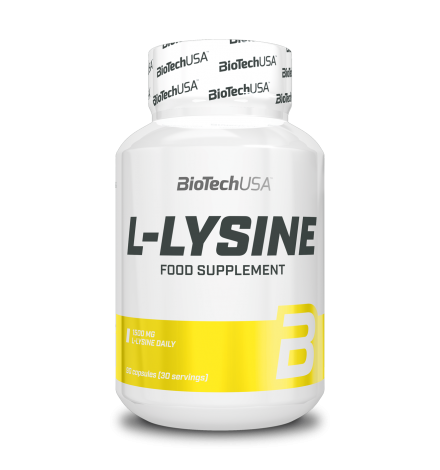 BioTech USA L-Lysine 90 Caps
2023-01-31
5999076234424
New product
BioTech USA L-Lysine 90 Caps
Γιατί προτείνουμε το προϊον L-Λυσίνης από την BioTech USA;
Για την κάλυψη των αναγκών του αμινοξέος L-λυσίνης
Η L-λυσίνη είναι ένα πολύπλευρο και απαραίτητο αμινοξύ που το σώμα δεν μπορεί να παράγει ή μπορεί να παράγει μόνο σε ανεπαρκείς ποσότητες. Βρίσκεται κυρίως σε τροφές πλούσιες σε πρωτεΐνες, όπως διάφορα γαλακτοκομικά προϊόντα, κρέας, αυγά. Η L-λυσίνη μπορεί εύκολα να αντικατασταθεί από μια ισορροπημένη διατροφή και καλής ποιότητας θρεπτικά συστατικά, αλλά σε ορισμένες περιπτώσεις (όπως στην περίπτωση εκείνων που ακολουθούν έναν vegan τρόπο ζωής) μπορεί να είναι απαραίτητο να παρέχεται από άλλες πηγές εκτός από τα γεύματα. Το συμπλήρωμα διατροφής L-Λυσίνης μπορεί να βοηθήσει σε αυτό. Χάρη στη μορφή κάψουλας είναι εύκολο να το χωρίσετε σε δόσεις και να το παίρνετε μαζί σας οπουδήποτε κατά τη διάρκεια της ημέρας.
ΣΕ ΠΟΙΟΥΣ ΣΥΣΤΗΝΟΥΜΕ ΤΟ ΠΡΟΪΟΝ?
Για σας, που χρειάζεστε τη συμπλήρωση του απαραίτητου αμινοξέος L-λυσίνης
Για σας, που αναζητείτε το προϊόν σε μορφή κάψουλας.
Βασικά Αμινοξέα (Απαραίτητα)
Τα βασικά αμινοξέα, από τα οποία γνωρίζουμε 9 τύπους, είναι απαραίτητα για το ανθρώπινο σώμα. Ωστόσο, το σώμα μας δεν είναι σε θέση να τα παράγει ή μπορεί να τα παράγει μόνο σε ανεπαρκείς ποσότητες. Γι 'αυτό είναι ιδιαίτερα σημαντικό να εξασφαλιστεί η πρόσληψη τους από εξωτερικές πηγές, κατά προτίμηση στο βέλτιστο ποσό και αναλογία. Η L-λυσίνη (μαζί με την L-λευκίνη) ανήκει στην ομάδα των καθαρά κετογόνων αμινοξέων.
Η L-λυσίνη, όπως και κάθε άλλο προϊόν της BioTechUSA, περιέχει ασφαλή, προσεκτικά επιλεγμένα συστατικά.
Οδηγίες Χρήσης:
Να καταναλώνετε 3 κάψουλες ημερησίως με άφθονο νερό ανάμεσα στα γεύματα!
Μην υπερβαίνετε τη συνιστώμενη ημερήσια πρόσληψη!
___________________________________________
BioTech USA L-Lysine 90 Caps
WHY DO WE RECOMMEND THE PRODUCT BIOTECHUSA L-LYSINE?
To cover the L-lysine amino acid needs
L-lysine is a versatile essential amino acid that the body cannot produce, or can produce only in insufficient amounts. It can mainly be found in protein-rich foods such as various dairy products, meat, eggs. L-lysine can easily be replaced by a balanced diet and good quality nutrients, but in some cases (such as in case of those following a vegan lifestyle) it may be necessary to provide it from sources other than meals. The BioTechUSA L-Lysine dietary supplement capsule can help with this. Thanks to its capsule form, it is easy to portion out and take with you anywhere during the day.
WHO DO WE RECOMMEND THE PRODUCT BIOTECHUSA L-LYSINE FOR?
for those who need the supplementation of L-lysine essential amino acid
for those looking for a capsule product
WHAT DOES BIOTECHUSA L-LYSINE CONTAIN?
One serving (3 capsules) contains:
1874 mg L-lysine hydrochloride

of which 1500 mg L Lysine
Essential amino acids
The essential amino acids, of which we know 9 types, are essential for the human body. However, our body is unable to produce them, or is able to produce them only in insufficient quantities. That is why it is particularly important to supply them from external sources, preferably in the optimal amount and proportion. L-lysine (along with L-leucine) belongs to the group of purely ketogenic amino acids!
L-lysine, like any other BioTechUSA product, contains safe, carefully selected ingredients.
DIRECTIONS
Take 3x1 capsules daily with plenty of liquid between meals!
Do not exceed the recommended daily intake!
Keep this product out of the reach of small children. Food supplements should not be used as a substitute for a varied and balanced diet and a healthy lifestyle.
Its use is not recommended for pregnant women, and in case of any known underlying disease, or medication!
Supplements Facts
Serving Size: 3 Capsules
Serving Per Container: 30
| | |
| --- | --- |
| | Per 3 Capsules |
| L-lysine hydrochloride | 1874mg |
| -From Which L-Lysine | 1500mg |
INGREDIENTS
L-Lysine hydrochloride 82.8%, capsule shell [gelatine, glazing agent (shellac),colour (iron oxides and hydroxides), acidity regulator (ammonium hydroxide),acidity regulator (potassium hydroxide)], anti-caking agents(magnesium salts of fatty acids, silicon dioxide).
Made in a plant that manufacturesmilk, egg, gluten, soy, crustaceans, sulphur dioxide and nutscontaining foods.
No customer reviews for the moment.