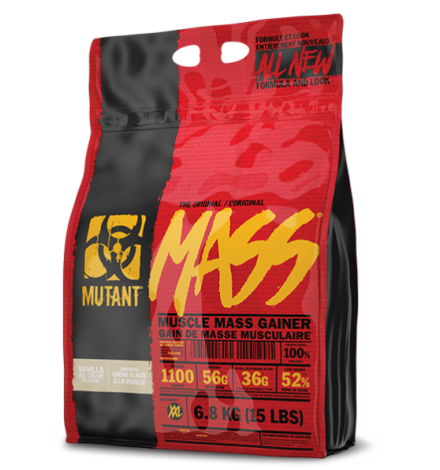 Mutant Mass 15lbs
2025-01-31
New product
Mutant Mass 15lbs
Αφήστε την ΑΝΘΡΩΠΟΤΗΤΑ ΠΙΣΩ!
ΤΟ ΑΡΧΙΚΟ.... ΣΕ ΠΟΛΥ ΚΑΛΥΤΕΡΟ 
Η MUTANT MASS είναι σχεδιασμένη για να προσφέρει όλα όσα χρειάζεστε να χτίσετε μυϊκό όγκο και δύναμη που σπάει σίδερα. Μία από τις καινοτόμες φόρμουλες της εποχής μας που χτίζουν μυς, το MUTANT MASS ξεπερνά όλες τις προσδοκίες των χρηστών για να παράγει αποτελέσματα σε χρόνο ρεκόρ.
Απλά ρίξτε μια ματιά στην υπερ-ενισχυμένη πειραματική φόρμουλα και θα δείτε το γιατί.
56 γραμμάρια πρωτεΐνης

36 γραμμάρια  αμινοξέων συμπεριλαμβανομένων των BCAAs, γλουταμίνης και ΕΑΑs

52% λιγότερο ζάχαρη από τον αρχικό μας φόρμουλα

Κηρώδες άμυλο αραβοσίτου και άλλοι υδατάνθρακες, συμπεριλαμβανομένης της πρόσφατα προστιθέμενης γλυκοπατάτα και βρώμης

Προστέθηκαν πεπτικά ένζυμα

Επιπλέον, βελτιώσαμε τις απίστευτες γεύσεις μας ακόμα περισσότερο!
Οδηγίες Χρήσης:
Αναμείξτε 4 scoops σε 750 -1000 ml νερού και καταναλώστε.  Λόγω της ιδιαίτερα πυκνής μορφής του (όπως και όλες οι gainer), εισηγούμαστε όπως χρησιμοποιείστε μισή δόση 2 φορές την ημέρα, δηλαδή 2 scoops σε κάθε ρόφημα με 375 - 500 ml νερό.

Mutant Mass 15lbs 
Leave Humanity Behind!
THE ORIGINAL...........JUST GOT BETTER
Mutant Mass has delivered millions and millions of servings since 2015 to our loyal iron followers in over 100 countries. Designed for the strong and the humongous, MUTANT MASS is constantly being discovered by new hardcore and dedicated athletes of all types who seek the best. 
MUTANT MASS is dedicated to providing a fierce blend of clean food-basic, nutrient-dense ingredients. Our ongoing research and testing on some of the most massive MUTANTs on the planet leads to what you now hold in your hands - our greatest #1 ORIGINAL BIG BAG creation yet. It is who we are. 
WE ARE MUTANT. JOIN US. 
FORMULA HIGHLIGHTS
56 grams of complete protein
36 grams of naturally occuring BCAAs, Glutamine & EAAs 
52% LESS SUGARS THAN our original formula
Waxy Maize & other carbs including newly added sweet potato & rolled oats
Added digestive enzymes
Plus we improved our incredible flavours even more! 
Delicious Taste! 
Directions:
Add 750-1000ml water to a blender or larger shaker cup, then add 4 scoops of MUTANT MASS, blend or shake for 20-30 seconds.  Because of the highly concentrated form of the product (like all gainers), you may want to use half dose (2 scoops per serving with 375-500ml of water) 2 times a day.

No customer reviews for the moment.