Now Foods Silymarin Milk Thistle Extract 150 mg 60 Veg Capsules
2025-03-31
733739047359
New product
Silymarin Milk Thistle Extract 150 mg  60 Veg Capsules
Η ουσία Silymarin περιέχει ένα σύμπλεγμα αντιοξειδωτικών φλαβονοειδών, που απομονώνεται από τους καρπούς του γαϊδουράγκαθου (Silybum marianum). Αποτελεί φυτικό φλαβονοειδές με ηπατοπροστατευτικές ιδιότητες, που χρησιμοποιείται παραδοσιακά για την ενδυνάμωση και προστασία της λειτουργίας των κυττάρων. 
Η φυτική αυτή ουσία περιέχει σταθεροποιητικούς παράγοντες για τις κυτταρικές μεμβράνες, ενισχυτικούς παράγοντες για την έκκριση της χολής, και συστατικά που προλαμβάνουν τη μείωση των ενδογενών αντιοξειδωτικών, όπως η γλουταθειόνη. H γλουταθειόνη είναι ένα τριπεπτίδιο που εμφανίζεται σε υψηλές συγκεντρώσεις στο ήπαρ, δεσμεύει τις χημικές ουσίες που προέρχονται από εξωτερικούς παράγοντες, και τις μετατρέπει σε μία μορφή που αποβάλλονται μέσω των ούρων ή της χολής.
Η προστασία που παρέχει η ουσία Silymarin δεν είναι μόνο ευεργετική για το ίδιο το ήπαρ, αλλά και για την υγεία ολόκληρου του οργανισμού. Το Silymarin της NOW αποτελεί ένα ισχυρό προϊόν, σχεδιασμένο για να ενδυναμώνει την υπατική λειτουργία και να συντελεί στην αναγέννηση των ηπατικών κυττάρων. Είναι εμπλουτισμένο με Turmeric, ένα βότανο με αντιφλεγμονώδη δράση.
Οδηγίες Χρήσης:
Λαμβάνετε 2 κάψουλες μία έως τρεις φορές ημερησίως με το φαγητό.
Αποθηκεύστε σε δροσερό, ξηρό μέρος μετά το άνοιγμα.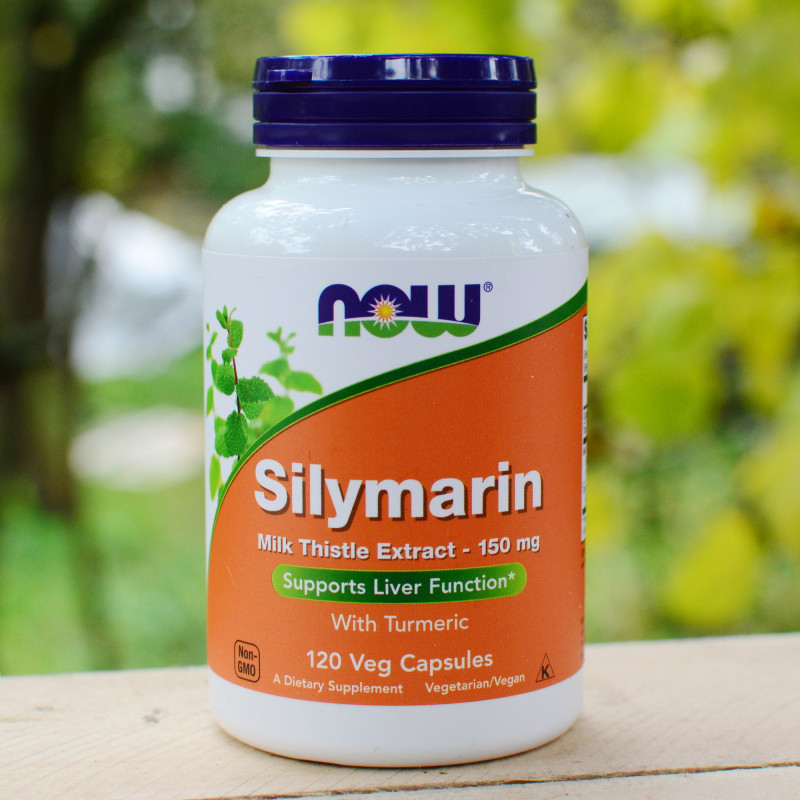 Silymarin Milk Thistle Extract 150 mg  60 Veg Capsules
Milk Thistle Extract - 150 mg

With Turmeric
Silymarin (Silybum marianum), also known as milk thistle, has been used by traditional herbalists for centuries. Scientific studies have indicated that constituents in silymarin may help to support healthy liver function.* This vegetarian formula also includes turmeric for additional support.*
Natural color variation may occur in this product.
Directions
Take 2 capsules 1 to 3 times daily with food.
Store in a cool, dry place after opening.
Supplements Facts
Serving Size:
2 Veg Capsules
Servings Per Container:
30
Amount per Serving
% Daily Value
** Percent Daily Values are based on a 2,000 calorie diet.
† Daily Value not established.
Calories
5
 
Total Carbohydrate
1 g
<1%**
Milk Thistle Extract
   (Silybum marianum) (Fruit/Seeds) (Standardized to
   240 mg Silymarin Flavonoids - equivalent 80%)
300 mg
†
Turmeric (Curcuma longa) (Root)
700 mg
†
Other Ingredients:  Hypromellose (cellulose capsule), Rice Flour and Stearic Acid (vegetable source).
Not manufactured with yeast, wheat, gluten, soy, corn, milk, egg, fish, shellfish or tree nut ingredients. Produced in a GMP facility that processes other ingredients containing these allergens.
No customer reviews for the moment.