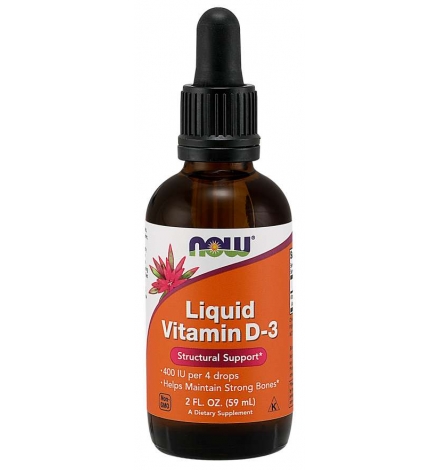 Now Foods Vitamin D-3 Liquid 60ml
2024-03-31
733739003706
New product
Now Foods Vitamin D-3 Liquid 60ml
400 IU ανά 4 σταγόνες
Βοηθά στη διατήρηση ισχυρών οστών
H παραγωγή της D-3 στο ανθρώπινο σώμα είναι μία φωτοχημική αντίδραση που επιτελείται κατά την έκθεση του δέρματος στην υπεριώδη ακτινοβολία UVB. H καταλυτική δράση του ηλιακού φωτός όμως ποικίλλει. Ο σύγχρονος τρόπος ζωής, η παρατεταμένη χρήση φωτοπροστατευτικών προϊόντων και οι περιβαλλοντικοί παράγοντες συντελούν στην εκτεταμένη εμφάνιση ανεπάρκειας βιταμίνης D-3, η οποία επηρεάζει περίπου το 50% του παγκόσμιου πληθυσμού σε όλες τις εθνικότητες και όλες τις ηλικίες.
Η βιταμίνη D-3 βοηθά σημαντικά στην ανάπτυξη και τη συντήρηση των οστών και της οστικής πυκνότητας. Προάγει την επαρκή απορρόφηση του ασβεστίου, γεγονός που επίσης συμβάλλει στην υγεία των οστών και των δοντιών. Επί πρόσθετα, συμμετέχει στην υγιή κυτταρική ανάπτυξη και τη διατήρηση ενός φυσιολογικού νευρικού και ανοσοποιητικού συστήματος.
Η D-3 περιέχεται σε λίγες τροφές κυρίως ζωϊκές, όπως o σολωμός, ο τόνος, η σαρδέλα, το μανιτάρι, ο κρόκος αυγού και το "εμπλουτισμένο" γάλα. Για όσους δυσκολεύονται να φτάσουν τα συνιστώμενα επίπεδα, η συμπληρωματική λήψη βιταμίνης D-3 (με τη σύμφωνη γνώμη γιατρού) μπορεί να βοηθήσει στην ενίσχυση των επιπέδων D-3 στον οργανισμό.
Σημείωση: Ερευνητικές μελέτες υποδεικνύουν ότι τα θρεπτικά συστατικά που προέρχονται από υγρές πηγές είναι πιο εύκολο να απορροφηθούν σε σχέση με τα αντίστοιχα των στερεών.
Οδηγίες Χρήσης:
Για ενήλικες, λαμβάνετε 4 σταγόνες μία έως πέντε φορές ημερησίως. Για παιδιά, χορηγείτε 4 σταγόνες μία φορά ημερησίως.
Λαμβάνετε απευθείας ή αναμειγνύετε με το ρόφημα της αρεσκείας σας. Συνιστάται η λήψη του με ένα λιπαρό γεύμα.
Ανακινείστε καλά πριν από κάθε χρήση. Μην υπερβαίνετε τη συνιστώμενη δόση.
Το προϊόν περιέχει έλαιο MCT (medium chain triglycerides / τριγλυκερίδια μέσης αλύσου) από έλαιο καρύδας και φοινικέλαιο.
Προειδοποίηση: Δεν προορίζεται για χρήση σε βρέφη. Για παιδιά ηλικίας κάτω των 4 ετών, χορηγείστε το προϊόν μόνο υπό την καθοδήγηση παιδιάτρου.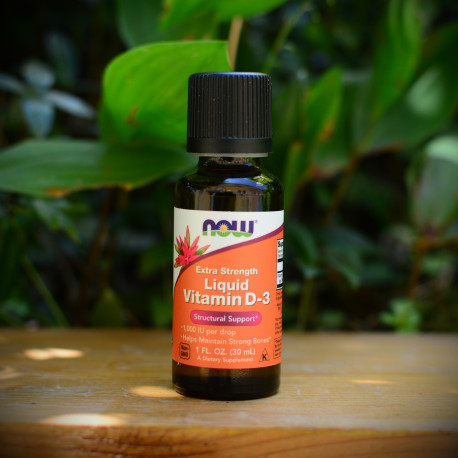 Now Foods Vitamin D-3 Liquid 60ml
400 IU per 4 drops

Helps Maintain Strong Bones*
Each drop contains 100 IU of Vitamin D, 4 drops provide 400 IU, 20 drops provide 2,000 IU.
Directios: 
Shake well. For adults, take 4 drops 1 to 5 times daily. For children, administer 4 drops once daily. Do not exceed recommended dose. Take directly or add to your favorite beverage. If the dropper contacts the lips or oral tissues, thoroughly wash and dry it before replacing in the bottle and closing it completely. Best when taken with a fat-containing meal.
Supplements Facts:
Serving Size:
4 Drops (approx. 0.112 mL)
Servings Per Container:
about 527
Amount per Serving
% Daily Value
 
Vitamin D

3


   (as Cholecalciferol) (from Lanolin)
10 mcg (400 IU)
50%
Other Ingredients:  MCT Oil (medium chain triglycerides). MCT Oil from coconut/palm kernel oil.
Not manufactured with yeast, wheat, gluten, soy, corn, milk, egg, fish or shellfish ingredients. Produced in a GMP facility that processes other ingredients containing these allergens.
No customer reviews for the moment.