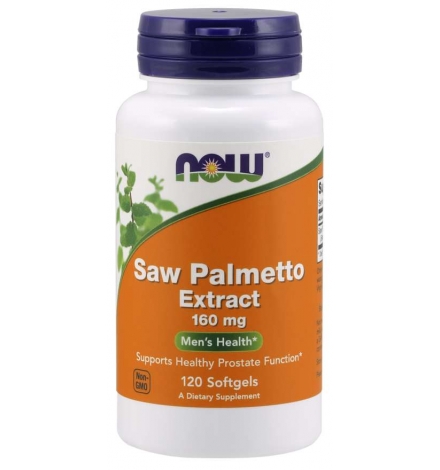 Now Foods Saw Palmetto Extract 160mg 120 Softgels
2022-08-30
733739047427
New product
Now Foods Saw Palmetto Extract 160mg 120 Softgels
Το Saw Palmetto είναι ένα είδος φοίνικα της Βόρειας Αμερικής. Το εκχύλισμα των καρπών του Saw Palmetto, περιέχει ωφέλιμα φυτικά συστατικά, όπως οι στερόλες, και μία μοναδική μορφή λιπαρών οξέων, τα οποία βοηθούν στην καλή υγεία του προστάτη. Ιστορικά, οι ινδιάνοι της Αμερικής χρησιμοποιούσαν τον καρπό του Saw Palmetto στη διατροφή τους, με σκοπό την υγεία του αναπαραγωγικού και του ουροποιητικού συστήματος.
Υπάρχουν ισχυρά επιστημονικά στοιχεία υπέρ της χρήσης του Saw Palmetto, για τη θεραπεία της καλοήθους υπερπλασίας του προστάτη, την καταπολέμηση της απώλειας μαλλιών (ανδρικού τύπου)  και της υποδραστήριας ουροδόχου κύστης. Επίσης, η χρήση του μπορεί να βοηθήσει γενικότερα, τη φυσιολογική ροή των ούρων, να μειώσει τον αριθμό ούρησης κατά τη διάρκεια της νύχτας, και να παράσχει ανακούφιση από τα συμπτώματα που προέρχονται από τη μη φυσιολογική λειτουργία του προστάτη.
Ερευνητικές μελέτες υποδεικνύουν ότι το Saw Palmetto μπορεί να μειώσει την κατακράτηση υγρών που προκαλείται από την απελευθέρωση της ισταμίνης (αλλεργικού τύπου αντίδραση) και λόγω των βλαβερών χημικών ουσιών. Επίσης, έχει αποδειχθεί, ότι το εκχύλισμα του Saw Palmetto έχει αντιφλεγμονώδεις και ανοσοενισχυτικές ιδιότητες .
Το Saw Palmetto της NOW περιέχει το συμπυκνωμένο εκχύλισμα των καρπών αυτών, το οποίο μέσα από έρευνες διαπιστώνεται, ότι εμποδίζει τη μετατροπή της τεστοστερόνης σε διυδροτεστοστερόνη, κάτι που προκαλεί τη διόγκωση του προστάτη (καλοήθη υπερπλασία). 
Οδηγίες Χρήσης:
Λαμβάνετε 1 κάψουλα, 2 φορές ημερησίως, με το φαγητό. 
                         _______________________________________                                                                                        

Now Foods Saw Palmetto Extract 160mg 120Softgels
Supports Healthy Prostate Function*
Saw Palmetto is a plant that is indigenous to the Southeastern United States that possesses bioactive fatty acid and sterol constituents.* Saw Palmetto berries have been found to support healthy urinary tract and prostate functions.*
Directions:
Take 1 softgel twice daily with food.
Supplements Facts
Serving Size:

1 Softgel

Servings Per Container:

120

 

Amount per Serving

% Daily Value

† Daily Value not established.

Saw Palmetto Berry Extract


   (Serenoa repens)

160 mg

†

Other Ingredients: Softgel Capsule (bovine gelatin, water, glycerin, caramel color) and Organic Extra Virgin Olive Oil.
Not manufactured with yeast, wheat, gluten, soy, milk, egg, fish or shellfish ingredients. Produced in a GMP facility that processes other ingredients containing these allergens.
Caution: For adults only. Consult physician if pregnant/nursing, taking medication, or have a medical condition. Keep out of reach of children.
Natural color variation or natural separation of oils may occur in this product.
Store in a cool, dry place after opening. Please Recycle.
Family owned since 1968.
No customer reviews for the moment.