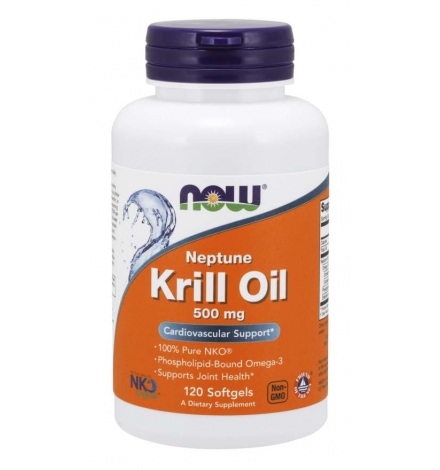 Now Foods Neptune Krill Oil 500 mg 120 Softgels
2023-05-31
733739016263
New product
Now Foods Neptune Krill Oil 500 mg 120 Softgels
Το krill είναι ένα είδος μαλακόστρακου που θυμίζει μικρή γαρίδα. Το έλαιο Krill  είναι γνωστό για το μοναδικό του προφίλ ως λιπαρό οξύ με τη μορφή φωσφολιπιδίων, καθώς και για την πλούσια περιεκτικότητά του σε ασταξανθίνη. Η ασταξανθίνη είναι μία ουσία που ανήκει στα καροτενεοειδή με ισχυρή αντιοξειδωτική δράση. Ο συνδυασμός αυτός βοηθά στην άμεση αξιοποίηση του ελαίου από τον οργανισμό, επιτυγχάνοντας τα μέγιστα ωφέλη.
Τα οφέλη του ελαίου Krill είναι πολλαπλά και εντοπίζονται κυρίως στη μείωση των επιπέδων της υψηλής χοληστερίνης, στη ρύθμιση των λιπιδίων του αίματος, στην καλύτερη διαχείριση των συμπτωμάτων του προεμμηνορυσιακού συνδρόμου αλλά και στην ενίσχυση των διανοητικών λειτουργιών, καθώς παρέχει τα απαραίτητα για τον εγκέφαλο λιπαρά οξέα DHA & EPA.
Είναι, επίσης, σημαντικό να τονίσουμε την αντιοξειδωτική δράση του ελαίου Krill, η οποία ενισχύεται από τη φυσικά ευρισκόμενη ασταξανθίνη που το καθιστά απαραίτητο σύμμαχο σε περιπτώσεις φλεγμονών, όπως η αρθρίτιδα αλλά και στην προληπτική αντιμετώπιση της γενικής φθοράς του οργανισμού που προκαλούν οι επιβλαβείς οξειδωτικές ελεύθερες ρίζες.
Το έλαιο Krill είναι έως και 50 φορές περισσότερο βιοδιαθέσιμο από το κοινό ιχθυέλαιo, καθώς τα ωμέγα-3 που διαθέτει είναι δεσμευμένα με φωσφολιπίδια, ενώ τα ωμέγα-3 τoυ ιχθυελαίου είναι δεσμευμένα με τριγλυκερίδια.
Το Neptune Krill Oil 500 mg της NOW έχει παραχθεί κάτω από αυστηρές προδιαγραφές ποιότητας και είναι απαλλαγμένο από δυνητικά επιβλαβή επίπεδα μολυσματικών ουσιών, όπως υδράργυρος, βαρέα μέταλλα, διοξίνες, PCB's και άλλες μολυσματικές ουσίες.
Οδηγίες Χρήσης: 
Λαμβάνετε 2 μαλακές κάψουλες, 1 έως 3 φορές την ημέρα με φαγητό.
Αποθηκεύστε σε δροσερό, ξηρό μέρος μετά το άνοιγμα.
__________________________________________
Now Foods Neptune Krill Oil 500 mg 120 Softgels
100% Pure NKO

®

Phospholipid-Bound Omega-3

Supports Joint Health*
Neptune Krill Oil (NKO®) is known for its unique fatty acid (FA) profile, which includes EPA and DHA, plus phospholipids. In addition, NKO® naturally has astaxanthin, a powerful free radical scavenger and immune-supporting carotenoid.* Clinical studies have shown that NKO® can help to support joint comfort, healthy blood lipid levels already within normal range, and may help to maintain healthy feminine balance.* The phospholipid-bound forms of EPA and DHA from krill oil have also demonstrated exceptionally high bioavailability.*
Neptune Krill Oil is manufactured under strict quality control standards. It is tested to be free of potentially harmful levels of contaminants such as PCBs, dioxins, mercury and other heavy metals.
NKO® is a registered trademark of the Aker Group. US Patent No.: 8,278,351.
Natural color variation may occur in this product.
Directions: 
Take 2 softgels 1 to 3 times daily with food.
Store in a cool, dry place after opening.
Serving Size:
2 Softgels
Servings Per Container:
60
Amount per Serving
% Daily Value
* Percent Daily Values are based on 2,000 calorie diet.
† Daily Value not established.
Calories
10
 
Total Fat
1 g
1%*
Neptune Krill Oil (NKO

®

)
1 g (1,000 mg)
†
   Omega-3 Fatty Acids
250 mg
†
      Eicosapentaenoic Acid (EPA)
135 mg
†
      Docosahexaenoic Acid (DHA)
60 mg
†
Phospholipids
450 mg
†
Esterified Astaxanthin
360 mcg
†
Other Ingredients:  Softgel Capsule (bovine gelatin, glycerin, water). Contains shellfish (krill).
No customer reviews for the moment.