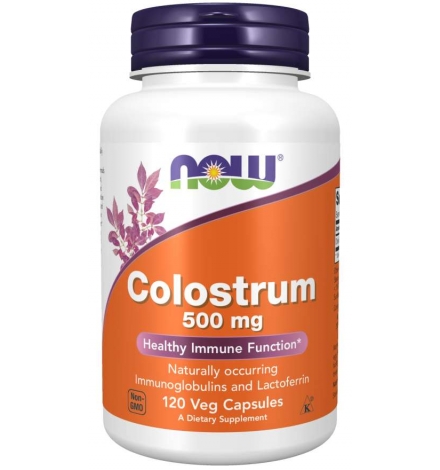 Now Foods Colostrum 500 mg 120 Veg Capsules
2022-10-01
733739032164
New product
Now Foods Colostrum 500 mg  120 Veg Capsules
Φυσικά εμφανιζόμενες

ανοσοσφαιρίνες

 (αντισώματα) και 

λακτοφερίνη

 (η οποία είναι μέρος του ανοσοποιητικού συστήματος).
Το πρωτόγαλα αποτελεί το θρεπτικό υγρό που παράγουν τα θηλαστικά για τη γαλουχία των νεογέννητων κατά τις πρώτες ημέρες μετά τη γέννα και πριν ακόμα ξεκινήσει η παραγωγή γάλακτος. Το πρωτόγαλα είναι πλούσιο σε αντισώματα για την προστασία του νεογέννητου από διάφορες νόσους. Γενικά, έχει μεγαλύτερη συγκέντρωση πρωτεΐνης απ' ότι το συμβατικό γάλα ενώ σε κάποιες περιπτώσεις θηλαστικών έχει χαμηλότερη συγκέντρωση λίπους. Επί πρόσθετα, το πρωτόγαλα αποτελεί μία σημαντική πηγή βιταμινών όπως Α, Β12 και Ε, ενώ περιέχει και θείο, ένα μέταλλο που έχει πολλαπλάσιες χρήσεις στο μεταβολισμό και αποτελεί σημαντικό δομικό στοιχείο πολλών πρωτεϊνών.
Το πρωτόγαλα είναι πλούσιο σε αυξητική ορμόνη και ένζυμα. Θεωρείται φυσικό αντιβιοτικό και μπορεί να βοηθήσει στην αντιμετώπιση των αλλεργιών και την ανακούφιση από τα συμπτώματα των αυτοάνοσων νοσημάτων. Επιστημονικές μελέτες υποδεικνύουν ότι το πρωτόγαλα μπορεί να βοηθήσει τη βιοδιαθεσιμότητα και την απορρόφηση των θρεπτικών συστατικών από τον οργανισμό, ενώ ταυτόχρονα προάγει την υγιή λειτουργία του γαστρεντερικού συστήματος.
Το Colostrum 500 mg της NOW περιέχει πρωτόγαλα από βοoειδή και προσφέρει μία μεγάλη ποικιλία βιολογικά ενεργών πρωτεϊνών, όπως ανοσογλοβουλίνες και λακτοφερίνη. Επίσης, περιέχει παράγοντες που υποστηρίζουν τη διατήρηση του άπαχου μυικού ιστού, καθώς και την ενίσχυση του ανοσοποιητικού συστήματος.
Οδηγίες Χρήσης :
Λαμβάνετε 1 κάψουλα 1 έως 2 φορές την ημέρα ανάλογα με τις ανάγκες.
Αποθηκεύστε σε δροσερό, ξηρό μέρος μετά το άνοιγμα.

Now Foods Colostrum 500 mg  120 Veg Capsules
Naturally Occurring Immunoglobulins and Lactoferrin
Colostrum is the nourishing fluid produced by mammals as food for the newborn in the few days after birth, before milk production begins. This bovine-derived food supplement offers a variety of biologically active proteins, including immunoglobulins, lactoferrin, and other factors that support the maintenance of lean muscle tissue, as well as a healthy immune system.* Scientific studies have shown that colostrum may help to enhance bioavailability and absorption of nutrients into the body, while promoting healthy gastro-intestinal function.*
Natural color variation may occur in this product.
Directions:
Take 1 capsule 1 to 2 times daily as needed.
Store in a cool, dry place after opening.
Supplements Facts
Serving Size:
1 Veg Capsule
Servings Per Container:
120
Amount per Serving
% Daily Value
** Daily Value not established.
Dried Bovine Colostrum
500 mg
**
Other Ingredients:  Hypromellose (cellulose capsule), Stearic Acid (vegetable source), Silicon Dioxide, and < 1% MCT Oil (Medium-Chain Triglycerides) and Sunflower Lecithin. Contains milk.
Not manufactured with yeast, wheat, gluten, soy, corn, egg, fish or shellfish ingredients. Produced in a GMP facility that processes other ingredients containing these allergens.
No customer reviews for the moment.