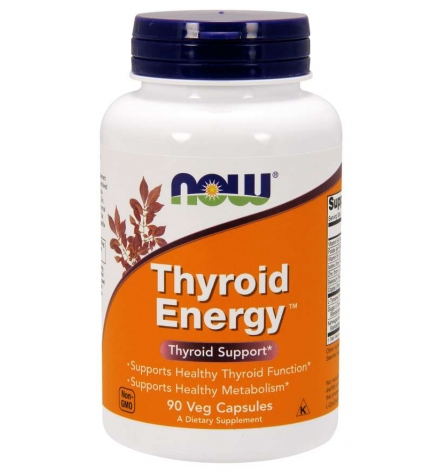 Now Foods Thyroid Energy™ 90 Veg Capsules
2022-05-31
733739033680
New product
Now Foods Thyroid Energy™ 90 Veg Capsules
Υποστήριξη της υγιούς λειτουργίας του θυρεοειδούς
Με ιώδιο, τυροσίνη, σελήνιο, ψευδάργυρο και χαλκό
Περιέχει Guggul (Ayurvedic βότανο)οειδή αδένα.
Περιέχει βιταμίνες και ιχνοστοιχεία
Το Thyroid Energy™ της NOW είναι ειδικά σχεδιασμένο από μία ομάδα πιστοποιημένων διατροφολόγων, ώστε να παρέχει τη βέλτιστη θρεπτική υποστήριξη στο θυρεοειδή αδένα. Η σύνθεσή του περιέχει ιώδιο από φύκια, τυροσίνη, σελήνιο, ψευδάργυρο, χαλκό και το βότανο guggul, γνωστό για την ικανότητά του να ενισχύει τον υγιή μεταβολισμό και την υγιή λειτουργία των αδένων.
Περιέχει βιταμίνες, ιχνοστοιχεία, πλούσια σε ιώδιο βότανα και L-Tyrosine (άμεσο πρόδρομο για την παραγωγή των θυρεοειδικών ορμονών), ένας συνεργειακός συνδυασμός που στηρίζει τη συνολική υγιή λειτουργία των αδένων.
Πιο συγκεριμένα:
Ιώδιο: o μεταβολισμός είναι αδύνατον να πραγματοποιηθεί χωρίς αυτό. Η έλλειψη ιωδίου έχει συνδεθεί με την εμφάνιση βρογχοκήλης, τη μειωμένη ενέργεια και την έλλειψη συγκέντρωσης.
Τυροσίνη: πρόκειται για ένα αμινοξύ που διαδραματίζει ουσιαστικό ρόλο στην παραγωγή των θυρεοειδικών ορμονών, συμπεριλαμβανομένων της επινεφρίνης, της νορεπινεφρίνης, της σεροτονίνης και της ντοπαμίνης. Τα χαμηλά ποσοστά τυροσίνης στον οργανισμό έχουν ως αποτέλεσμα την αίσθηση υποτονικότητας. Κατ' επέκταση, το σώμα μας αντιδρά, αποθηκεύοντας περισσότερες θερμίδες για μεγαλύτερη ενέργεια.
Σελήνιο: γνωστό για τις έντονες αντιοξειδωτικές του ιδιότητες και τη φυσική συνέργειά του με άλλες βιταμίνες.
Ψευδάργυρος: απαραίτητο στοιχείο για τη διατήρηση ενός υγιούς οργανισμού.
Χαλκός: ενισχύει το ανοσοποιητικό σύστημα, συμμετέχει στη διαδικασία παραγωγής ενέργειας, συνθέτει την ελαστίνη, κ.α.
Guggulsterones: σύμφωνα με έρευνες το καθαρό απόσταγμα φυτοστερόλης από το βότανο guggul μπορεί να προωθήσει την υγιή λειτουργία του θυρεοειδούς, ενώ παράλληλα ενισχύει τον οργανισμό στη διατήρηση της φυσιολογικής παραγωγής θυροξίνης και τριιδοθυρωνίνης Τ3.
Οδηγίες Χρήσης:
Λαμβάνετε 1 κάψουλα, 2 φορές ημερησίως κατά προτίμηση, με φαγητό .
______________________________________________
Now Foods Thyroid Energy™ 90 Veg Capsules
Supports Healthy Thyroid Function*

Supports Healthy Metabolism*
NOW® Thyroid Energy™ is a complete nutritional supplement for the support of a healthy thyroid gland.* NOW has combined Iodine and tyrosine, the two constituents necessary for the synthesis of thyroid secretions.* The minerals selenium, zinc and copper have been added as cofactors needed for normal thyroid function.* In addition, NOW® Thyroid Energy™ has the ayurvedic herbal extracts from guggul and ashwagandha to complement its nutritional support components.*
Directions :
Take 2 capsules daily, preferably in divided doses with food.
Supplements Facts
Serving Size:
2 Veg Capsules
Servings Per Container:
45
Amount per Serving
% Daily Value
† Daily Value not established.
Vitamin B-6 (from Pyridoxine HCl)
2 mg
118%
Folate
680 mcg DFE
(400 mcg folic acid)
170%
Vitamin B-12 (as Methylcobalamin)
60 mcg
2500%
Iodine (from Potassium Iodide)
225 mcg
150%
Zinc (from L-OptiZinc

®

- Zinc L-Methionine Complex)
25 mg
227%
Selenium (from L-Selenomethionine)
50 mcg
91%
Copper (from Copper Amino Acid Chelate)
1 mg
111%
L-Tyrosine (Free-Form)
1 g (1,000 mg)
†
Guggul (Commiphora mukul) (Gum Resin)
Standardized Extract (min. 2% Guggulsterones)
75 mg
†
Ashwagandha (Withania somnifera) (Root)
Standardized Extract (min. 2.5% Withanolides)
50 mg
†
Other Ingredients: Hypromellose (cellulose capsule), Microcrystalline Cellulose, Stearic Acid (vegetable source) and Silicon Dioxide.
Not manufactured with wheat, gluten, soy, milk, egg, fish, shellfish or tree nut ingredients. Produced in a GMP facility that processes other ingredients containing these allergens.
No customer reviews for the moment.