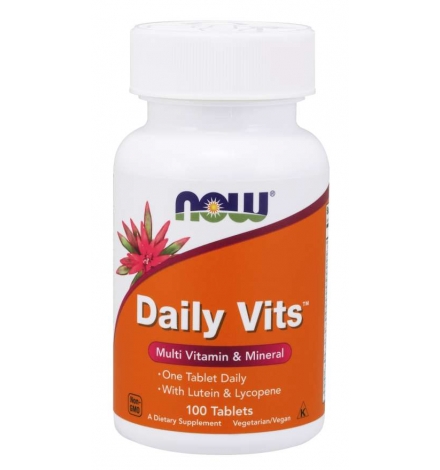 Now Foods Daily Vits Multi - 100 Tabs
2022-07-31
733739037701
New product
Now Foods Daily Vits Multi - 100 Tabs
Τα συμπληρώματα πολυβιταμινών βοηθούν στη σύζευξη και κάλυψη του διατροφικού κενού στην καθημερινή μας διατροφή και τις συνήθεις καταστάσεις υγείας που απορρέουν από τις εν λόγω ελλείψεις.
Στο σημερινό κόσμο των επεξεργασμένων τροφίμων και του έντονου ρυθμού ζωής, πολλοί από εμάς δε λαμβάνουμε την καθημερινή συνιστώμενη ποσότητα βιταμινών, μετάλλων και άλλων διατροφικών στοιχείων.
Οι πολυβιταμίνες βοηθούν στην κάλυψη των διατροφικών μας αναγκών, παρέχοντας ένα μεγάλο εύρος διατροφικών στοιχείων όπως βιταμίνες, μέταλλα, ιχνοστοιχεία και φυτικά συστατικά απαραίτητα για την ομαλή λειτουργία του οργανισμού.
Η Daily Vits της NOW είναι η μια εξαιρετική << one a day>>πολυβιταμινούχος φόρμουλα, εμπλουτισμένη με λυκοπένιο και λουτεϊνη, δυο ισχυρά αντιοξειδωτικά στοιχεία. Παρέχει τη μέγιστη διατροφική στήριξη που χρειάζεται ο ανθρώπινος οργανισμός σε καθημερινή βάση, ώστε να αντεπεξέλθει στις προκλήσεις της σύγχρονης ζωής.
Πολύ...βιταμίνες λοιπόν, για να συμπληρώσουμε τα διατροφικά κενά, να τονώσουμε τις λειτουργίες του σώματος και να χαιρόμαστε πιο.. πολύ τις χαρές της ζωής.
Η Daily Vits καλύπτει, επαρκώς τις ενεργειακές απαιτήσεις όλης της οικογένειας.
Οδηγίες Χρήσης:
Λαμβάνετε 1 ταμπλέτα, ημερησίως με το φαγητό.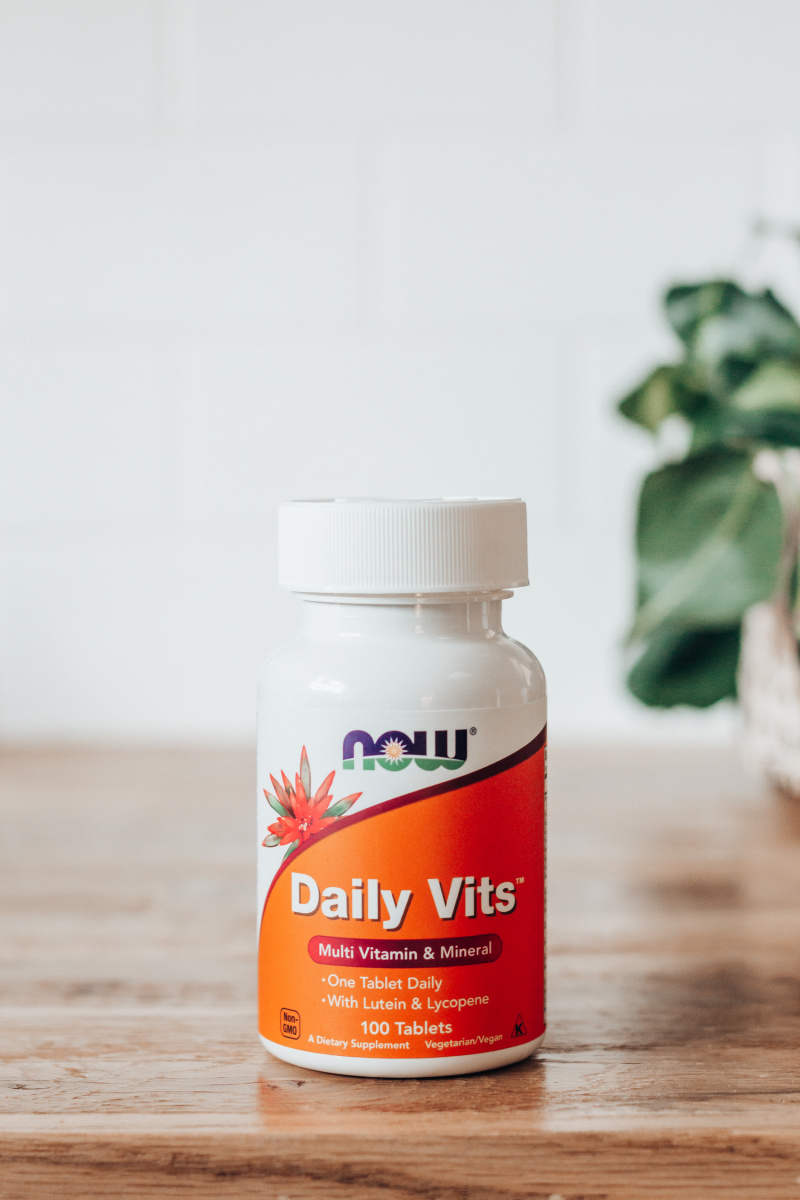 Now Foods Daily Vits Multi - 100 Tabs
One Tablet Daily

With Lutein & Lycopene
Multiple vitamins help to bridge the nutrient gap in our daily diets. In today's world of processed foods and fast-paced lifestyles, many of us do not get the daily recommended allowance of vitamins, minerals and other nutrients. Multiple vitamins can help fill in the areas lacking in our diets, and are formulated to provide a broad range of nutrition.
Natural color variation may occur in this product.
Directions:
Take 1 tablet daily with a meal.
Supplements Facts
Amount Per Serving
% Daily Value
Vitamin A
(100% as Beta-Carotene)
1,050 mcg
117%
Vitamin C (as Ascorbic Acid)
60 mg
67%
Vitamin D (as Ergocalciferol)
10 mcg (400 IU)
50%
Vitamin E (as d-alpha Tocopheryl Succinate)
20 mg
133%
Thiamin (Vitamin B-1) (from Thiamin HCl)
1.5 mg
125%
Riboflavin (Vitamin B-2)
1.7 mg
131%
Niacin (Vitamin B-3) (as Niacinamide)
20 mg
125%
Vitamin B-6 (from Pyridoxine HCl)
2 mg
118%
Folate
680 mcg DFE
(400 mcg folic acid)
170%
Vitamin B-12 (as Methylcobalamin)
6 mcg
250%
Biotin
300 mcg
1000%
Pantothenic Acid (Vitamin B-5)
(from Calcium Pantothenate)
10 mg
200%
Calcium [from Calcium Carbonate
(Aquamin

®

TG Seaweed Derived Minerals)]
150 mg
12%
Iron (from Ferrous Bisglycinate)
(Ferrochel

™

)
9 mg
50%
Iodine (from Potassium Iodide)
150 mcg
100%
Magnesium (from Magnesium Oxide
and Aquamin

®

TG Seaweed Derived Minerals)
75 mg
18%
Zinc (from Zinc Bisglycinate) (TRAACS

™

)
15 mg
136%
Selenium (from L-Selenomethionine)
35 mcg
64%
Copper (from Copper Bisglycinate) (TRAACS

™

)
1 mg
111%
Manganese (from Manganese Bisglycinate)
(TRAACS

™

)
2 mg
87%
Chromium (from Chromium Picolinate)
60 mcg
171%
Molybdenum (from Sodium Molybdate)
35 mcg
78%
Potassium (from Potassium Chloride)
40 mg
1%
Lutein (from Marigold Flower Extract)
(Tagetes erecta) (FloraGLO

®

)
100 mcg
†
Lycopene
(from Tomato Extract)
100 mcg
†
Other Ingredients: Microcrystalline Cellulose, Croscarmellose Sodium, Stearic Acid (vegetable source), Vegetarian Coating and Silicon Dioxide.
Not manufactured with wheat, gluten, milk, egg, fish, shellfish or tree nut ingredients. Produced in a GMP facility that processes other ingredients containing these allergens.
No customer reviews for the moment.