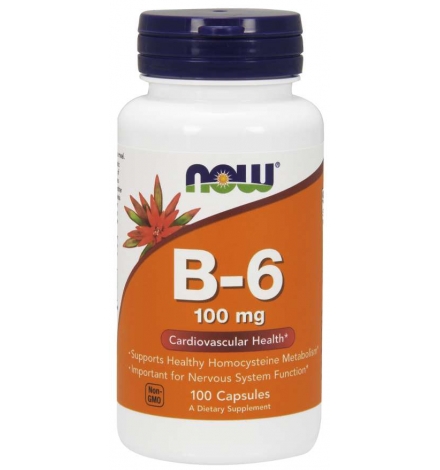 Now Foods Vitamin B-6 100mg 100Caps
2023-08-30
733739004567
New product
Now Foods Vitamin B-6 100mg 100Caps
Η βιταμίνη Β-6 είναι ένα από τα πιο δημοφιλή μέλη της οικογένειας των βιταμινών Β, αφού συμμετέχει σε πάρα πολλές σωματικές λειτουργίες, όπως η πέψη, η παραγωγή ερυθρών αιμοσφαιρίων, η κατακράτηση υγρών, η ισορροπία νατρίου-καλίου, ο μεταβολισμός των τροφών, η παραγωγή αντισωμάτων, η λειτουργία του εγκεφάλου και η παραγωγή νουκλεϊκών οξέων. Επιπλέον, βοηθάει στη μείωση των συμπτωμάτων του άσθματος και στο σύνδρομο του καρπιαίου σωλήνα.
Η βιταμίνη Β-6 βρίσκεται στη φύση κυρίως στα φρέσκα λαχανικά. Αφού προσληφθεί από τα ερυθροκύτταρα μετατρέπεται σε φωσφορική πυριδοξάλη και πυριδοξαμίνη. Δρα κυρίως, ενεργοποιώντας τα ένζυμα που εμπλέκονται σε περισσότερες από 100 αντιδράσεις και τα οποία επηρεάζουν το μεταβολισμό πρωτεϊνών, λιπών και υδατανθράκων. Επίσης, η φωσφορική πυριδοξάλη παίζει σημαντικό ρόλο στη σύνθεση των νευροδιαβιβαστών και στο μεταβολισμό διαφόρων βιταμινών (π.χ. στη μετατροπή της τρυπτοφάνης σε νιασίνη), καθώς και στη σύνθεση της αιμοσφαιρίνης και της σφιγγοσίνης.
Κλινικές μελέτες καταδεικνύουν ότι η βιταμίνη Β-6 παίζει καθοριστικό ρόλο στη ρύθμιση των επιπέδων της ομοκυστεΐνης. Η υψηλή ομοκυστεΐνη υποβαθμίζει και αναστέλλει τον σχηματισμό των τριών κυρίων συστατικών των αρτηριών (κολλαγόνο, ελαστίνη και πρωτεογλυκάνες), και φυσικά σχετίζεται άμεσα με καρδιακά προβλήματα. Επιπλέον, τα αυξημένα επίπεδα της ομοκυστεΐνης συνδέονται με την εμφάνιση της νόσου Αλτσχάιμερ, την σχιζοφρένεια και τα πολλαπλά κατάγματα σε ηλικιωμένα κυρίως άτομα.
Οδηγίες Χρήσης:
Λαμβάνετε 1 καψούλα, ημερησίως, κατά προτίμηση με το φαγητό.
____________________________________
Now Foods Vitamin B-6 100mg 100Caps
Supports Healthy Homocysteine Metabolism*
Important for Nervous System Function*
Vitamin B-6 is a cofactor in numerous enzymatic reactions and is required for the metabolism of fats, carbohydrates, and proteins.* It facilitates the conversion of amino acids from one to another as needed, and is necessary for normal synthesis of hemoglobin, as well as for normal function and production of red blood cells.* B-6 plays an important role in regulating homocysteine metabolism in the body.* Homocysteine, a by-product of the methionine cycle, is known to be destructive to bodily tissues, especially vascular structures. B-6 is also critical for the maintenance of a healthy nervous system.*
From the FDA: "As part of a well-balanced diet that is low in saturated fat and cholesterol, Vitamin B6 may reduce the risk of vascular disease. FDA evaluated the above claim and found that, while it is known that diets low in saturated fat and cholesterol reduce the risk of heart disease and other vascular diseases, the evidence in support of the above claim is inconclusive.
Directions:
Take 1 capsule daily with a meal.
Supplements Facts
Serving Size:
1 Capsule
Servings Per Container:
100
Amount per Serving
% Daily Value
* Percent Daily Values are based on 2,000 calorie diet.
† Daily Value not established.
Vitamin B-6
(as Pyridoxine HCl)
100 mg
5882%
Other Ingredients: Rice Flour and Gelatin (capsule).
Not manufactured with wheat, gluten, soy, milk, egg, fish, shellfish or tree nut ingredients. Produced in a GMP facility that processes other ingredients containing these allergens.
Caution: Do not exceed the recommended dose. For adults only. Consult physician if pregnant/nursing, taking medication, or have a medical condition. Keep out of reach of children.
No customer reviews for the moment.