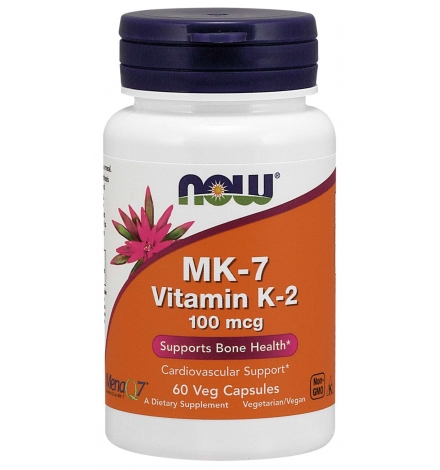 Now Foods MK-7 Vitamin K-2 100mcg 60 Veg Capsules
2021-04-30
733739009920
New product
Now Foods MK-7 Vitamin K-2 100mcg 60 Veg Capsules
Η MenaQ7® MK-7 είναι μια μοναδική, χωρίς βιομάζα μορφή σόγιας βιταμίνη Κ-2 που διαδραματίζει κρίσιμο ρόλο στην αρτηριακή υγεία μέσω της ικανότητάς της να υποστηρίζει την καλή λειτουργία του σώματος. Έχει δηλαδή πιο αποτελεσματική δράση στην αφαίρεση του ασβεστίου από το τοίχωμα των αρτηριών και την εναπόθεση του στα οστά.  
150-200 μικρογραμμάρια βιταμίνης Κ2 είναι αρκετά, ώστε να ενεργοποιήσουν τις πρωτεΐνες που εξαρτώνται από τη Κ2 στο σώμα μας, να οδηγήσουν το ασβέστιο, όπου πρέπει (οστά) και να το απομακρύνουν από μέρη που συσσωρεύεται (αρτηρίες).

Σχεδόν το 80% του πληθυσμού δεν προσλαμβάνουν αρκετή βιταμίνη Κ2 από τη διατροφή τους, παρόμοιο ποσοστό δηλαδή της ανεπάρκειας σε βιταμίνη D. Έτσι ο οργανισμός είναι ευάλωτος σε μια σειρά από χρόνιες ασθένειες, συμπεριλαμβανομένων:
Οστεοπόρωση
Καρδιαγγειακή νόσος
Οξύ έμφραγμα του μυοκαρδίου / ισχαιμικό εγκεφαλικό επεισόδιο
Αποτιτανώσεις
Παθήσεις εγκεφάλου
Καρκίνος
Οι ερευνητές εξετάζουν επίσης και άλλα οφέλη της Κ2 στην υγεία μας. Για παράδειγμα, μια πρόσφατη μελέτη που δημοσιεύτηκε στο περιοδικό Modern Rheumatology έδειξε ότι η βιταμίνη Κ2 έχει την τάση να μειώνει την ενεργότητα της νόσου σε άτομα με ρευματοειδή αρθρίτιδα (RA).
Οδηγίες Χρήσης:
Λαμβάνετε 1 κάψουλα ημερησίως μαζί με το φαγητό 

Now Foods MK-7 Vitamin K-2 100mcg 60 Veg Capsules
Vitamin K is well known for its role in the synthesis of a number of blood coagulation factors and is also important for the formation of strong, healthy bones.* MenaQ7® MK-7 is a unique soy-free, bioavailable form of vitamin K-2 that plays a critical role in arterial health through its ability to support proper calcium metabolism in blood vessels and arteries.*
MenaQ7® is a registered trademark of NattoPharma ASA, Norway. Patents granted and pending.
Directions:
Take 1 capsule daily with a meal.
Supplements Facts
Serving Size:
1 Veg Capsule
Servings Per Container:
60
Amount per Serving
% Daily Value
Vitamin K

2


   (as Menaquinone-7) (MK-7) (MenaQ7

®

)
100 mcg
83%
Other Ingredients:  Rice Flour, Hypromellose (cellulose capsule), Ascorbyl Palmitate and Silicon Dioxide.
No customer reviews for the moment.