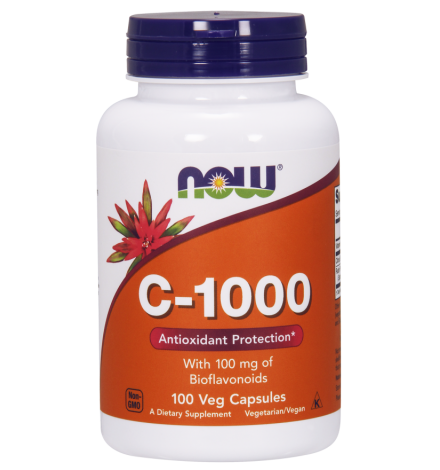 Now Foods Vitamin C-1000 With 100mg Bioflavonoids 100VCaps
2024-11-30
733739006905
New product
Now Foods Vitamin C-1000mg 100 VCaps
Η βιταμίνη C είναι απαραίτητη για:
 - Tην αποτελεσματική λειτουργία του ανοσοποιητικού συστήματος.
 - Τη διατήρηση κολλαγόνου του δέρματος, των οστών και των δοντιών.
 - Την απορρόφηση του σιδήρου που συμβάλλει στο σχηματισμό των ερυθροκυττάρων.
Είναι μια αντιοξειδωτική βιταμίνη, απαραίτητη για την υγεία του οργανισμού και τη διατήρηση ενός υγιούς δέρματος. Ο κυριότερος ρόλος της βιταμίνης C, είναι η ρύθμιση των οξειδοαναγωγικών αντιδράσεων. Εισχωρεί στο μεταβολισμό των πρωτεϊνών, των λιπών και των υδατανθράκων και μετέχει ενεργά στη ανάπλαση του συνδετικού ιστού. Επηρεάζει τη λειτουργία των ενδοκρινών αδένων, επιδρά ευνοϊκά σε περιπτώσεις προσβολής από λοιμογόνα αίτια και προστατεύει τις λιποδιαλυτές βιταμίνες από την οξείδωση. Είναι απαραίτητη για την αποτελεσματική λειτουργία του ανοσοποιητικού συστήματος και παρουσιάζει αντιφλεγμονώδεις και αντιαλλεργικές επιδράσεις.
H NOW C-1000 περιέχει βιοφλαβονοειδή τα οποία επιταχύνουν και μεγιστοποιούν την απορρόφηση και αποτελεσματικότητα της βιταμίνης C από τον οργανισμό.
Ως αντιοξειδωτικό, παρέχει προστασία ενάντια στον καρκίνο και τα προβλήματα καρδιάς. Πολλές μελέτες έχουν δείξει, ότι τα χαμηλά επίπεδα αυτής της βιταμίνης, σχετίζονται με καρδιακές κρίσεις. Σε μια μελέτη αποδείχτηκε, ότι οι άνθρωποι που κατανάλωναν καθημερινά περισσότερα από 300 mg βιταμίνης C (από τροφές και συμπληρώματα) έζησαν περισσότερο από εκείνους που κατανάλωναν λιγότερα από 50 mg ημερησίως.
Οδηγίες Χρήσης:
Πάρτε 1 κάψουλα την ημέρα.
Now Foods Vitamin C-1000mg 100 VCaps
Vitamin C is a water soluble nutrient well known for its vital role in the immune system.* Vitamin C is also necessary for the production of collagen (a structural protein in connective tissue) and is therefore important for skin, bone, and joint health.* Vitamin C is needed for amino acid metabolism, neurotransmitter synthesis, and the utilization of many nutrients, such as folic acid and iron.* It is also a highly effective antioxidant that can protect the body's cells and molecules from damage by free radicals and reactive oxygen molecules generated during normal metabolism and exposure to environmental stressors.* This unique blend includes 100mg of Bioflavonoids which work synergistically with Vitamin C.*
Suggested Usage :
Take 1 Veg Capsule daily.
Supplements Facts
Serving Size:

1 VCapsule

Servings Per Container:

100

 

Amount per Serving

* Percent Daily Values are based on 2,000 calorie diet.




† Daily Value not established.

Vitamin C (as Ascorbic Acid)

1 g (1,000 mg)

Citrus Bioflavoid Complex

100mg

Rutin Powder 
(Sophora japonica) (Flower Bud) 

25mg
 Other Ingredients:
Cellulose, Magnesium Stearate (vegetable source) and Vegetarian Coating.
Not manufactured with wheat, gluten, soy, milk, egg, fish, shellfish or tree nut ingredients. Produced in a GMP facility that processes other ingredients containing these allergens.
No customer reviews for the moment.