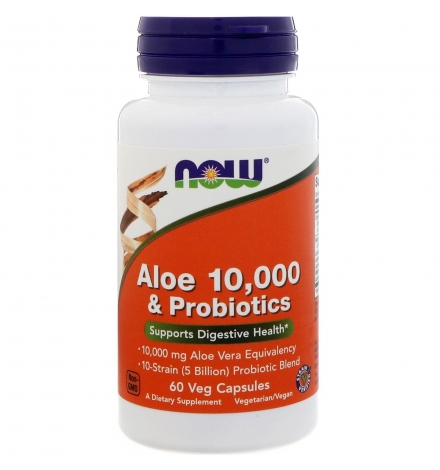 Now Foods Aloe 10000 & Probiotics 60 Veg Capsules
2019-08-31
733739030290
New product
Now Foods Aloe 10000 & Probiotics  - Υποστήριξη της πεπτικής υγείας
Η Aloe Vera προσφέρει μια ποικιλία θρεπτικών ουσιών, όπως βιταμίνες, μέταλλα, ένζυμα και αμινοξέα. Οι συστατικοί βλεννοπολυσακχαρίτες της Aloe Vera, επίσης γνωστοί ως γλυκοζαμινογλυκάνες (GAGs), θεωρούνται ότι είναι το ενεργό συστατικό τους. Οι επιστημονικές μελέτες έχουν δείξει ότι η Αλόη μπορεί να βοηθήσει στην υποστήριξη των διαδικασιών θεραπείας του οργανισμού. 
Ένα υγιές πεπτικό σύστημα εξασφαλίζει ότι οι θρεπτικές ουσίες από τα τρόφιμα που τρώμε θα απορροφηθούν εύκολα στην κυκλοφορία του αίματος.
Η αλόη βέρα έχει φυσικές ικανότητες αποτοξίνωσης και μπορεί να βελτιώσει την κανονικότητα του εντέρου και να αυξήσει την απορρόφηση πρωτεϊνών, ενώ ταυτόχρονα μειώνονται τα εχθρικά βακτήρια και ζύμες - Και όλα αυτά φυσικά!
Η Aloe Vera έχει αποδείξει επίσης την ικανότητά της να βοηθάει σε πολλά είδη πεπτικών διαταραχών.
Ένα 10-στέλεχο προβιοτικό μίγμα έχει συμπεριληφθεί στη φόρμουλα για να συμπληρώσει τον ρόλο της Aloe στην υποστήριξη ενός υγιούς πεπτικού συστήματος.
10.000 mg ισοδυναμίας Αλόης Βέρα
10-στελεχη (5 δισεκατομμύρια) προβιοτική κάψουλα
Now Foods Aloe 10000 & Probiotics  - Probiotics/Enzymes/Digestive Formula
Aloe Vera offers a variety of nutrients, including vitamins, minerals, enzymes and amino acids. Aloe Vera's constituent mucopolysaccharides, also known as glycosaminoglycans (GAGs), are thought to be its active component*. Scientific studies have indicated that Aloe can help to support the body's own healing processes.* A 10-Strain Probiotic Blend has been included to complement Aloe's role in the support of a healthy digestive system.*
The probiotic strains in this product have been identity-verified using DNA-fingerprinting technology.
Directions :
Take 1 capsule twice daily.
Probiotics/Enzymes/Digestive
NOW Foods - Aloe 10,000 & Probiotics - 60 Vegetarian Capsules
Supplement Facts

Serving Size: 1 Veg Capsule

 

 

Amount Per Serving

%DV

 

Organic Aloe Vera (Aloe barbadensis) (Leaf) (200:1) Concentrate) (Equivalent to 10,000 mg of Fresh Aloe Vera Gel)

50mg

*

 

Blend of 10 Strains of Probiotic Bacteria:

Lactobacillus acidophilus (La-14), Bifidobacterium lactis (Bl-04),

Lactobacillus plantarum (Lp-115), Bifidobacterium longum (Bl-05),

Lactobacillus rhamnosus (Lr-32), Strepto. thermophilus (St-21),

Lactobacillus paracasei (Lpc-37), Bifidobacterium breve (Bb-03),

Lactobacillus salivarius (Ls-33), Lactobacillus casei (Lc-1) 

5 Billion Organisms

 

 

*Daily Value Not Established.
†Percent Daily Values are based on a 2,000 calorie diet. Your diet values may be higher or lower depending on your calorie needs.
Other Ingredients: Cellulose Powder, Cellulose (capsule), Stearic Acid (vegetable source) and Silica.
Not manufactured with wheat, gluten, soy, milk, egg, fish, shellfish or tree nut ingredients.  Produced in a GMP facility that processes other ingredients containing these allergens.
No customer reviews for the moment.