BioTech USA Vitabolic 30 tablets
2020-05-31
5999500530511
New product
BioTech USA Vitabolic 30 tablets - Νιώστε δύναμη με διάρκεια!
Η Vitabolic είναι μια σύνθετη φόρμουλα πολυβιταμινών και μετάλλων σχεδιασμένη ειδικά για αθλητές. Η αναλογία και η ποσότητα των ενεργών συστατικών στη Vitabolic έχουν σχεδιαστεί ειδικά για να ταιριάζουν στις υψηλότερες ανάγκες των ανθρώπων που κάνουν σωματικό έργο.
Περιέχει υψηλά επίπεδα από
Σύμπλεγμα Βιταμίνης B: B1, B2, B3, B5, B6, B9, B12

Ασβέστιο, Μαγνήσιο,Κάλιο – συμβάλλουν στην καλή μυϊκή λειτουργία.

Ψευδάργυρος – συμβάλλει στα κανονικά επίπεδα ορμονών στο αίμα.
Οδηγίες Χρήσης :
Ως συμπλήρωμα διατροφής παίρνετε 1 ταμπλέτα καθημερινά.
BioTech USA Vitabolic 30 tablets - The stronger the further
Vitabolic is a complex multivitamin and mineral formula developed specially for athletes. The ratio and quantity of the active ingredients in Vitabolic have been specially engineered to match the higher needs of people who do intense physical work.
It contains increased levels of :
Vitamin B complex: B1, B2, B3, B5, B6, B9, B12

Calcium, Magnesium, Potassium – contribute to normal muscle function.

Zinc – contributes to normal hormone levels in the blood.
Directions :
As a dieatary supplement, take 1 tablet daily.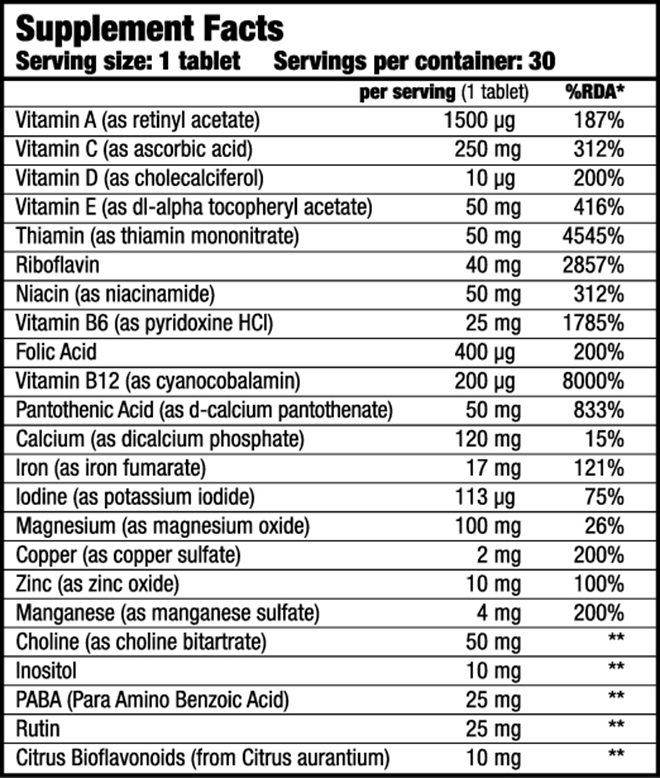 Ingredients:
Dicalcium phosphate, L-ascorbic acid, bulking agents (hydroxypropyl methyl cellulose, microcrystalline cellulose), magnesium oxide, choline bitartrate, DL-alpha tocopheryl acetate, thiamine mononitrate, D-calcium pantothenate, iron fumarate, nicotinamide, riboflavin, pyridoxine hydrochloride, anti-caking agents (magnesium stearate, stearic acid), rutin, Citrus aurantium fruit extract, PABA (para-aminobenzoic acid), retinyl acetate, zinc oxide, manganese sulphate, inositol, copper sulphate, cholecalciferol, pteroyl monoglutamic acid, cyanocobalamin, potassium iodide.
No customer reviews for the moment.