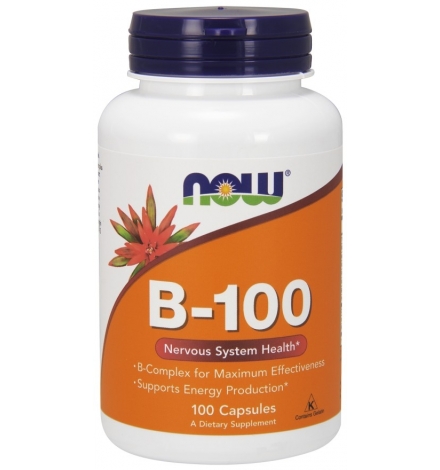 Now Foods Vitamin B-100 100Caps
2022-12-31
733739004369
New product
Now Foods Vitamin B-100 100Caps
Η Νow Foods Β-100 Complex,περιέχει ένα ισορροπημένο σύμπλεγμα βιταμινών Β το οποίο παρέχει οχτώ βασικές βιταμίνες Β, και είναι πιο ενδεδειγμένη καθώς η χρήση υψηλών δόσεων μεμονωμένων βιταμινών του συμπλέγματος Β μειώνει την απορρόφηση των υπολοίπων.
Οι βιταμίνες Β είναι απαραίτητες για το μεταβολισμό του υδατάνθρακα και την παραγωγή ενέργειας.
Η Βιταμίνη B1 συμβάλλει στον μεταβολισμό της ενέργειας και είναι βασική για σωστή νευρική και μυϊκή λειτουργία.
H Βιταμίνη B2 είναι απαραίτητη για την παραγωγή ενέργειας και για τον μεταβολισμό του λίπους, των υδατανθράκων και των πρωτεϊνών.
Η Βιταμίνη B3 - Νιασίνη παρέχει διατροφική υποστήριξη για υγιή κατάσταση λιπιδίων στο αίμα.
H Βιταμίνη B6 συμβάλλει στη διατήρηση των φυσιολογικών επιπέδων της ομοκυστεΐνης και στηρίζει το καρδιαγγειακό σας σύστημα.
Η επαρκής ποσότητα φυλλικού οξέος Βιταμίνη B9 στην υγιεινή διατροφή των γυναικών μπορεί να μειώσει τον κίνδυνο γέννησης παιδιού με προβλήματα στον εγκέφαλο ή στον νωτιαίο μυελό.
H Βιταμίνη B12 είναι απαραίτητη για την παραγωγή ενέργειας και ερυθρών αιμοσφαιρίων.
Η Βιοτίνη λειτουργεί ως συνένζυμο στον μεταβολισμό και απαιτείται για τη σύνθεση των λιπαρών οξέων. Παρέχει διατροφική υποστήριξη για υγιή νύχια και μαλλιά.
Οι βιταμίνες Β:
Στηρίζουν και αυξάνουν τον ρυθμό του μεταβολισμού.

Διατηρούν το δέρμα υγιές και προσφέρουν μυϊκή τόνωση.

Τονώνουν τόσο το ανοσοποιητικό όσο και το νευρικό σύστημα.

Συντελούν στην ανάπτυξη των κυττάρων συμπεριλαμβανομένων και των κυττάρων του αίματος βοηθώντας έτσι στην πρόληψη της αναιμίας
Οδηγίες Χρήσης:
Πάρτε 1 κάψουλα ημερησίως μαζί με ένα γεύμα σας. 

Now Foods Vitamin B-100 100Caps
B-Complex for Maximum Effectiveness

Supports Energy Production*
B-100 Caps provide a full complement of B-Vitamins plus Choline and Inositol. These vitamins work to support energy production, maintain healthy homocysteine metabolism, and promote the health of the nervous system.* B-Vitamins are water soluble, and with the exception of B-12, have limited storage in the body and thus require daily replenishment. While B-12 is stored in the liver, dietary sources are of animal origin only (meat and dairy) and supplementation with B-12 may be especially important for vegetarians
Directions:
Take 1 capsule daily with a meal.
Store in a cool, dry place after opening
Supplements Facts
Serving Size:

1 Veg Capsule

Servings Per Container:

100

 

Amount per Serving

* Percent Daily Values are based on 2,000 calorie diet.




† Daily Value not established.

Thiamin (from Thiamin HCl) (Vitamin B-1)

100 mg

Riboflavin (Vitamin B-2)

100 mg

Niacin (Vitamin B-3) (as Niacinamide)

100 mg

Vitamin B-6 (from Pyridoxine HCl)

100 mg

Folate (as Folic Acid)

400 mcg

Vitamin B-12 (as Cyanocobalamin)

100 mcg

Biotin

100 mcg

Pantothenic Acid (from Calcium Pantothenate)

100 mg

Choline (from Choline Bitartrate)

10 mg

Inositol

10 mg

PABA

10 mg
Other Ingredients:
Cellulose (capsule), Cellulose Powder, Magnesium Stearate (vegetable source) and Silica.
Not manufactured with wheat, gluten, soy, milk, egg, fish, shellfish or tree nut ingredients. Produced in a GMP facility that processes other ingredients containing these allergens.
No customer reviews for the moment.