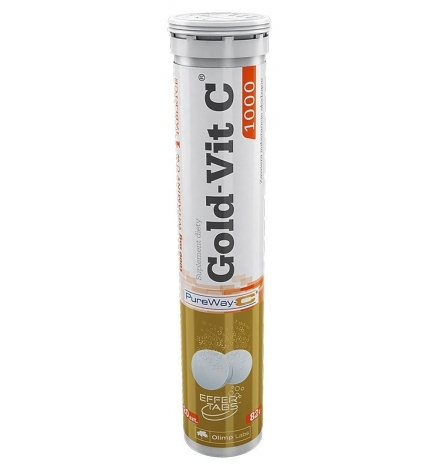 Olimp Gold-Vit C 1000mg 20 Efferv.Tabs
0000-00-00
New product
GOLD-Vit C 1000mg
H GOLD-Vit C 1000 είναι ένα συμπλήρωμα διατροφής σε μορφή αναβράζοντα δισκία που περιέχουν μια υψηλή δόση της νέας γενιάς βιταμίνης C PureWay-C.
Το PureWay-C® είναι ένας πατενταρισμένος τύπος βιταμίνης C, μια σύνθεση ασκορβικού οξέος και φυσικά φυτικά κεριά (μεταβολίτες λίπους). Είναι εντελώς ήπιο για το στομάχι και υποστηρίζει το ανοσοποιητικό σύστημα. Το προϊόν είναι επίσης εμπλουτισμένο με βιοφλαβονοειδή εσπεριδοειδών.
Η βιταμίνη C είναι απαραίτητη για το σώμα μας επειδή συμβάλλει:
►Στην διατήρηση της φυσιολογικής λειτουργίας του ανοσοποιητικού συστήματος κατά τη διάρκεια και μετά την έντονη σωματική δραστηριότητα (επιτυγχάνεται ευεργετικό αποτέλεσμα με την ημερήσια πρόσληψη των επιπλέον 200mg από τη συνιστώμενη ημερήσια πρόσληψη βιταμίνης C)
►Στο φυσιολογικό σχηματισμό κολλαγόνου για την καλή λειτουργία των αιμοφόρων αγγείων, των οστών, των χόνδρων, του δέρματος και των δοντιών.
►Στο φυσιολογικό μεταβολισμό για παραγωγή ενέργεια
►Στη φυσιολογική λειτουργία του ανοσοποιητικού συστήματος
►Στην προστασία των κυττάρων από το οξειδωτικό στρες
►Στη μείωση της κούρασης και της κόπωσης.
►Στην αύξηση της απορρόφησης του σιδήρου
Το προϊόν συνιστάται σε ενήλικες, ειδικά σε αυτούς που κάνουν σκληρή σωματική εργασία, που αθλούνται επαγγελματικά ή για ψυχαγωγία και ανθρώπους με αυξημένες ανάγκες σε βιταμίνη C (εξαιτίας του άγχους, του καπνίσματος) καθώς και σε περιόδους πεσμένου ανοσοποιητικού συστήματος (φθινόπωρο-χειμώνας).
Οδηγίες Χρήσης:
Διαλύεται 1 δισκίο σε 200 ml νερού. Σερβίρετε καλύτερα με παγωμένο νερό.



GOLD-Vit C 1000mg is a food supplement in a form of effervescent tablets containing a high dose of new generation vitamin C PureWay-C.
PureWay-C is a patented form of vitamin C – microencapsulated complex of L-ascorbic acid and natural plant waxes (fat metabolites) – which are stomach friendly. The product contains sweeteners.
Vitamin C is essential for the body because:
►The body is unable to produce it.
►Contributes to the proper functioning of the immune system, enhancing the body's natural immunity.
►Contributes to maintaining proper functioning of the immune system during and after intense physical exercise (beneficial effect obtained while using a dose of 200mg in addition to the recommended daily intake of vitamin C),
► It is extremely important for many biochemical and metabolic processes
►Contributes to normal formation of collagen and thus to proper functioning of bones, teeth, cartilage, gums, skin and blood vessels,
►Helps protecting the cells against oxidative stress.
Gold-Vit C® 1000 Forte is a highly-absorbable and rich source of vitamin C which in combination with citrus bioflavonoid extract creates a unique vitamin C complex [PureWay-C®] of the highest quality
Directions:
Dissolve 1 tablet in 200ml of water.Best served chilled.
Other ingredients:Microencapsulated L-ascorbic acid [PureWay-C] (l-ascorbic acid - vitamin C, citrus bioflavonoids, carrier - fatty acids); acidity regulator - citric acid; bulking agent – sorbitol; acidity regulator – sodium carbonate; maltodextrin; sweeteners - sodium cyclamate, acesulfame K, sucralose; stabilizer - polyethylene glycol; colour - beta-carotene (for orange flavor); anti-caking agent – silicon dioxide.
No customer reviews for the moment.