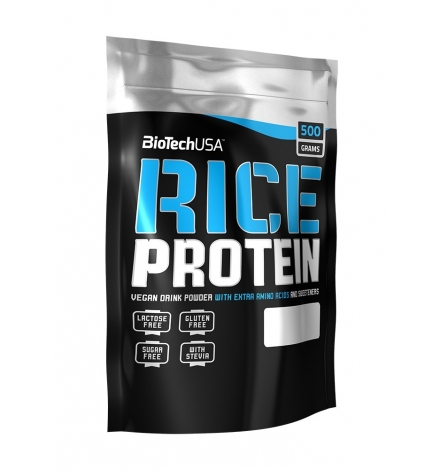 Biotech USA Rice Protein 500 grams
0000-00-00
New product
Biotech USA Rice Protein 500 grams
Πρωτεΐνη ρυζιού από την Biotech USA, Χωρίς Λακτόζη, Γλουτένη & Ζάχαρη - 100% Βιολογική.
Μείγμα βιολογικής πρωτεϊνης (Ρύζι και Μπιζέλι), με προστιθέμενα λειτουργικά αμινοξέα.

Χωρίς ζάχαρη, λακτόζη και γλουτένη

Χωρίς συντηριτικά

Χωρίς ασπαρτάμ

Το προϊόν δεν περιέχει γενετικά τροποποιημένα υλικά.
❌ Το ρύζι αποτελεί μια πολύ καλή τροφή για τον άνθρωπο. Εξάλλου δεν είναι τυχαίο το γεγονός ότι η Ιαπωνία έχει ένα από τα μεγαλύτερα ποσοστά μακροζωίας στον κόσμο αφού ένας μέσος Ιάπωνας τρώει 90 κιλά ρυζιού ετησίως.
❌ Τα Μπιζέλια είναι γνωστά για την υψηλής βιοδιαθεσιμότητας πρωτεΐνη. Σε αντίθεση με άλλες φυτικές πηγές πρωτεϊνης, τα μπιζέλια δεν περιέχουν αντι-θρεπτικές ενώσεις που μπορούν να εμποδίσουν την πρόσληψη βιταμινών και μετάλλων κατά την πέψη.
Για όλους εκείνους που ψάχνουν για μια εναλλακτική πηγή πρωτεΐνης, η Rice Protein είναι εδώ. Χωρίς γλουτένη και λακτόζη με περιεκτικότητα 78% σε πρωτεΐνη ρυζιού και μπιζελιού & χωρίς προσθήκη ζάχαρης.
Όπως όλα τα προϊόντα της BioTechUSA, έτσι και το Rice Protein αποτελείται από ασφαλή και προσεκτικά επιλεγμένα υλικά.
Οδηγίες Χρήσης :
Αναμείξτε μια μερίδα (2 scoops) με 250 ml νερό και πιείτε αμέσως μετά την προπόνηση.
__________________________________________
Biotech USA Rice Protein 500 grams
Rice Protein By Biotech USA - Gluten, Lactose & Sugar free - 100% Vegetable
Vegan protein complex (rice and peas) with added functional amino acids

Sugar- and lactose-free*

Gluten-free

No preservatives

GMO-free

Aspartame-free
Per serving (25 g):
106 kcal

20 g protein

With added amino acids:

1450 mg L-glutamine

677 mg L-arginine
We recommend Rice Protein if you:
are looking for an alternative to milk-based protein shakes

want a product that contains plant-based protein, which is an excellent supplement to a vegetarian or vegan diet since the product's protein content contributes to muscle growth and the maintenance of muscle mass

are celiac

are sensitive to lactose
Directions :
Mix one serving (2 scoops) with 250 ml water and drink directly after workout.
Nutrition Facts
Serving Size: 25g
Sevring Per Container: 20
100g

NRV*** (100 g)

25g

NRV***(25g)

Energy

1792kJ/

424kcal

21 %

448 kJ/

106kcal

5,3%

Fat

8g

11 %

2g

2,9 %

-Of which saturates

2,3g

12 %

0,58g

2,9 %

Carbohydrate

9g

3,5 %

2,3g

0,87 %

-Of which sugars

0,6g

0,67 %

0,15g

0,17 %

Protein

78g

156 %

20g

39 %

Salt

1,4g

23 %

0,35g

5,8 %
INGREDIENTS:
Chocolate-cinnamon flavoured:
Rice Protein Blend[rice protein (32%), amino acids (9%) (L-glutamine, L-arginine)],pea protein, cocoa powder, flavour enhancer (glycine), emulsifier(soy lecithin), cinnamon, thickeners (carrageenan, sodium carboxymethyl cellulose), flavours, salt, sweeteners (sucralose, steviolglycosides), vanillin.
Vanilla cookie flavoured:
Rice Protein Blend [rice protein (34%),amino acids (9%) (L-glutamine, L-arginine)], pea protein, flavourenhancer (glycine), flavours, emulsifier (soy lecithin), thickeners(carrageenan, sodium carboxy methyl cellulose), salt, cinnamon,vanillin, sweeteners (sucralose, steviol glycosides), acidity regulator(potassium tartrates), colour (tartrazine**).
No customer reviews for the moment.