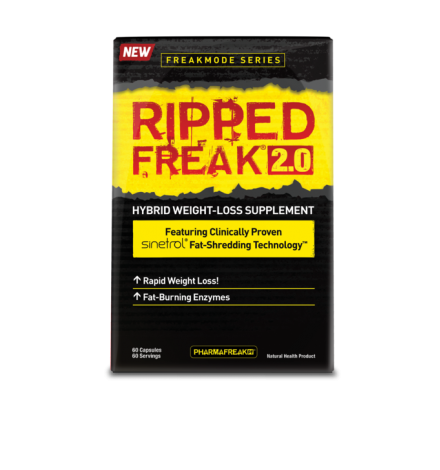 PharmaFreak Ripped Freak 2.0 60 Capsules
2023-11-30
656727771404
New product
PharmaFreak Ripped Freak 2.0 60 Capsules
Κλινικά αποδεδειγμένο Sinetrol®.
Καυστήρας λίπους ελεγχόμενης δόσης.
Το Sinetrol® έχει αποδειχθεί ότι ενισχύει την απώλεια λίπους στην κοιλιά
Βασικά Οφέλη 
ΤΕΧΝΟΛΟΓΙΑ ΚΑΥΣΗΣ ΛΙΠΟΥΣ SINETROL® 
Το SINETROL® διευκολύνει τη λιπόλυση μέσω της αναστολής της φωσφοδιεστεράσης-4 (PDE), του ενζύμου που καταλύει την υδρόλυση (διάσπαση) κυκλικής μονοφωσφορικής αδενοσίνης (cAMP). Τα υψηλότερα επίπεδα της cAMP οδηγούν σε αυξημένο ρυθμό διάσπασης λίπους και απώλειας λίπους.
ΑΥΞΗΜΕΝΗ ΕΝΕΡΓΕΙΑ 
Η καφεΐνη αυξάνει την ενέργεια και τη θερμογένεση μέσω του αποκλεισμού των υποδοχέων αδενοσίνης και της αναστολής της φωσφοδιεστεράσης (PDE), γι 'αυτό η καφεΐνη είναι συνεργιστική με το SINETROL.
ΒΑΣΙΚΑ ΣΥΣΤΑΤΙΚΑ 
SINETROL Το SINETROL® είναι ένα πατενταρισμένο μείγμα βιοδραστικών πολυφαινολών που επιλέγονται για τα οφέλη τους στην απώλεια λίπους. Περιλαμβάνει τη νερατζίνη και την εσπεριδίνη ως κύριες δραστικές ενώσεις που εξάγονται από εσπεριδοειδή των ακτών της Μεσογείου (πορτοκάλι και γκρέιπφρουτ). Η δράση των πολυφαινολών στο SINETROL® ενισχύεται με φυσική καφεΐνη από το guarana.
ΚΟΚΚΟΙ ΤΟΥ ΠΑΡΑΔΕΙΣΟΥ 
Οι κόκκοι του παραδείσου είναι επίσης γνωστοί ως ινδικό σιτάρι και ινδικό πιπέρι και είναι επιστημονικά γνωστό ως Aframomum meleguata. Αυτό το φυτό είναι ένα είδος της οικογένειας τζίντζερ και είναι εγγενές στη Δυτική Αφρική όπου παραδοσιακά χρησιμοποιείται ως φάρμακο για τη θεραπεία πεπτικών και εντερικών προβλημάτων και ορισμένων συμπτωμάτων διαβήτη.
ΒΙΤΑΜΙΝΕΣ ΣΥΜΠΛΕΓΜΑΤΟΣ Β
Παρέχει βασικούς συν-παράγοντες που δρουν με πολλούς τρόπους για τον μεταβολισμό και καύσης λίπους.
Οδηγίες Χρήσης: 
Πάρτε 1 κάψουλα με το πρωϊνό και 1 κάψουλα με το μεσημεριανό.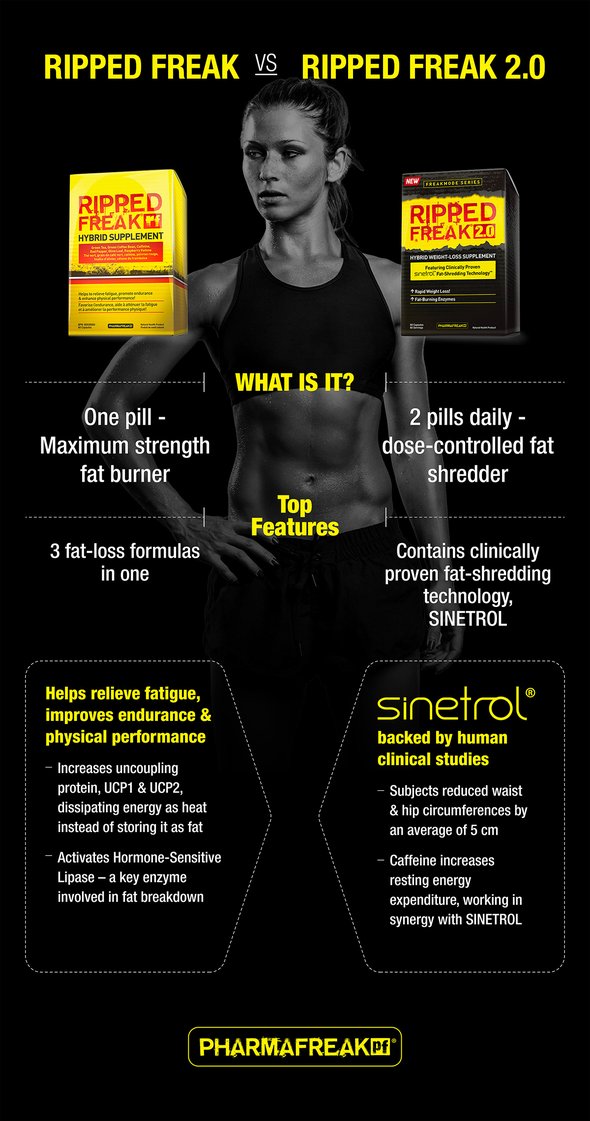 PharmaFreak Ripped Freak 2.0 60 Capsules
Clinically-proven Sinetrol®.

Dose-controlled fat burner.

Sinetrol® has been shown to enhance abdominal fat loss
Key Benefits
SINETROL FAT-SHREDDING TECHNOLOGY
SINETROL® facilitates lipolysis through the inhibition of phosphodiesterase-4 (PDE), the enzyme that catalyzes the hydrolysis (breakdown) of cyclic adenosine monophosphate (cAMP). Higher levels of cAMP result in an increased rate of fat breakdown and fat loss.
INCREASED RESTING ENERGY EXPENDITURE
Caffeine increases resting energy expenditure and thermogenesis through adenosine receptor blockade and inhibition of phosphodiesterase (PDE), which is why caffeine is synergistic with SINETROL.
Key Ingredients
SINETROL SINETROL® is a patented blend of bioactive polyphenols selected for their benefits on fat loss. It includes naringin and hesperidin as main active compounds extracted from citrus of the Mediterranean shores (orange and grapefruit). The activity of the polyphenols in SINETROL® is enhanced with natural caffeine from guarana.


GRAINS OF PARADISE
Grains of paradise is also known as guinea grain and guinea pepper, and is scientifically known as Aframomum meleguata. This plant is a species of the ginger family and is native to West Africa where it has traditionally been used as a medicine to treat digestive and intestinal issues and some symptoms of diabetes.
VITAMIN B COMPLEX
Provides key co-factors in many metabolic and fat-burning pathways.
Supplements Facts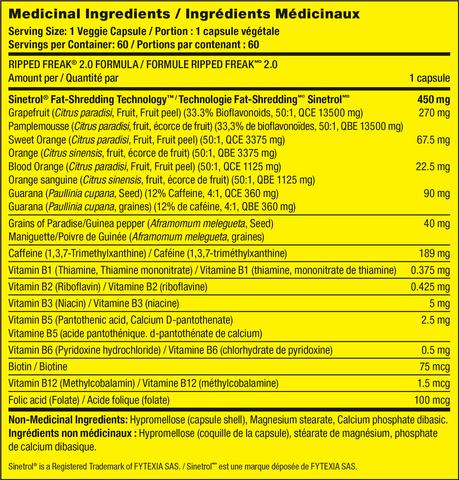 No customer reviews for the moment.