Biotech USA HMB 1000MG 180tabs
2020-09-30
5999076216673
New product
 HMB 1000
ΣΥΜΠΛΗΡΩΜΑ ΔΙΑΤΡΟΦΗΣ ΜΕ HYDROXY METHYLBUTYRATE.
ΣΕ 1 ΔΟΣΗ:

1000 mg Hydroxy Methylbutyrate

2000 mg Δισόξινο Φωσφορικό
Η προπόνηση με βάρη σε συνδυασμό με το ΗΜΒ 1000 αυξάνει κατά πολύ την πρωτεϊνοσύνθεση. Παράλληλα το ΗΜΒ παίζει σημαντικό ρόλο στην μείωση του πρωτεϊνικού καταβολισμού κατά τη διάρκεια της προπόνησης.
Η λήψη ΗΜΒ 1000 δίνει στο σώμα τη δυνατότητα για ταχύτερη αποθεραπεία ελαχιστοποιώντας την ποσότητα της πρωτεΐνης που διασπάται στους μυς μετά την προπόνηση. Το αποτέλεσμα είναι ότι οι μύες παραμένουν σε κατάσταση αναβολισμού για μεγαλύτερο χρονικό διάστημα, αυξάνοντας έτσι τη μυϊκή ανάπτυξη.
Οι έρευνες επίσης έχουν δείξει ότι το ΗΜΒ όταν συνδυαστεί με την κρεατίνη αυξάνει ακόμα περισσότερο τα πλεονεκτήματα, δημιουργώντας το απόλυτο κοκτέιλ μυϊκής ανάπτυξης.
Οδηγίες χρήσης :
4 ταμπλέτες x3 φορές τη μέρα με τα γεύματα. Μην υπερβαίνετε τη συνιστώμενη δόση.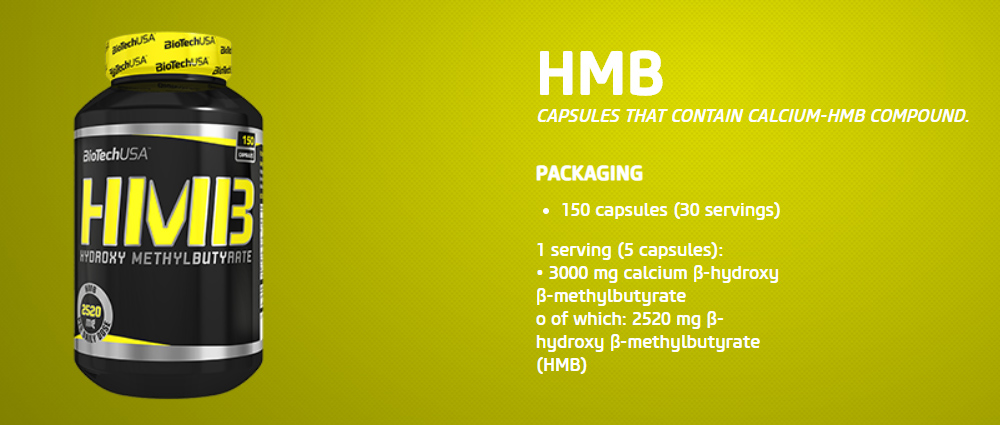 HMB 1000
DIETARY SUPPLEMENT WITH HYDROXY METHYLBUTYRATE
IN 1 SERVING:

1000 mg Hydroxy Methylbutyrate

2000 mg Monopotassium Phosphate
The active ingredient in HMB 1000 has been used in the bodybuilding and fitness industry for decades. HMB 1000 Like all BioTech USA products, consists of safe and carefully selected ingredients.
The investigations have shown that when combined HMB with creatine increases even more advantages, creating the ultimate cocktail muscle growth.
Directions :
Take 4 tablets three times a day with meals. Do not exceed recommended intake levels
Συστατικά / Ingedients :

monopotassium phosphate, calcium hydroxy methyl butyrate monohydrate, microcrystalline cellulose, hydroxypropyl methyl cellulose, magnesium stearate, stearic acid, color: tartrazine.
No customer reviews for the moment.