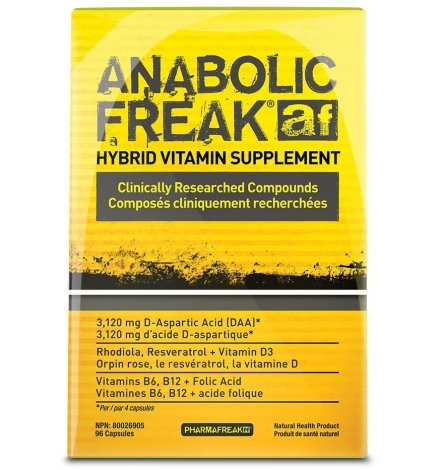 PharmaFreak Anabolic Freak 96 Capsules
2022-01-30
8555040001028
New product
PharmaFreak Anabolic Freak 96 Capsules
Το ANABOLIC FREAK είναι η νέα πανίσχυρη φόρμουλα που αυξάνει ραγδαία τα επίπεδα φυσικής τεστοστερόνης, μειώνει την κορτιζόλη και παράλληλα μπλοκάρει αποτελεσματικά τα επίπεδα οιστρογόνων.

Με ένα μοναδικό συνδυασμό από D-Ασπαρτικό Οξύ, το οποίο ανεβάζει την τεστοστερόνη στα ύψη, χωρίς να επηρεάζει την φυσιολογική έκκριση της ενδογενούς τεστοστερόνης αφού δρα στους νευροενδοκρινικούς ιστούς του ανθρώπου, το κατάλληλο σύμπλεγμα Β βιταμινών και της D3 που αυξάνουν ακόμα περισσότερο τη δράση του, με το μοναδικό Rhodiola Rosea, το οποίο είναι γνωστό για τις πανίσχυρες αντικαταβολικές του δράσεις και την δραστική μείωση της κορτιζόλης και την Ρεσβερατρόλη, μια ουσία που βρίσκεται στο φλοιό των κόκκινων σταφυλιών και έχει αποδειχτεί ως μια από τις καλύτερες πηγές αντι-οιστρογόνων που μας χαρίζει η Μητέρα Φύση, γίνεται αντιληπτό ότι το ANABOLIC  FREAK είναι μια νέα πρόταση για την δύναμη, την ενέργεια και την μυϊκή ανάπτυξη των πλέον σκληροπυρηνικών αθλητών.
Οδηγίες Χρήσης :
Πάρτε 4 καψούλες το πρωί, πριν το πρωινό. 
Εναλλακτικά πάρτε 2 κάψουλες το πρωί και 2 το απόγευμα ή πριν την άσκηση.
Συνδυάστε το με το TEST FREAK για καλύτερα αποτελέσματα. 

PharmaFreak Anabolic Freak 96 Capsules
The ANABOLIC FREAK formula is made up of clinically researched ingredients including:
D-aspartic acid (DAA) calcium chelate + vitamin D3,B6,B12 and folic acid
Rhodiola rosea (RhodiolaPure) . RhodiolaPure is standarized for precisely 3.6% rosavin and 1.6% salidroside.
Resveratrol (ResveraPure). ResveraPure is included to deliver pure resveratrol.
THE ULTIMATE EXPERIENCE 
Stack ANABOLIC FREAK with TEST FREAK for ultimate experience. 
Directions:
Take 4 Capsules in the morning before breakfast.
Alternatively, take 2 capsules in the morning and 2 capsules in the afternoon.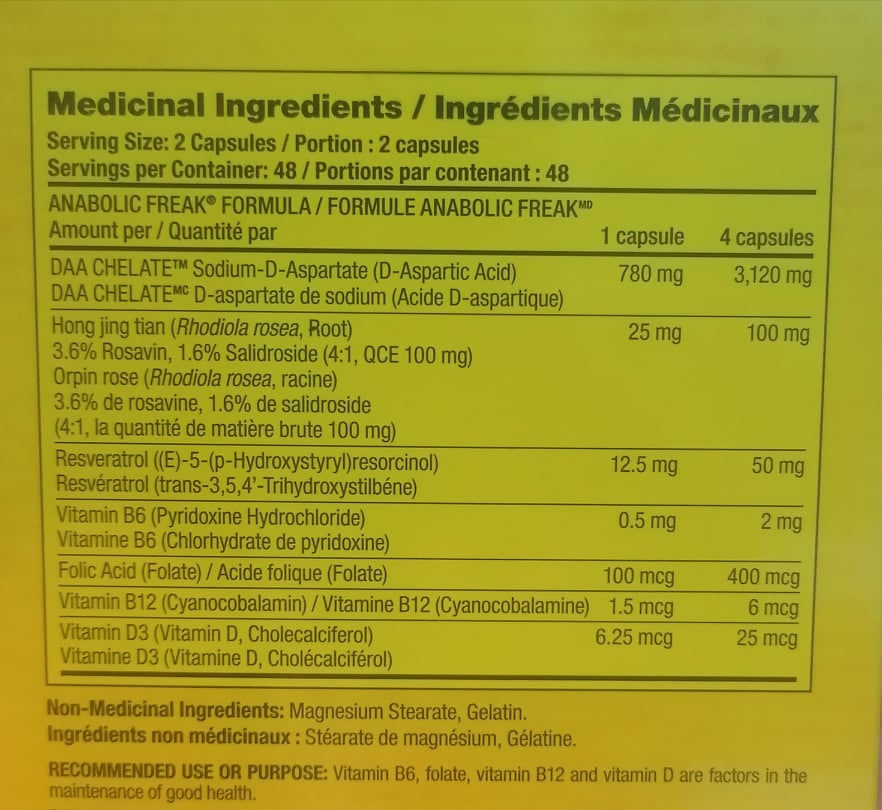 No customer reviews for the moment.