PharmaFreak Test Freak 120 Capsules
2023-01-31
656727771480
New product
PharmaFreak Test Freak 120 Capsules
Κλινικά-Αποδεδειγμένα Συστατικά
1,100mg Εκχύλισμα Σπόρων Τριγωνέλλας
1,000mg τριβόλι
Μεγιστοποιεί τη Μυική Ανάπτυξη & Ισχύ !
Αυξάνει τη Σεξουαλική Επιθυμία & Απόδοση !
Πλήρης Κύκλος 30 ημερών
Βασικά συστατικά:
✔️FENUGREEK
Παρέχει 1100mg fenugreek ανά μερίδα για να βοηθήσει στην υποστήριξη της υγιούς λίμπιντο και στη ρύθμιση των επιπέδων σακχάρου στο αίμα.
✔️TRIBULUS
Το Tribulus Terrestris είναι ένα βότανο που χρησιμοποιείται στην Ayurvedic ιατρική που συνιστάται παραδοσιακά για την αρσενική υγεία και τη λίμπιντο.
✔️ΨΕΥΔΑΡΓΥΡΟ, ΜΑΓΝΗΣΙΟ & ΒΙΤΑΜΙΝΗ Β6
Το TEST FREAK παρέχει μια κλινικά υποστηριζόμενη δόση ψευδαργύρου, μαγνησίου και βιταμίνης Β6 για να υποστηρίξει την ανάρρωση.
Οδηγίες Χρήσης:
Πάρτε 4 κάψουλες καθημερινά πριν τον ύπνο, με περίπου 240 ml νερό.
Πάρτε με άδειο στομάχι, τουλάχιστον 30 λεπτά μετά το τελευταίο γεύμα σας.
Ακολουθείστε κυκλική σειρά για 8 εβδομάδες και διακόψτε προσωρινά για 2 εβδομάδες.
Μην υπερβαίνετε τις 4 κάψουλες την ημέρα. Για καλύτερα αποτελέσματα, να συνδυάζεται με σωστή διατροφή και πρόγραμμα άσκησης.

PharmaFreak Test Freak 120 Capsules
Clinically-Researched Ingredients
1,100mg of Fenugreek Per Serving!
1,000mg of Tribulus Terrestris!
Key Ingredients
Delivers 1100mg of fenugreek per serving to help support healthy libido and help regulate blood sugar levels.
✔️TRIBULUS
Tribulus Terristris is an herb used in Ayurvedic medicine traditionally recommended for male health and libido.
✔️ZINC, MAGNESIUM & VITAMIN B6
TEST FREAK delivers a clinically backed dose of zinc, magnesium and vitamin B6 to help support recovery.
Recommended Dose:Take 4 Capsules once daily before bed. Take a few hours before or after taking other medications.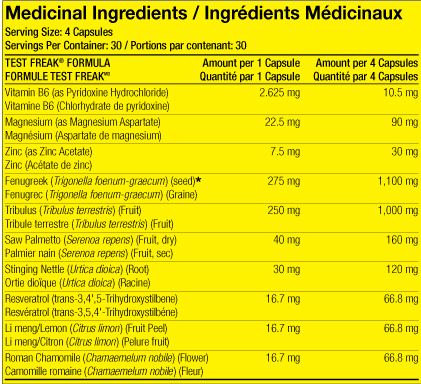 No customer reviews for the moment.