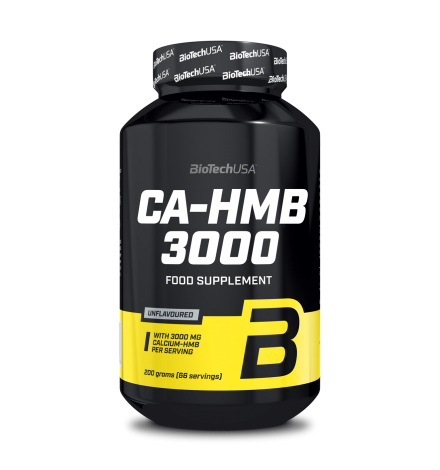 Biotech USA CA-HMB 3000 200g
2023-02-28
5999076231911
New product
Biotech USA CA-HMB 3000 200g
Μια δόση HMB 3000 περιέχει 3.000 mg από βήτα ασβεστίο-βήτα υδροξύ-μεθυλεστέρα, ενός συστατικού που οι επαγγελματίες  bodybuilders χρησιμοποίουν εδώ και δεκαετίες για να επιτύχουν τους στόχους τους.
Λόγω της μορφής του σε σκόνη και τον άγευστο τύπο του, το προϊόν είναι πολύ εύκολο να αναμιχθεί και με άλλα συμπληρώματα διατροφής.
Το HMB μειώνει τον καταβολισμό των πρωτεϊνών και προστατεύει τα μυϊκά κύτταρα από τoυς τραυματισμούς κατά την διάρκεια της προπόνησης (ισχυρή αντικαταβολική δράση).
Όπως όλα τα προϊόντα της BioTech USA, έτσι και το HMB 3000 αποτελείται από ασφαλή και προσεκτικώς  επιλεγμένα υλικά.
Οδηγίες Χρήσης:
Ανακατέψτε 1 μερίδα (3 γρ. = 1 scoop = 1/2 κουταλιά της σούπας) με 300 ml ποτό της επιλογής σας. Πάρτε 1 καθημερινά.
Στις ημέρες κατάρτισης καταναλώνετε 1 μερίδα αμέσως μετά την προπόνηση, στις ημέρες ανάπαυσης καταναλώνετε 1 μερίδα πριν το γεύμα.
Μην υπερβαίνετε τη συνιστώμενη δοσολογία!
___________________________________________________________________
Biotech USA CA-HMB 3000 200g
One serving of CA-HMB 3000 contains 3,000 mg of calcium beta-hydroxy-beta-methylbutyrate, an ingredient which professional body builders have used for decades to reach their fitness goals.
Due to the powder form and the unflavoured formula, the product is easy to dose and to add to other nutritional supplements.
Like all BioTechUSA products, CA-HMB 3000 consists of safe and carefully selected ingredients.
DIRECTIONS
Mix 1 serving (3 g = 1 scoop = 1/2 tablespoon) product with 300 ml beverage of your choice. Take 1serving daily. On training days consume 1 serving immediately after your workout, on resting days consume 1 serving before meal. Do not exceed the recommended dosage!
Supplement facts
Serving size: 3 g |Daily amount: 1 serving |Servings per container: 66
| | |
| --- | --- |
| | in 1 serving (3 g) |
| Calcium ß-hydroxy ß -methylbutyrate | 3000 mg |
| - of which hydroxy ß-methylbutyrate (HMB) | 2520 mg |
INGREDIENTS
Calcium ß-hydroxy ß-methylbutyrate monohydrate (100%).
Made in a plant that manufactures milk, egg, gluten, soy, crustaceans, sulphur dioxide and nuts containing foods.
WARNINGS: Keep out of reach of children. Food supplements do not replace a balanced nutrition and healthy lifestyle.
No customer reviews for the moment.